If there is a morality tale here, it is that debt and death spare no king.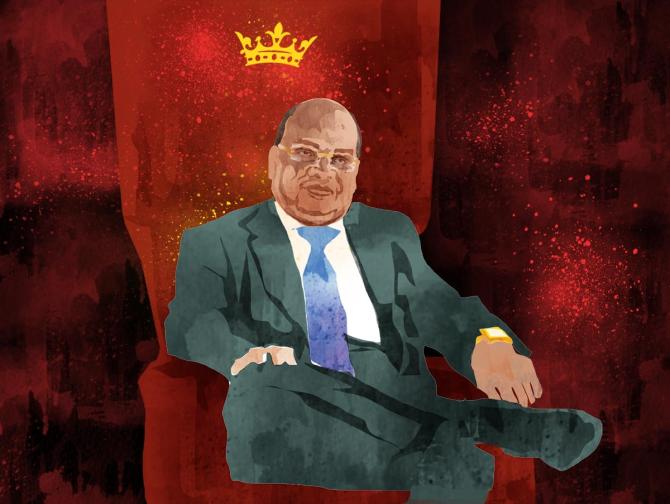 Vikram Kothari had two coronations, first as the Gutkha King and later as the Pen King.
That should have told him his days of glory were numbered. It has been a consistently bad omen for businessmen in India to be called the king of their sector.
When the end came, on the morning of January 4, it was a deceptively innocuous fall in the bathroom that finished the high-flyer promoter and head of Rotomac, the maker of pens and stationery.
Frequently described as flamboyant, he once had film stars Salman Khan and Raveena Tandon as his brand ambassadors.
His mansion in Kanpur's Tilak Nagar, incongruously named Santushti, which is Hindi for contentment, was a local landmark.
By his last birthday, his 72nd, on October 12, all his net worth would not have amounted to half a king's ransom.
He was out on bail on grounds of ill health, after two years behind bars on charges of fraud involving hundreds of crores owed to a clutch of public sector banks.
The Central Bureau of Investigation had raided his house and offices in 2018 and arrested him. Several properties owned by him, his wife, and son had been auctioned.
At the time of the fatal fall in the bathroom, he was alone at his home in Kanpur.
Uncrowning of kings
The 26th Amendment to the Constitution of India, in July 1971, abolished privy purses and recognition granted to the erstwhile rulers of Indian princely states.
That ended the last vestige of monarchy in the country. But only legally.
Popular discourse is quick to crown as kings people who achieve so much success that it feels inadequate to describe them as successful.
So, actor Shah Rukh Khan became King Khan in a literal translation of his first name. Cricketer Virat Kohli is King Kohli.
And so it goes in the world of business. When Tiger and Marie became India's favoured accompaniments with tea, Rajan Pillai of Britannia became the 'Biscuit King' ('Biscuit Baron' to those who liked their alliterations).
When Cafe Coffee Day outlets became ubiquitous, V G Siddhartha was crowned the 'Coffee King'.
Janardhan Reddy, who reportedly spent $75 million on his daughter's wedding and whose house had a bomb shelter, among other extravagances, was the 'Mining King'.
Nirav Modi, whom Forbes magazine rated at $1.4 billion in 2015, when he was 44, was the 'Diamond King'.
But his title was not undisputed; his uncle from the mother's side, Mehul Choksi, had his own claims to being the Diamond King of India.
One businessman did not wait for anyone to anoint him and declared himself 'The King of Good Times'.
King Kohli has not scored an international century since November 23, 2019 and is no longer India's captain in any format.
Shah Rukh Khan has not delivered a bonafide box office hit since... it's difficult to remember.
Yet, they are the best placed among the kings listed here. Those in business have had their crowns taken away, in some cases their passports as well.
Pillai died in prison of cirrhosis of the liver and Siddhartha committed suicide. And now Vikram Kothari is dead.
If there is a morality tale here, it is that debt and death spare no king.
A king twice over
Mansukbhai Kothari was born in July 1925 in a village in the Nareli district of Gujarat.
At the age of 16, he moved to Kanpur and dabbled in businesses such as supplying coconut oil to shops. He launched Pan Parag in 1973.
With the help of his two sons, Vikram and Deepak, Mansukbhai made Pan Parag a household name riding on the early wave of television advertising in India.
Pan Parag, according to panparag.com, became the largest advertiser on Doordarshan, the only channel at the time, in 1983.
One of its commercials, featuring aging actors Ashok Kumar and Shammi Kapoor, was a rage.
The 1980s were when the Indian FMCG market was undergoing a sachet revolution led by Raj Kumar and Ashok Kumar, the brothers behind Velvet International shampoo.
Pan Parag made a splash by being the first pan masala to come in small pouches. The Kotharis were now very much the Gutkha Kings.
In 1992, the company launched Rotomac, which stayed with Vikram Kothari after a settlement with Deepak, who got Pan Parag.
Rotomac, made its own advertising legend with likhtey likhtey love ho jai (you will fall in love with it as you keep writing), and grew to become one of the largest in its business.
Along the way, Rotomac Pens became Rotomac Global, operating in 38 countries.
Vikram Kothari also dabbled in greeting cards, real estate, steel, and infrastructure. But he became, and remained, the Pen King. Then he ran out of ink.
Uncrowning glory
The allegations against the Pen King were similar to those against the two diamond kings, Nirav Modi and Mehul Choksi.
A consortium of seven state-owned banks said Kothari had duped them of Rs 4,168 crore (Rs 41.68 billion).
As Modi had done, Kothari got these banks to issue letters of credit to him by saying his company was involved in mercantile trade.
The probe by the CBI, and later by the Serious Frauds Investigation Office (SFIO), found that most of the trades shown to obtain the letters of credit were fake.
In many cases, the money from banks was being re-circulated into subsidiaries of Rotomac Global and other companies controlled by Kothari.
A portion of the bank loans was used for a bit of foreign currency trading.
The losses were shown by Rotomac's auditors as money to be received soon from purchasers of goods. The veracity of both the purchasers and the goods came into question.
Banks kept lending money to Kothari on his assurances of carrying out international trade.
The money borrowed through the letters of credit was then used to settle these payments in a textbook case of round tripping, leading the Enforcement Directorate to slap money laundering charges against Kothari.
The loans were never repaid and had to be classified as non-performing assets, resulting in dissolution proceedings against Rotomac Global that yielded only a fraction of the loans.
Kothari also managed to secure 'export booking credits' worth crores from these banks.
In one of the transactions probed by the CBI, Rotomac Global used this route to get loans from Bank of Baroda (BoB).
It presented to the bank fake orders showing money to be paid to an Indian company for goods to be imported by a Singapore-based entity.
BoB released the money without checking the credentials of the parties involved.
In the case of letters of credit, BoB would have to indemnify the bank of the other party dealing with Kothari's company for making the payment.
According to the CBI, allowing Rotomac to use export booking credits exposed BoB to fraud.
Cases were filed against BoB's chairman at the time, M D Mallya, two other top executives, and 11 of the bank's staff at its Kanpur branch, which sanctioned the loans to Kothari.
Mallya quit BoB in 2012 and later joined IndiGo Airlines as its chairman. He died of cancer in 2018.
Little progress has been made on most of the cases against BoB officials.
Kothari's son, Rahul, was arrested after the SFIO filed a complaint in 2020.
Though Vikram was released on bail in 2019 on health grounds, Rahul remained behind bars.
In May 2021, a court rejected Rahul's bail plea for attending to his parents, who had contracted Covid.
On January 4, the day Vikram died, Rahul, who could have been the Pen Prince, was in jail. Kothari's only son did not get to attend the Pen King's cremation.
Feature Presentation: Rajesh Alva/Rediff.com