It's been 16 years since Rajeev Samant launched the first Sula wine by selling 50,000 cases.
Today, Avantika Bhuyan reports, Sula is on track to sell a million cases this year.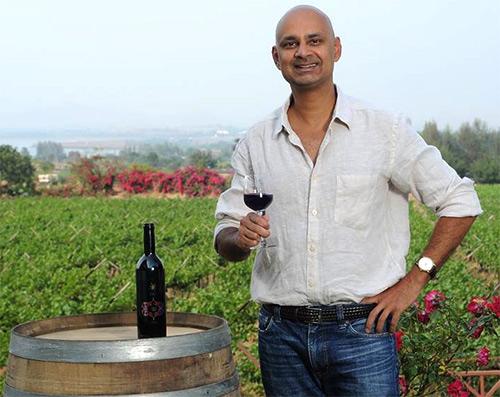 Rajeev Samant of Sula Vineyards has made wine drinking a more egalitarian activity
Seated in a little green nook at the Pullman Hotel on a warm September morning, sipping cappuccinos, Rajeev Samant and I flip over the usual conversation starters: Maniacal Gurgaon traffic, favourite brand of coffee, recent travels and so on. I ask what brings him to New Delhi from the expansive stretches of Sula Vineyards in Nashik. "The delWine awards," says Samant, CEO of the Indian wine brand.
Later that evening, India's first awards dedicated to the wine industry see Sula winning three popular perception awards, including one for Indian wine producer of the year.
This seems to be the year of accolades for Samant. In May, Sula was accorded the prestigious annual Drinks Business Insider award in London for best contribution to wine and spirits tourism.
It's been 16 years since Samant launched the first Sula (named after his mother Sulabha) wine, starting out by selling 50,000 cases.
Today, at over 65 per cent, Sula commands the leading share of the Indian wine market and is on track to sell a million cases this year.
The story of a young Stanford graduate chucking his job at Oracle in San Francisco to come back home to 30 acres of family land in Nashik today appears to have happened in another lifetime.
At a time when the idea of an Indian wine seemed incongruous, Samant teamed up with wine maker Kerry Damskey from California's Sonoma Valley and planted his first vines in 1997.
Till five or six years ago, wine was considered the ambrosia of the elite, to be sampled within the plush environs of clubs or hotels.
Samant opened up wine drinking to a whole new demographic by making it available at affordable prices. Some of his fastest selling wines, such as the Sula Cabernet Shiraz and the Sauvignon Blanc, are available between Rs 690 and Rs 725 (prices subject to state and government policies) as compared to the Rs 1,200 to Rs 1,400 price bracket for imported wines.
"He was the first to introduce people-friendly wine at a decent price with the Sula Chenin Blanc, probably still its flagship wine when it comes to volumes," says Shatbhi Basu, beverage consultant and director, Stir, an academy for bartenders in Mumbai.
Inderpal Singh Bedi, food and beverage manager, Vivanta by Taj, Gurgaon, agrees. Samant, he says, has strategically targeted multiple consumer segments by developing a diversified portfolio -- from pocket-friendly low and medium range wines to exceptional premium ones.
Sula's growth story is mirrored in the growth of the Indian wine industry. "We have seen some strong players emerge. Fratelli, Revello, York, Nine Hills, Four Seasons and Zampa are just a few of the many Indian wineries in the fray," says Basu.
Today, Indian brands can be found in the cellars of most leading five-star hotels, a stark departure from some five years ago when most would push international wines from Australia and South Africa ahead of the Indian ones.
However, with homegrown brands winning medals abroad -- Samant's limited-edition Rasa 2012, the only Asian entry among 405 wines from 26 countries, won the silver medal at Syrah du Monde 2014 -- they are being accorded the pride of place.
In fact, sommeliers such as Mohit Handa from Rick's at the Taj Mahal Hotel, Delhi, are finding international customers opting for Indian wines over imported ones -- "not because of the price but because of brands such as Sula, which have taken Indian wine to a global level," he says.
What has also worked for Samant is that he has integrated wine drinking with tourism, education and culture to strategically imprint the Sula brand in the consumer's mind.
In 2005, he opened India's first Tasting Room and followed it up in 2007 with the first vineyard resort, Beyond by Sula, which drew over 230,000 visitors last year.
On the anvil is yet another resort -- a 23-room boutique retreat with a spa -- that will be up and running by the end of the year.
"Our first winery, a 200,000-litre facility, was set up in 1999. But it's proving too small now as we are doing 10 million litres," says Samant. "But it didn't make sense to demolish it as it is an iconic landmark -- the first-ever winery in Nashik." So he decided to turn it into a boutique resort.
He has also been promoting Nashik vineyards as a popular wedding destination. "Last year, we hosted 40 weddings in the space. If you get married in a vineyard, you will be a fan for life," he says.
Another cultural property -- SulaFest -- has served in helping people associate the brand with good times. The music festival, currently in its 10th year, sees an attendance of over 15,000 visitors over two days. "Since it's the 10th year, the upcoming edition of SulaFest (to be held from February 3 to 5, 2017) will be spread across three days, not two," says Samant, who rates music as his first love.
The idea for the fest was born along with the idea of Sula. "It was an obvious one for me because of all the time I spent in Napa Valley where wine is about life, celebration, music and dance," he says. "Don't be surprised if within a year, we have a new fest coming up."
Somewhere along this journey, Samant feels he has changed, as have his priorities. "The thirst to achieve a certain growth at a certain pace has tempered down," he says. "In the beginning, I was focused on growing the business. But now, sustainability and education have become important too."
So, there are courses for aspiring sommeliers, novices, tourists and locals at the vineyards, which is an authorised Wine and Spirit Education Trust (WSET) course provider. "We have tasting teams across the country conducting over 2,000 tastings a year," he says. This doesn't include the tastings done at Nashik. Of the 15 sales offices, six have an embedded tasting staff.
Leading growers are turning to ecologically sound practices and so is Samant. His vineyards in Nashik are making use of sustainable practices such as cool chilling, eco-friendly water heating, optimised drip irrigation and a skylight project.
Samant, however, is not without his share of detractors. A leading sommelier, while acknowledging that Sula has made wine fashionable among novice drinkers and in smaller cities, believes that Sula is more about quantity than quality.
"Wine, is not a cola. And it can't be treated as a bulk commodity evaluated in terms of the volumes that it is produced in," he says. "Wine brands are all about the produce and not about the person producing it. Sula, I feel, has become more about the person."
Samant isn't complaining.
IMAGE: Rajeev Samant at the Sula Vineyard. Photograph: Kind courtesy, Wikimedia Commons.