Suveen Sinha finds out what the tribe of modern, internet entrepreneurs who no longer run their first start-ups are up to.
Illustration: Dominic Xavier/Rediff.com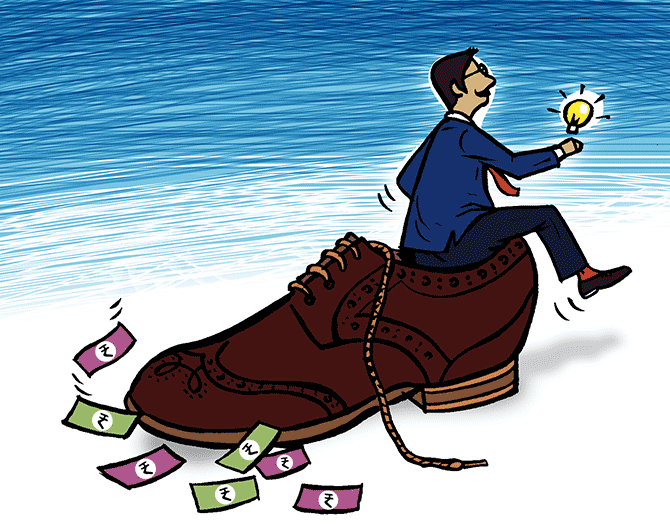 On the evening of August 2, 2011, a container truck stood outside Sandeep Aggarwal's home in Fremont, California. His household stuff was being loaded in it.
The following day, Aggarwal and his family were to catch a plane to India, where he was going to start ShopClues after years as an internet analyst on Wall Street.
That was when the phone rang.
The main investor in ShopClues was on the phone, calling to say the firm was pulling out. It had grown cold feet, now that Amazon had announced its foray into India.
Aggarwal worked the phone all night and had enough commitments by the morning from other investors to catch that plane to India, only to run into a contractor who took Rs 9 lakh to do up ShopClues' first office in Gurugram and was not seen or heard again.
In the next two years, Aggarwal and his co-founders, including wife Radhika and friend Sanjay Sethi, raised enough funds and roped in enough sellers to make ShopClues fly.
Just when it seemed nothing could go wrong, Aggarwal got arrested in an insider trading case in the US.
Aggarwal resigned as the CEO of ShopClues in October 2013.
The case drags on and Aggarwal expects to be absolved of all charges this year. But it gave him enough leeway to set up Droom, a digital commerce platform for buying and selling new and old cars and two-wheelers.
The believers would say ShopClues was not written in his destiny. Aggarwal says it was written in his stars that he will set up his "true masterpiece", Droom.
We will come to that in a bit. For now, let us look at the rising tribe of modern, internet entrepreneurs who no longer run their first start-ups.
The first to exit successfully was Avnish Bajaj, who sold Baazee, a site for auctions and peer-to-peer commerce, to its inspiration, eBay.
And the latest are the unrelated Bansals, Sachin and Binny, of Flipkart, who have stepped down in favour of a professional CEO, Kalyan Krishnamurthy.
In between, a third Bansal, Mukesh, sold Myntra to Flipkart.
Phanindra Sama sold RedBus to Ibibo.
Pearl Uppal walked out of Fashion and You.
Kunal Shah sold FreeCharge to another Kunal, Bahl, of SnapDeal.
And Praveen Sinha left Jabong.
Each is dealing with it differently, and together they are writing a new chapter of entrepreneurship in India, one that requires them to come of age.
It is not easy to let go of the company you founded. Doing a start-up sucks you in, emotionally and physically, and the separation anxiety can overwhelm a person as formidable as Steve Jobs.
Jobs, who all modern entrepreneurs dream of emulating, was sacked from Apple, his own company, by the CEO he had himself hired.
At the age of 30, Jobs recounted, the focus of his life was gone. It was devastating. He thought he had let the previous generation of entrepreneurs down. So, he met some of them and apologised for messing up so badly.
The Indian entrepreneurs are showing more fortitude, none more so than Bajaj, the first off the block.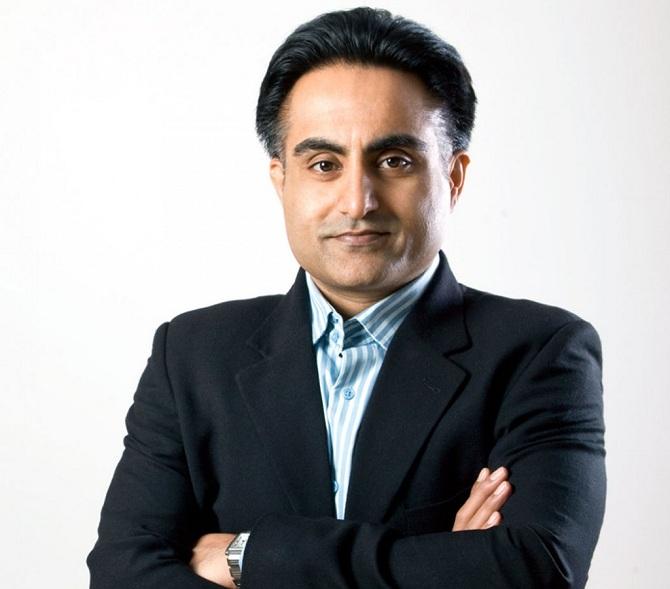 IMAGE: Avnish Bajaj, who sold Baazee, was among the first entrepreneurs to exit successfully. Photograph: matrixpartners.in.
Bajaj is the force behind one of the biggest venture capital firms in town, Matrix Partners India. And he has no regret about selling Baazee back in 2004, and missing the high valuations internet start-ups got a few years later.
"Waiting five more years would have got a different outcome. Did I have the staying power? Absolutely not. I just didn't have the energy," says Bajaj.
But, doesn't it take a lot of energy to be a big-time VC?
"A different kind of energy," says Bajaj. "The ups and downs are spread over 15 to 20 situations (investee companies). You do not have to obsess over their operations."
He does apply the lessons from Baazee in choosing his investments. So, he likes founders who are concerned with the details, who worry about customers and who have the right thought processes.
But why didn't he simply start another company, and become what is fashionably called a serial entrepreneur?
Bajaj says the market was too shallow back then. He may have set up another company had he exited Baazee in 2009 or 2010, by which time the market for internet companies had burgeoned. But now he is happy being a VC.
"People keep saying you should learn from failure, but it is much better to learn from success. Once you have figured out what works, you stick to it," he says.
Sama, the founder of RedBus, also invests in companies, but makes small investments as an angel, not the big VC investments Bajaj makes.
And in all the other aspects, the two could not have been more different.
Having exited RedBus in 2013, the first big exit since Baazee, Sama has been busy exploring the world, and himself. He spent a few months at Stanford in the US for a residential programme in economics, psychology and theatre, and another few in Sweden to study sustainability.
"I did not get a chance to study these earlier, now I can," says Sama with a chuckle.
He also gets time with the family, something that was unthinkable during the RedBus years. Talking on the phone from his home in Bengaluru, he is audibly happy to say his son has come back from school.
But life for him is not just home and children. He is passionate about sustainability.
Three years ago, he became involved with a sandbox called Kakatiya, which encourages innovative approaches to solve local problems in Sama's home state of Telangana. (A sandbox provides a secure environment for experiments.)
One of the problems in Telangana is that farmers keep digging borewells in their fields. When one goes dry, they dig another. So, much so that one farmer was found to have 18 on his three-acre farm.
Sama has supported a local entrepreneur who revives borewells by harvesting rainwater.
Then there are the 15 or so start-ups in which Sama has invested, mostly following his instincts.
"For me, it is more the personal characteristics that matter: what the person is, rather than what he is doing."
Sama plans to continue on this path for a while.
"I will spend more time learning. There are so many questions in my mind. I want to maybe study philosophy, to understand the world around me," he says.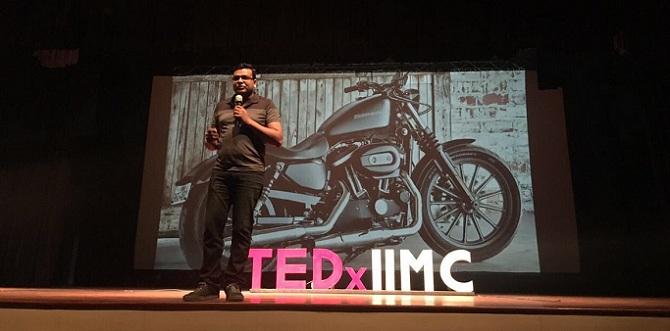 IMAGE: Sandeep Aggarwal founded ShopClues and Droom. Photograph: Sandeep Aggarwal/Twitter.com.
Aggarwal is too busy with Droom to spare time for formal studies, least of all philosophy, but he is no less philosophical in the way he deals with being out of ShopClues.
"Life dealt me a bad hand," he says, invoking a game of cards. "It sometimes feels weird that I put in the soil, seeds, and water, but someone else is enjoying the sweet smell of the roses."
It is not much consolation that those smelling the roses are his wife Radhika, whom he had hired as the second employee of ShopClues, and friend Sanjay, Employee No 3.
Aggarwal makes it a point to emphasise that he is the principal founder of ShopClues and the largest owner of its common stock. So much so if a journalist writes about ShopClues without mentioning him as its founder, Aggarwal's team sends the writer documents to establish the company's constitution.
Still, Aggarwal says he has moved on.
"The pleasure of building a masterpiece is higher than the regret of not being able to smell those roses. Based on January numbers, Droom has become the fifth largest e-commerce company in India on GMV (gross merchandise value) in just 25 months," he says.
Of course, few e-commerce marketplaces these days measure their success on GMV that is the combined value of all goods and services sold on the list price, without factoring in discounts. But the more curious thing is that the fourth largest, the one just above Droom, is ShopClues.
Sinha, formerly of Jabong, promised to one day meet this writer in Café Amaratto on the Golf Course Road in Gurugram. He owns the café. But that meeting has to wait. Sinha is neck deep in FinCap, a financial technology company he has set up.
Sinha was the managing director of Jabong from the time it started in 2011 till September 2015, when he resigned amid media reports that some of his logistics deals were being questioned by Rocket Internet, the main investor in Jabong.
Sinha says there were no such questions.
"My exit was not unpleasant, the media made it so. The investors wanted me to stay on as a consultant. But Jabong was becoming a part of [Rocket-owned] Global Fashion Group. It would not have remained an independent entrepreneurial journey," he says.
He was also not very keen on e-commerce, which had become too capital-intensive and dependent on discounts. "Irrationality was coming in," he says.
He is not ready to talk about FinCap's numbers, but calls them "very positive". He is also an angel investor in 10 or so companies.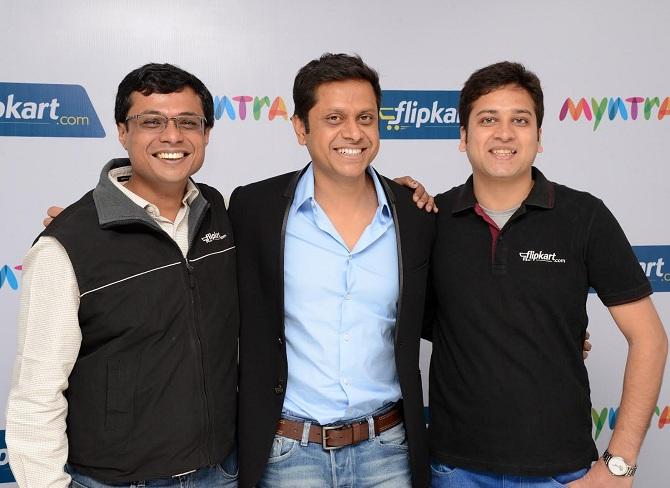 IMAGE: Sachin Bansal, Mukesh Bansal and Binny Bansal.
Mukesh Bansal set up online fashion retailer Myntra in 2007, and sold it to Flipkart seven years later. For the next year and 10 months, he ran Flipkart's commerce platform, quitting it last February.
He first took a sabbatical, during which he read books and spent time with his daughter, who wants to be a sprinter, and son, who is a mathematics enthusiast. Then he set up two health outfits, CULT and CureFit, where he has taken on the designation of WIP.
That, he told a newspaper, stands for Work In Progress. He aims to have a company without titles, and thereby without hierarchy, where what one does is one's designation. His phone was not reachable and, therefore, no further updates could be obtained.
Meantime, all eyes are on Flipkart.
Of its two founders, Sachin remains executive chairman and provides strategic direction, and Binny heads the new Flipkart Group, where he focuses on strategy and M&A.
Sachin did not reply to an email, but his head of communications called in to say either or both the Bansals might talk on this article. That conversation had not happened at the time of writing.
Speculation is rife in the start-up and investor community which way the Bansals would lean. They could go the Google way, where founders Larry Page and Sergei Brin brought in the much greyer Eric Schmidt to be the CEO for a while before Page took charge.
Is Krishnamurthy Flipkart's Schmidt?
One statistic in the way of that is that the Bansals' holding in the company, after several rounds of funding, is said to be rather small. And there is a perception that Krishnamurthy, the nominee of Tiger Global, Flipkart's biggest investor, came in at the behest of the board, and not of the founders.
So one view says it may be best for Sachin and Binny to guide the company to a successful exit for the investors and for themselves. That they can do by staying in the company -- not leaving it.