Amit Jain tells Shyamal Majumdar about his dream to make Uber the 'safest place in the city.'
Illustration: Uttam Ghosh/Rediff.com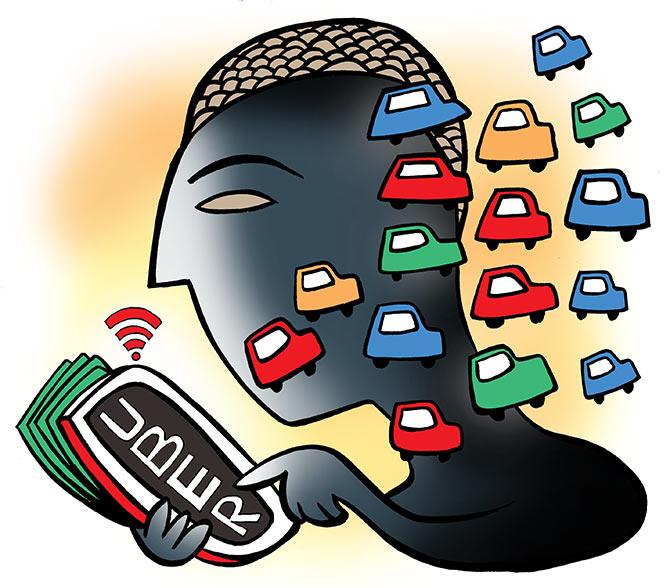 It's a familiar script for all super-achievers and Amit Jain has followed it to perfection.
The 38-year-old president of Uber India was a class topper at Sherwood; he graduated in computer science from the Indian Institute of Technology, Delhi; did his master's in business administration from Stanford University; worked in senior positions at -- where else but McKinsey and TPG Capital -- before becoming "a CEO who works 24x7" first at Rent.com, a US-based technology company that gives renters the 'perfect' place to live and then in Uber India, where his immediate aim is to make his taxis "the safest place in the city."
And like all other toppers who seem to have abundant all-round skills as well, Jain represented India twice in computer programming contests in Indonesia and Singapore and captained IIT Delhi's athletics team for two years. "By the way," he adds "I also love playing the santoor."
That's a resume ordinary mortals would die for, but Jain is pretty matter-of-fact about it. "Work-life balance is fine, but, these days, it's difficult not to be a 24x7 manager," he says, adding that while he enjoys the hectic schedule, he isn't sure whether his wife, a PhD scholar from a US university who has taken a break from work to take care of their two-year old son, shares that feeling. Apart from the "super-job," the couple are thrilled about being back in India after 17 years.
We are at the EEST, a multi-cuisine restaurant at The Westin in Gurgaon (now Gurugram), and Jain gets the ordering out of the way by opting for a 'set menu' of Thai vegetarian thali. I choose the non-veg version. It's obvious Jain has chosen the venue more for convenience than anything else -- the hotel is just a 10-minute drive from his office.
He doesn't need any prodding to shift gears and talk about his journey at Uber India where he joined in April last year as country head, marking a shift in strategy for the US-based cab-hailing company, which relies on city-by-city management teams in other countries except China.
By the time the soup arrives, Jain is on a roll and reels out numbers to prove his point. For example, in January last year, the market share of Uber, which operates in 27 cities, was five per cent; that has now crossed 45 per cent.
Isn't that lower than the company's publicly stated target of 50 per cent market share by March 2016, I ask. Jain is unfazed and says one shouldn't get bogged down by short-term goals.
He is confident that the number will go up exponentially through UberPool, its car-pooling service. Research done by the company shows that 70 per cent of the cars on Delhi roads have only one passenger at any given point of time.
In the US, more than 50 per cent of the trips made by Uber are pool services and Jain expects to reach that number pretty soon in cities like Delhi and Bengaluru where the pick-up has been the fastest.
Uber's technological prowess, he claims, is superior to all others and that's the reason why it doesn't believe in throwing more people at a problem. It's all about throwing less people who have the wherewithal to do it. "That's why we can scale up fast," Jain says. "There are less people in Uber across the world than what most of our competitors have in just one country they operate in."
Uber has all of 300 people in India, but the number will go up as the business requires more India-focused product innovations.
The company's Bengaluru engineering centre, which was inaugurated a month ago, will have 100 people by the end of the year who will later customise these innovations for other regions in South Asia and China.
Would he mind giving a preview of the kind of stuff the Bengaluru centre is working on? Jain doesn't take the bait and says that would be like "giving a preview to his competitors."
The food is standard five-star fare and Jain seems a sparse eater. Unlike several other start-ups (he refuses to name any of his competitors), money isn't a problem for Uber as the company has decided to continue investments in markets like India and China with the profits it makes from other mature markets.
"That's an advantage our competitors don't have and that's their problem," Jain says.
His vision for Uber is clear -- "to get to a point where nobody needs to buy a second car, or even a first car, because there is Uber."
Keen to prove that it isn't just another empty quotable quote, Jain talks about the many 'firsts' Uber has implemented in India. To begin with, it has launched India-specific apps that can work in low-network to no-network areas, allowing driver-partners as well as passengers to end the trip.
"The reality is that broadband connectivity in several areas, even in cities, is quite weak and we came up with this novel solution only for India. The idea is not having to make a call to the help centre," says Jain.
Among the other 'firsts' are UberGo, typically, hatchback cars that are far cheaper than the UberX; UberMoto, the bike service which was started in Bengaluru within a week of its launch in Bangkok; and Uber auto service, which has been launched so far in Coimbatore and Bhubaneswar.
But the real innovation, he says, has been the cash payment option that Uber now offers passengers.
"I doubt if Travis (Uber's global CEO Travis Kalanick) could have ever imagined that Uber will launch such a service anywhere in the world. But we had to accept the market reality in a country where 70 per cent of e-commerce transactions are on cash-on-delivery basis," he says.
That, of course, doesn't mean that Uber has given up on its cashless payment experiment. "The adoption of technology is a curve that takes time, but we will do it," he says. The firmness in Jain's voice belies his softer exterior.
And he isn't finished yet. "We will do all that it takes to win the market" in India which, along with China, is Uber's largest growth market outside the US. In fact, India is the third-biggest market in terms of trips across the world.
The food remains half-eaten as Jain says much of his time in India goes into intensive negotiations with regulators and state governments. Some of the regulations, like the Motor Vehicles Act, were written decades ago at a time when such a business was nowhere on the horizon and technology was at a certain level.
"There is a regulatory vacuum that affects this industry and leaves everyone confused as to what the rules are. But I am optimistic that we will come to a solution that is comprehensive and countrywide," he says.
I had reserved what I thought would be the juiciest part of our conversation -- the public slugfest and numerous court battles between Uber and Ola, which have been at each other's throats for quite some time and have beaten the intensity of even the famous cola wars of the past.
But Jain seems to have perfected the art of diplomacy -- the only on-record statement he offers is: While healthy competition is good as it helps one to push forward and innovate, unwarranted or naked aggression can vitiate the atmosphere.
"Why not focus on your business, on your products instead of having a very short-term goal of attacking others?" Jain says.
I press further: What about Ola's claim that its recently-launched Micro alone is on track to match the number of total rides of Uber in India within a month?
Pat comes the answer: "Don't pay attention to what others say. Our product is superior and that's the ultimate decider."
It is doubtful whether competitor Ola would be interested in listening to such homilies.