'One good thing that has come out of all this is that it shown people that online ordering is the way forward,' Grofers Founder Albinder Dhindsa tells Yuvraj Malik.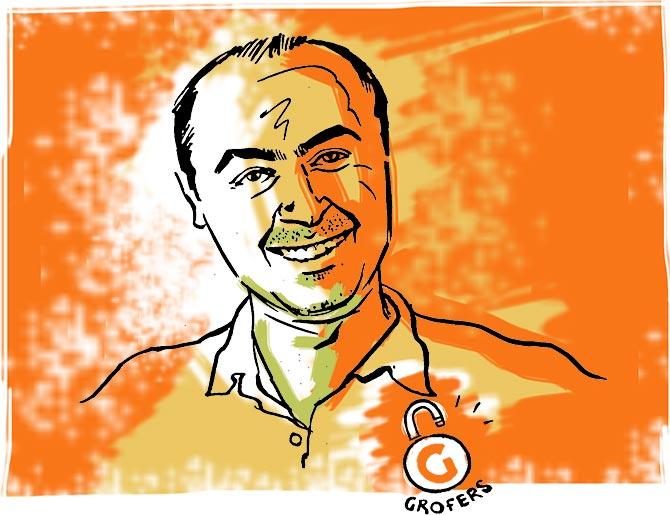 It isn't a surprise to find Albinder Dhindsa munching on parathas early in the morning before heading off to work.
The 38-year-old founder of grocery delivery firm Grofers hails from Punjab and proudly flaunts his penchant for king-sized breakfast.
I meet Dhindsa across the screen, over a Zoom call.
Speaking from his living room, sitting in front of a portrait of Tintin, the intrepid young investigative reporter created by Belgian cartoonist Georges Remi, Dhindsa tells me the parathas have been prepared by his mother and that he is bored of having oats first thing in the morning.
A bowl of karela sabzi, a glass of banana smoothie, some almonds and dates and a big dose of home-made white butter accompany his parathas.
That looks rather sumptuous compared to the tomato and cucumber sandwich and cold coffee that I have put together for myself.
"I usually don't eat a lot of carbs," he starts off. "Today is a sort of cheat day."
A couple of years after starting Grofers in 2013, Dhindsa called his parents over from Sangrur, a district 60 km from Patiala, to stay with him, as he could not make time to visit them often.
His grandmother, who is "about 100 years old", also stays with him in his Gurugram home.
Dhindsa has made a name for himself in the food delivery sector. His firm supplies over 100,000 packaged food orders a day, and one of the top two online grocery retailers in the country.
His firm is backed by a handful of top venture capital firms like Sequoia, Tiger Global Management and Softbank and is valued at around $800 million.
For all his early success, Dhindsa comes across as a guy next door. Wearing a causal grey t-shirt and burgundy trousers -- his office attire on most days -- he breaks into his earthly Hindi every so often during the course of our conversation.
Dhindsa says he has seen a lot of ups and downs in his career as an entrepreneur. In 2016, after two years of hyper-growth, Grofers had to scale back operations in nine cities and tweak its business model because it was losing more money than it was making.
For at least three years -- between 2015 and 2018 -- he wasn't able to raise money for the company.
Investors began to write it off as competition -- from the likes of the Alibaba-backed BigBasket and others -- began to intensify.
By the time the money came in in March 2018, Grofers had seen its valuation erode by 35 per cent. In other words, it was a 'down round'.
Despite all that, Dhindsa did not pay heed to the naysayers and decided to plough through. He kept his head down, tried out new verticals (most recently, Grofers started selling apparel but has put it on hold) and continued improving the supply chain and the products on offer.
So when the pandemic hit, he took it as an opportunity to show his mettle. In late March, India went into lockdown to contain the spread of COVID-19. As people could not step out, they began to rely on online deliveries, especially for grocery and daily staples or the essentials.
This put immense pressure on grocery platforms like Grofers -- they faced warehouse closures and the flight of a big chunk of their contract workforce. "It was war time," Dhindsa recounts.
After five days of zero operations, Grofers went back up, step-by-step, initially servicing 10 per cent of the orders, ramping it up to 15 per cent and so on.
"We recruited new workers by the hundreds because older workers either went home or were afraid to come to work," he puts the picture in perspective.
If it was earlier working with 800 packing and delivery staff, it had to manage with 200. To keep the supply chain alive Grofers set up a new warehouse in Gurugram in a mere two weeks.
"One good thing that has come out of all this is that it shown people that online ordering is the way forward. It has increased our acceptance rate," he says.
But how did he get into this uncertain business of doing one's own thing? Dhindsa says he always wanted to do something of his own.
He was bright in school and cracked the Indian Institute of Technology-Delhi, the dream of many middle-class students. He even appeared for the National Talent Search Examination when he was in school.
Interestingly, at the talent search exam, he met Deepinder Goyal, who would go on to set up Zomato.
As luck would have it, Dhindsa and Deepinder later attended the same high school in Chandigarh and joined the same college in Delhi.
This early bond would become an important support system for Dhindsa later in his life.
After working for a few years after passing out of IIT, Dhindsa joined the Columbia Business School, New York. But he came back to India a semester earlier to help Goyal set up Zomato.
"I came to Zomato in my third semester. I would go back to take my exams... schools in the US encourage that. I did finish the degree, but I had always planned come back home and start something," says Dhindsa, who left Zomoto as head of global operations in May 2014.
But by the fag end of 2013, Dhindsa had begun putting together what would ultimately become Grofers.
Initially, Grofers would supply dairy items like milk, curd, eggs and bread to Gurugram households every day. "We started off by calling ourselves One Number... you know, one number for all your needs."
There was a Web site and people would place orders online and Dhindsa and his team would source it from local stores and make the deliveries.
It was gaining traction, but the company wasn't making money. "Then what happened was a lot of people we were picking eggs and breads from, like the daily merchants, would request us if we could do their deliveries as well, and this became our revenue model."
In this effort, Dhindsa's partner and future co-founder was Saurabh Kumar.
Kumar went to IIT-Bombay and met Dhindsa when the two worked together at Cambridge Systematics, a transportation consultancy firm in the US.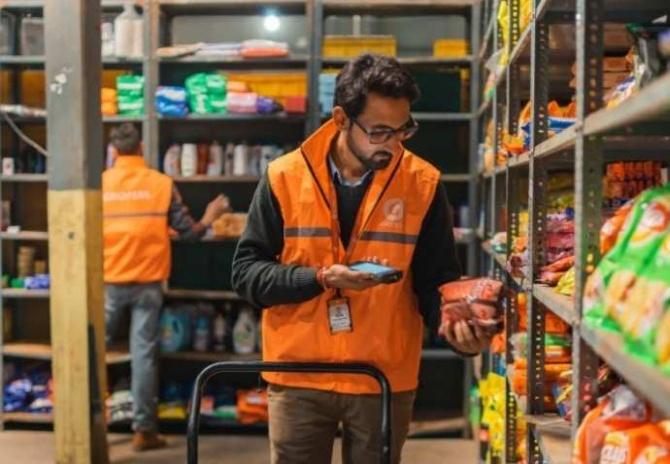 By 2014, the team saw an opportunity in the packaged consumer goods segment.
The company bagged seed investment from Sequoia Capital and over 2015, it raised a whopping $165 million from Sequoia, Tiger and Softbank.
For some time, Grofers was the raging lion and it seemed there was no stopping it. Around the same time, BigBasket had cemented itself in Bengaluru.
Grofers was up against seasoned entrepreneurs who had earlier set up and sold off the More supermarket chain.
During 2016-2018, many players -- such as the SAIF Partners-backed PepperTap -- entered the scene but did not survive.
Even Amazon and Flipkart started grocery delivery. On its part, BigBasket raised funds from Alibaba, a major tech investor and owner of China's biggest e-commerce platform T-Mall.
Grofers had competition from all sides, and for some time, it seemed to Dhindsa that things were getting a bit too much.
There were rumours of a potential acquisition, and there were several on-again off-again talks with BigBasket as well other horizontal e-commerce players, largely led by the investors.
However, Grofers decided to bulldoze through on its own. It made a couple of changes to its business model -- the focus shifted to the middle-income, price-conscious consumer, a string of private labels were launched, and operations were limited to only a dozen cities where business was good.
Lastly, the model itself was changed to stock-keeping from earlier pure-play marketplace.
The about-turn worked. In May 2019, the existing investors rewarded it with an additional $220 million -- a much-needed capital infusion which also showed Grofers was in for the long haul.
The firm closed FY19 with Rs 155 crore in revenue, up from Rs 118 crore the year before.
By this time, our virtual meeting has moved into his car -- a Kia Seltos -- as Dhindsa began driving to work. "This is my wife's car," he says.
"She took mine out this morning as it was parked in front of this one." Over the years, running and reading books have been a source of inspiration for Dhindsa.
The last book he read is Half Lion: How P V Narasimha Rao Transformed India by Vinay Sitapati. "It wasn't the best book I read, but it made an important point: The journey India takes to adopt what is in its best interest is much longer than we think."
"The difference between knowing what is the right thing and the right thing getting implemented is huge," he says, as he picks up speed.
---
Feature Production: Rajesh Alva/Rediff.com