How bridge keeps corporate India sharp and quick-witted.
Ranjita Ganesan and Manavi Kapur report.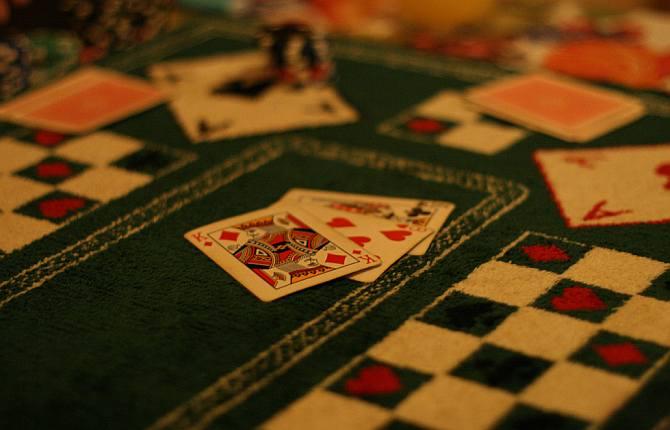 As the India managing director of a German steelmaker that describes itself as the 'global leader in high-end long products,' deals and contracts are perhaps a part of Raju Tolani's day.
But the ones he relishes particularly are the ones he analyses on the Internet in his lunch hour, and they have little to do with Schmolz + Bickenbach, his company.
Always during a short afternoon break, the 55 year old logs on to bridgebase.com to indulge in his other serious endeavour -- contract bridge.
Here, quite like several of his peers in the corporate world, he competes in virtual matches of the card game or simply follows live streams of international events.
Both online and offline, the interest in playing bridge seems to be steadily rising among head honchos in the country.
On a recent Saturday, 80 of them gathered in a hall at a five-star hotel in Bandra, north-west Mumbai, to indulge in the game, with some even flying in from Delhi, Kolkata, Hyderabad and Chennai.
They were there for the All India Invitational Corporate Bridge Event, which was open to 'corporate executives, senior bureaucrats, and famous personalities.'
The idea behind the fixture, held by the Corporate Bridge Association of India for five years now, is to give room to business magnates, who have little time otherwise, to participate in near-professional games.
'While computers can beat a Kasparov at chess, they can't outplay the world's best bridge players. That's because machines can understand logic, but still can't figure the human mind.'
The more serious among them will compete again with international champions in October at HCL's International Bridge Championship, established by Kiran Nadar who is also a keen player.
The prize money up for grabs will be Rs 1.2 crore (rs 12 million).
A search for more like-minded honchos to play with led Kolkata-based Shree Cement head H M Bangur to set up CBAI in 2011. HDFC's Deepak Parekh leads the association now.
Its members indulge in regular matches that last seven minutes as well as annual tournaments that span seven hours.
Among the enthusiasts are Ashok Ruia of Phoenix Mills, N R K Moorthy of Agsar Paints, C V Rao of Navayuga Group and Ashok Kumar Goel of Dhampur Sugar Mills.
Men tend to outnumber women in these circles, and players are typically aged 40 and over. This trick-taking game is cerebral and is often compared to chess.
Fans will even tell you they prefer it to chess because of its social nature -- it is played in pairs and teams, and intuitive communication is at its core.
In a 2015 blogpost titled 'What makes the best corporate minds in the world love bridge' for The Economic Times, Nadar wrote eloquently about why corporate leaders choose to play bridge.
'While computers can beat a Kasparov at chess, they can't outplay the world's best bridge players. That's because machines can understand logic but still can't figure the human mind,' she wrote.
'Bridge,' she added, 'is about people. True skill lies in evaluating your assets and those of your partner's, and then your opponents.' Nadar was not available for comment because she, like many other top business leaders, is in Poland where the 2016 World Bridge Games, an international bridge tournament, is currently underway.
Globally, too, business minds have found merit in the game. Warren Buffett, the 86-year-old billionaire investor, is an enthusiast, reportedly saying he would not mind going to jail if he had 'three cellmates who played bridge.'
Bill Gates is an avid player, and an investor in the portal bridgebase.com.
Another big draw for bridge events is that they are ripe for networking. They offer a chance to unwind with fellow businessmen in a non-professional environment, and to be introduced to counterparts from other industries.
"Despite its niche character, I realised that bridge events can be quite a mela, with an infectious energy that can be both exciting and stress-busting," says Maneesh Bahuguna, CEO of Anglian Medal Hunt Company, who started playing in 2000 after a senior colleague introduced him to it.
The passion is palpable in their voices as they speak about the game.
'Impetuousness, ego and a lack of discipline are punished both in business and in bridge.'
During snack breaks, there are voluble chats on various aspects of the matches played until then.
Between boards, team mates engage in banter that ranges from the decorous "partner, you could have done better" to the less-forgiving "partner, that was a stupid mistake." Wisecracks and inside jokes fly about.
Though the comparisons with golf abound, serious bridge players believe that the card game can only be pursued with a certain degree of seriousness and regular practice.
"Dominated by engineering graduates and those with a strong foundation in mathematics, bridge assumes knowledge of and teaches the complexities of probability," says Bahuguna.
"Bridge is the ultimate practical example of Bayesian statistics, and honing that skill can immensely improve one's decision-making abilities," says another corporate player who requested not to be named.
It also teaches life lessons, the player adds.
"Impetuousness, ego and a lack of discipline are punished both in business and in bridge."
But where their business decisions would reap benefits or backfire only years later, the instant feedback from bridge helps them to apply its principles in their businesses and judge outcomes.
Some reckon they are able to read people better going by how they act at the bridge table. It keeps you alert and prevents the onset of age-induced dementia and Alzheimer's, says Dipak Poddar, promoter of Poddar Developers.
"I can remember hands that I played a year ago -- all 52 cards."
Many executives channel the skills learnt at the premier education institutions they went to.
Bangur, who is 63, grew up in a Kolkata where bridge was played every evening in traditional Bengali addas. He learnt the game from watching his parents play, and mastered it in his college days at the Indian Institute of Technology-Bombay.
In the 1970s and 1980s, bridge was a part of the culture in the IITs and IIMs. "There was no rat race going on and people would find time to play games of intellectual value," says Tolani.
Poddar picked it up during his years at Massachusetts Institute of Technology, while Anand Mehta, packaging industrialist and cricketer Sachin Tendulkar's father-in-law, was introduced to as a student at the London School of Economics.
Bridge, unlike some other corporate hobbies, is not seen as a young man's game though.
Wikipedia thinks so too, saying it is one of the most popular card games in the world, 'particularly among seniors.'
Some believe it requires the persistence and patience of a mature mind. This, for Sunit Chokshi, chairman of Ahmedabad-based Armaan Developers, is an India phenomenon.
Over the years, the game seems to have exited campuses in the country. But schools in the US and Europe, in fact, have bridge as part of their curriculum, notes Chokshi, adding that studies show it helps children excel in academics.
It is a battle of wits. In her blog, Hema Deora, artist and wife of former petroleum minister, the late Murali Deora, says of Parekh's method of playing, 'A smart man makes a mistake, learns from it, and never makes that mistake again. But a wise man like Deepak Parekh finds a smart man and learns from him how to avoid the mistake altogether.' Parekh is said to play for an hour or two every day.
In addition to meeting at the club or in someone's home, players can send each other interesting deals online.
Duplicate bridge, a competitive form of contract bridge where all partnerships play the same hands, is finding more takers than rubber bridge, which is recreational and based more on luck.
The association of card games with gambling has stopped in the case of bridge. It was introduced in the Bombay Gymkhana after players argued that the Commonwealth Games and even the Olympics had recognised it as a mind sport.
Veterans remember relying on mentors, books and bridge columns in newspapers to build their knowledge, while younger players have naturally gone digital.
The game keeps evolving, says Mehta. Bidding systems are far more aggressive now compared to a decade ago, agrees Rajesh Somani of Lahoti Terra Knitfab.
With protective screens and cameras on the scene, competitive bridge has very few incidents of cheating anymore.
Although corporate heads have the money required to compete in global tournaments, making time is a challenge. The likes of Bahuguna and Ruia may play anywhere between five and 10 tournaments a year, each lasting nearly 18 days on an average.
While nearly 45 per cent of the leading bridge players in the US are from the financial services sector, in India this number is at a mere 2 per cent, considering its lack of popularity and its time-consuming nature, according to one bridge player.
But as more people in the business world warm up to the game, the hope in the bridge community is that they will also chip in by sponsoring players and promoting teams.
It is almost philosophical the way some reminisce their experiences of the bridge room. Anil Padhye, a player who runs a printing business in Mumbai, says, "If you befriend the game, you can be sure you have a friend for life."
At the end of a long day in office, Tolani likes to think about the various bridge hands he played. "You can bask in the glory of an intelligent gambit."
These men from the higher echelons of businesses, who may otherwise be hard to reach, show a willingness to talk about the mind sport.
When it comes to professing their love for the game, it seems bridge-playing executives rarely keep their cards close to the chest.
Avishek Rakshit contributed to this report.
Photograph: Kind courtesy Francois Philipp/Creative Commons