'One can charge it at home, in the office, on the go. All it needs is a 15 Amp electric socket which is found is all our homes.'
Rajesh Karkera/Rediff.com brings you glimpses from the launch.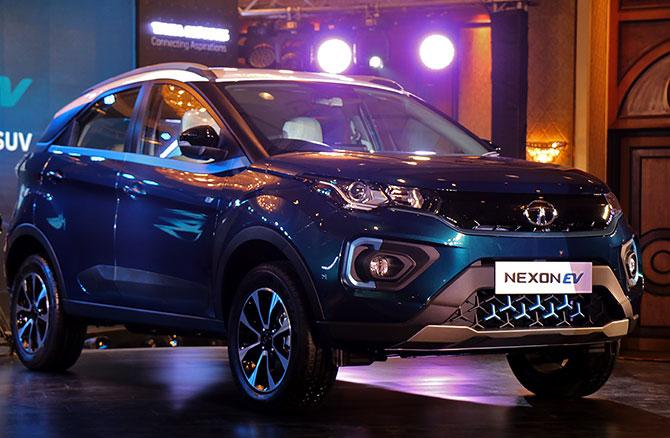 Tata Motors has joined the electric car revolution.
Its first offering is the Nexon EV, the electric version of the company's bestselling compact SUV, the Tata Nexon.
A big factor behind choosing the Nexon for its electric debut is that it has been rated India's safest car by the Global New Car Assessment Programme (NCAP).
While bookings begin on December 20, Tata Motors is being coy about the exact price, though they do confirm that it will be within Rs 15 lakhs to Rs 17 lakhs bracket.
The car, in a first in India, comes with an eight year warranty.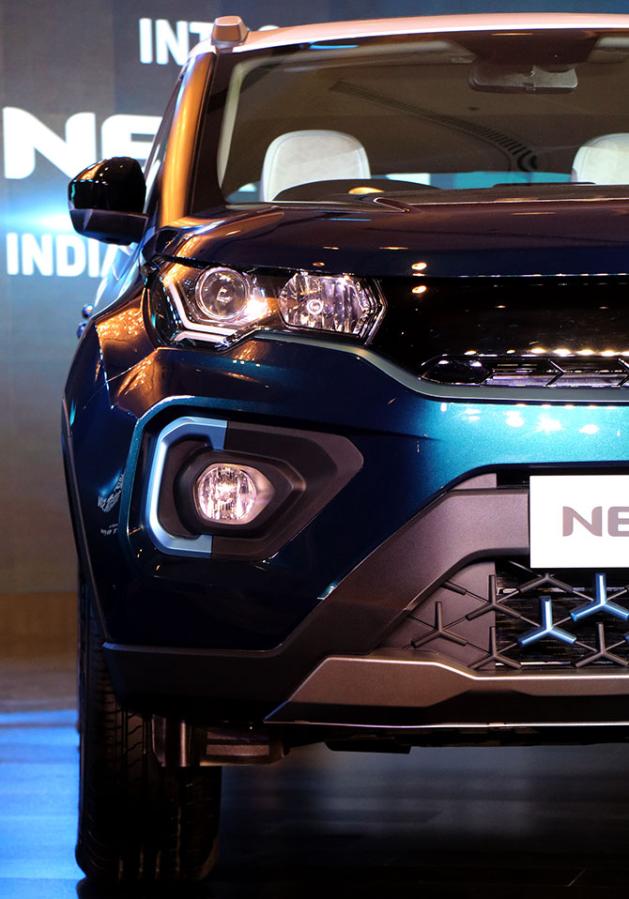 How do they plan to tackle the need for charging outlets?
Shailesh Chandra, president, electric vehicle business unit and corporate strategy, explained, "The Tata Nexon EV will not need not go to a fuel pump/charging pump to refuel."
"One can charge it at home, in the office, on the go. All it needs is a 15 Amp electric socket which is found is all our homes."
"It also comes with a fast charging option, which charges the car from zero to 80 per cent within an hour."
The SUV, he added, was "a big milestone for Tata Motors's electric unit and a big milestone for the nation as well since this is the first world-class, high powered, compact electric SUV that has been 'Made for India' and 'Made in India'."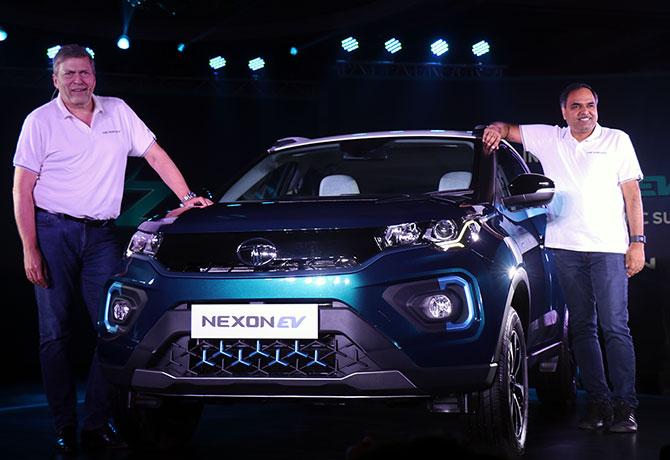 If you've sat in an electric vehicle, you'll know the experience is different from sitting in a regular car which is powered by an internal combustion engine.
There is less space in an EV since its massive battery is placed under the car, which takes up space and raises the inside bottom.
Tata Motors has managed to take care of that problem in the Nexon EV so the SUV's floor does not feel high.
"This electric vehicle will not let you down," promises Pratap Bose, vice president, global design, Tata Motors. "Modernity, a sense of calm and space and Tata Motors's DNA has inspired the interior design of the Nexon EV."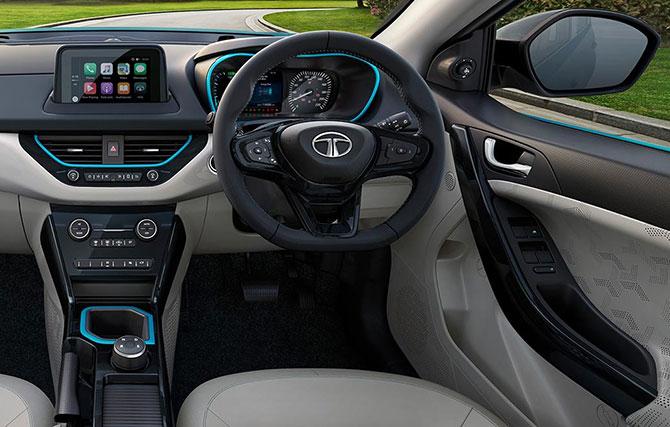 The Nexon NV has also taken inspiration from India's national bird, the peacock; the car used for the launch was dressed in Signature Teal Blue. The other colour options are Moonlit Silver and Glacier White.
Tata Motors claims its SUV will deliver 300+ km on a single full charge. The company will offer a warranty of eight years/160,000 km, whichever is earlier; this is a big step in proving the durability of the car.
Additionally, it claims the SUV can accelerate from 0 to 100 kmph in just 9.9 seconds and accelerate from 0 to 60 kmph in just 4.6 seconds.
This gives it an instant peak torque of 245 Nm from the liquid-cooled permanent magnet 129 PS electric motor.
"It is the fastest car in this segment today," said Anand Kulkarni, vehicle line director, product line, electric vehicle business unit, Tata Motors.
The Nexon EV will be available in three variants.
The Nexon EV, XM (in single tone), which is the base version, will include fully automatic climate controls, automatic transmission with drive and sport modes, dual airbags with EBD, a telematics app which will make it a connected car, keyless entry and a push button start.
The Nexon EV, XZ+ will have all the features of the XM, along with contrast dual tone roof colour, 6 inch diamond-cut alloy wheels, 7 inch touchscreen infotainment, reverse parking camera and a leather wrapped steering wheel.
The Nexon EV, XZ+ Lux, the top variant, will include a sunroof, premium leatherette seats, automatic rain sensing wipers and automatic headlamps.
Bookings for the Nexon EV open on December 20.
While you can book it for Rs 21,000, the SUV itself will only be available in January.