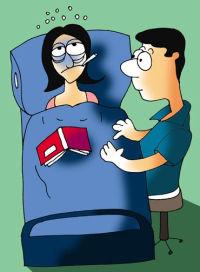 The union finance ministry's decision to partially subside capital investment in healthcare and education by extending the "viability gap funding" facility to these sectors is welcome as they are vital areas of social infrastructure, which are no less important than roads and bridges.
But every sector has its own complexity and the nuancing that the health ministry has sought for such subsidy to healthcare infrastructure needs serious attention.
The ministry's contention is that the assistance should be calibrated, depending on where and for whom the facilities are intended.
There is already a massive bias in favour of healthcare facilities available to the better-off in urban areas.
So, there is absolutely no need to subsidise more such capacity. On the other hand, the rural areas are woefully lacking in healthcare facilities and the shortage is worse in the case of what the poor can access.
So, this is where the subsidy should go.
If such calibration does not take place then capital subsidy will perpetuate a most unfortunate trend that has been in existence for long - the better-off managing to corner the subsidy, which is actually meant for the poor.
A good bit of public private partnership in healthcare tried out so far has perpetuated the old bias. Who gets to occupy the subsidised beds provided in a corporate hospital in lieu of public land given at non-market prices?
Or take a diagnostic centre set up by a global medical equipment manufacturer on the premises of a district government hospital.
The centre charges the same rates as the hospital does, that is, below poverty line people are entitled to free services.
But in reality, the poor either don't know that they can go there for free, or simply feel too intimidated to approach what looks like posh and paid-for.
It is important, in this connection, to note that a workable PPP model for providing healthcare to the rural poor is yet to be devised.
The only setup that delivers something is public, that is fully state funded, healthcare service that functions reasonably well.
The result of a pilot project undertaken by Nachiket Mor, formerly of ICICI Bank, in Tamil Nadu is instructive.
Attendance is good so long as it is free, partial if a token charge is levied and very poor if services are properly priced.
The better-off try the private centre first and the poor the government centre first. This is the situation in a state where public health services are reasonably efficient.
In the case of states where public healthcare is virtually non-existent, the poor, who are usually the country's poorest, have virtually nothing to turn to.
The real issue is how to develop a PPP model for people whose ability to pay is virtually zero. One answer is vouchers or cash transfers to the poor.
Armed with such vouchers or cash, the poor can go healthcare shopping, which will create competition and improve standards.
This is fine in theory and worth a try. But there should be no illusion that supervising such a system, particularly in states which are poor and where corruption is high, is a Herculean task.