This 75-year-old hallowed store in Mumbai supplies shoes to Amitabh Bachchan, Tatas, Birlas among others.

Remu Javeri recalls spotting a foreign tourist, dressed head-to-ankle in impeccable Indian attire, roaming the halls of the Taj Mahal Palace Hotel in Mumbai with a pair of mojris in his hands. This wouldn't have happened had he shopped at Joy Shoes, the store partner quips. "You never have to break into our shoes. Just wear them and you're good to go."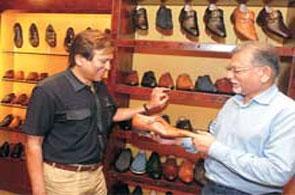 Located on the ground floor of the hotel, the store has dressed many prominent feet from within and outside the country in casual, formal and Indian-style shoes for 75 years. The store began when Sultan Javeri, who worked at Joy Shoes before Independence, bought out the business after the British left. His sons Munna, 61, and Remu, 59, have been caring for it thereafter. The third generation has now studied the art of making footwear in Italy to help with the business. There is only one store.
"Indians have problematic feet that spread because we mostly wear chappals, not shoes," explains Remu. The Javeris stock products for various foot-types - broad, average and petite. The focus is on getting simple details right like ensuring the cuts and stitches are smooth and imperceptible. Even solid-looking boots are made surprisingly light.
Materials such as leather and insoles are sourced from India and Europe, usually Italy or Germany. The products are handmade and mostly without synthetic elements. The men's range has subtle ornaments like brass buckles. Most popular, priced between Rs 5,000 and Rs 10,000, are the Jodhpuris and Peshawaris. They are available in plain leather, faux crocodile skin or suede. Among the women's assortment, shoes with bold elements such as glittery bows, oversized flowers or intricate zari work sell fastest. These cost Rs 3,000-9,000 and the crystal and pearl embellishments are all by Swarovski.
Their clientele includes Amitabh Bachchan, the Tatas, Birlas and musicians Zakir Hussain and Amjad Ali Khan. Kings, queens, dukes and Hollywood stars such as Angelina Jolie have dropped by. Joy Shoes had also helped costume designer Bhanu Athaiya make chappals for Richard Attenborough's Gandhi.
The store has a long tradition of making bespoke shoes but that side of the business has been scaled down recently. "It is time consuming and not always feasible," says Munna. They accept a limited number of customised orders, though they are averse to demands for affordable knockoffs of Gucci or Dior.
Making bespoke shoes can take up to four weeks. First, you chalk out the pattern with the team at Joy Shoes. Then, a suitable mould is picked and measurements finalised. The material is selected from Joy Shoes stock. Next, the leather is cut to size and dried on the mould for about four days. Finally, the insole is stuck and adornments added. What is more, having your feet shod exclusively does not cost you more than the other shoes in the store.
Years of dealing with demanding clients bring the Javeri brothers the confidence to say no to unreasonable requests like adding several inches of height which can seriously hurt the feet and back. Each shoe, depending on its size and arch, can only have a certain height.
The establishment's interiors were designed by the duo's friend and artist, the late M F Husain. The graceful green-and-orange shop has quirky touches: leather-clad shelves, a pigeonhole-style display area and tiny mojris fitted at the legs of tables. While Husain preferred to be barefoot, there were places where he had to cover his feet like Parliament and cold countries. "We would make his shoes then," smiles Remu.
The brothers' advice to maintain leather shoes is to let them breathe by wrapping loosely in tissue or cotton cloth. Clean only with a wax-based polish, never the quick-fix sponges that are popular now. Treat bejewelled footwear with Min cream and wipe clean.
Designers often send clients to the Javeris to find matching shoes, says Munna. "People feel if they have spent on the outfit, they can just wear their own shoes but that could ruin an ensemble." Clearly, shoes make the man, the woman and even some family businesses.