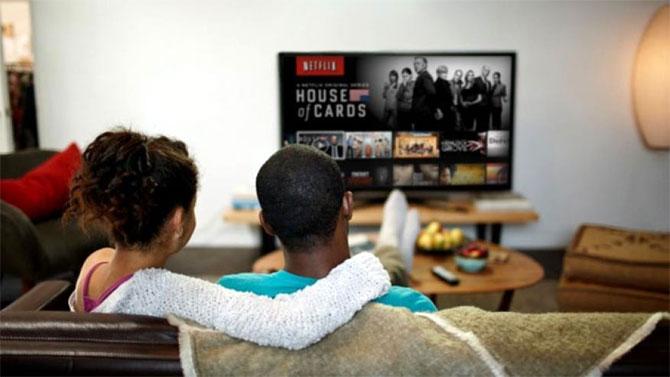 India, with over 400 million netizens, is by far the largest new market.

The content streaming giant, Netflix, launched an ambitious expansion plan on Wednesday, rolling out services across 130 countries, including India.
This rollout will change the way global digital content markets work.
Each of the 190-odd nations where Netflix now offers services has different laws concerning digital rights, certification and censorship -- and also different quality of internet infrastructure.
The company's stated aim of offering the same catalogue everywhere will require much negotiation and rationalisation.
This will inevitably impact norms of digital content.
India, with over 400 million netizens, is by far the largest new market.
India also presents multiple complex challenges.
Netflix is offering a freebie of one month's free service and three differentiated subscriber plans, priced very close to the dollar-denominated prices of equivalent plans in America.
As of now, the India catalogue offers only about 10-15 per cent of content available in the United States (and a few Hindi films which are not available in the US).
The India digital rights for much of Netflix's original content, including its popular House of Cards, had already been licensed out to other Indian content providers prior to the launch. However, Netflix's content is uncensored, which should be a driver.
In theory, it can also be streamed across any net-connected device, starting with a low-end smartphone, and that makes it convenient for the Indian market with its plethora of low-end devices.
Even so, if Netflix is to pick up subscribers in India, it must ramp up its catalogue quickly.
The US offerings have long been available and popular in India; surfers download them illegally as torrents, or stream directly using virtual private networks or VPNs.
It will be a marketing challenge to get Indian audiences to pay for the small portion of that US catalogue, which is now being offered.
Speed and data caps are other barriers on the technology front. India's internet networks, including wired broadband, are all relatively slow. The vast majority of surfers uses dodgy 2.5G and 3G mobile networks.
Data plans are expensive and have caps (referred to as Fair Usage Policy limits, or FUP).
Once the FUP limit is exceeded, speeds drop to glacial rates -- and the FUP limits are far too low to allow download of much in the way of high-quality content.
In effect, users would have to shell out for high-end data plans with much higher FUP limits to adequately utilise Netflix. Users would also have to be lucky enough to live in locations, where fast-wired broadband, or 4G services are available.
There is talk that Netflix will work out deals with telecom service providers to provide special plans that allow Netflix downloads with much higher FUP limits.
But this would run contrary to the norms of net neutrality: it would discriminate against other net-based services, including competing services offered by other streaming content providers. The regulator is yet to take a firm position on such differential pricing.
Other regulatory issues are bound to arise, given the all-pervasive nature of the red tape.
For example, Netflix's current offering involves payment by credit cards (which will automatically restrict the user base) and it doesn't have two-factor authentication, which is mandatory according to the Reserve Bank of India's regulations.
While this may be dealt with if Netflix decides to offer the options for cash payment, the lack of censorship will also surely raise hackles at some stage.
Hopefully, the advent of a global streaming content major will force reviews and revamps of the current internet environment.
If more users demand it, service providers may have to upgrade networks and raise FUP limits.
Also, if enough users access Netflix, the hidebound, puritanical norms of Indian censorship may be rendered irrelevant and hence, forced to change.
Netflix could, therefore, help usher in a brave new world of pervasively faster net access and also enable paradigms of reduced censorship.
Image is used for representational purpose only