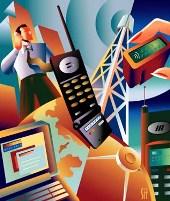 The Telecom Regulatory Authority of India's decision to tweak roaming charges, and not abolish them altogether, has only added to the infighting in the sector.

The government has been dangling the carrot of free roaming to subscribers for a while. But Trai Chairman Rahul Khullar has said that such a regime is not possible at the moment.

What Trai has done instead is that it has reduced the 2007 cap on roaming call tariffs and offered subscribers the option to pay a monthly amount and escape roaming charges altogether.

Both the changes are cosmetic.

On outgoing calls, the tariff charged by telcos was below the 2007 cap; that cap has now been brought to the level of the tariff -- there's no real gain to subscribers.

For incoming calls, there is some benefit because the new cap (75 paise per minute) is below the existing tariff (Rs 1 per minute).

As far as a fixed monthly rental is concerned, many telcos already have such schemes on offer.

Free roaming was being resisted by large telcos because the service fetches them as much as 10 per cent of their revenue. Bharti Airtel, Vodafone and Idea Cellular account for four-fifths of the total roaming revenue of the sector.

Free roaming, they had argued, would punch a hole of Rs 13,000 crore (Rs 130 billion) in the industry's pocket.

The smaller telcos, which do not get more than five per cent of their revenue from roaming charges, were in favour of free roaming because they felt it would increase usage of airtime and hence improve their
average revenue per user.
They now say that the large telcos had vastly exaggerated the possible damage from free roaming and the real impact, based on Trai's study, will be in the range of Rs 2,000 crore (Rs 20 billion) to Rs 2,500 crore (Rs 25 billion).
In the absence of free roaming, large telcos with a pan-India network extract favourable terms and conditions from smaller telcos in circles where they are not present. One of the arguments against implementing free roaming is that it will drive subscribers to buy SIM cards in circles where tariff is low. But subscribers have to give full identification documents, including proof of residence, while buying a SIM card.
Also, it is unlikely that subscribers will travel long distances only to buy a SIM card. One way to end the confusion and kill all charges of foul play is to have a national licence and spectrum.
It will, in one stroke, eliminate all such controversies.
There will be no need for not only roaming charges but also interconnectivity agreements, carriage charges and sharing of spectrum. No country sells licences in parcels.
Even countries such as the United States and China, which are bigger than India, have a single national licence. Of course, any proposal to introduce a national licence and spectrum would require prior settlement of contentious issues of fees already paid by telcos.
While some operators have paid a higher amount for a pan-India network, others have paid less for operating only within a circle.
These issues would have to be resolved before moving to a new system of national licences.
Otherwise, the telecom sector will remain a hotbed of lobbyists.