Almost every CEO planning a big infrastructure project which requires large tracks of land, is saying the bill is not conducive for investments, notes Dev Chatterjee.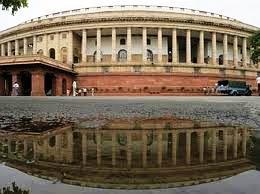 Ajit Gulabchand, chairman of infrastructure firm Hindustan Construction Company, is a worried man.

After a lengthy court battle with the environment ministry, which almost grounded HCC's signature project at Lavasa city near Pune, Gulabchand says he will not start any new project for the next two to three years.

The reason: The Land Acquisition Bill, passed by Parliament last month, will either make projects unviable or expensive for large infrastructure or real estate projects like Lavasa.

If any braveheart chief executive officer does start acquisition for a new project, says Gulabchand, he will be facing litigation at almost every step of acquiring land for the project.

"It would be interesting to see how many projects manage to acquire land after this Bill," he says.

Gulabchand is not alone.

Almost every CEO planning a big infrastructure project which requires large tracks of land, is saying the bill is not conducive for investments.

And here are the reasons: According to the new bill, a new layer of approval by way of social impact assessment has to be undertaken.

This will increase the project life cycle at least by one year. At every stage, it can be challenged in the court.

The provision of rehabilitation and resettlement (R&R) is now necessary for all affected families.

The new law says R&R will have to be completed before buying the land which will add to project costs.

Unlike the previous 1894 land bill, the new one provides a house for every family displaced on the lines of the Indira Awas Yojna or a minimum 50 sq ft house in the urban areas.

If the family chooses not to accept the house, it would get a one-time financial grant of Rs 500,000 per family.

The land owner will also have the option to get annual payment of Rs 2,000 a month for 20 years, to be adjusted for inflation.

Further, an affected family also gets a monthly subsistence allowance equivalent to Rs 3,000 a month for one year from the date of award.

The new bill says the consent of 80 per cent of displaced people is required in case of acquisition for a private company and 70 per cent of land owners' consent in case of public-private partnership companies.

It also says
land acquisition would lapse if no payments are made within five years.
In an earlier interview, Larsen and Toubro chairman A M Naik had warned the project costs of airports like Navi Mumbai would go up by Rs 4,500 crore (Rs 45 billion) in land cost alone.
"This will just lead to uncertainty on the ground as for every track of land 10 to 15 per cent of land owners are untraceable. It will be difficult for a company to get consent from 80 per cent of the people and project costs will go up," says the CEO of a Birla group company, asking not to be identified.
Land costs make around five per cent to 10 per cent of total cost for large projects like steel and power, but for airports, roads and townships, the land costs make up for up to 50 per cent of project cost.
The new bill also says if the land is not utilised for the stated purpose in five years, it will have to be returned to the government.
This provision again is negative for infrastructure projects like Navi Mumbai airport, which still needs to acquire another 600 acres from locals.
And finally, CEOs say the compensation amount of four times the land value in the rural area and two times of land value in urban area will increase the cost of projects by two to three times.
The new Bill says where the award has been made but acquisition has not been completed, compensation will now be paid according to the provisions of the new Bill.
Also, where acquisition of land has not taken place for 10 years, the process for acquisition will need to be initiated afresh under the new Bill or land has to be returned to the original holder or to the state government.
The 'retrospective clause' in the bill would disrupt the land acquisition process underway in various infrastructure and industrial projects."This Bill will start new problems than solving old one.
"The bill will just lead to litigation and project delays," rues Gulabchand.
Why the new land bill fails to click
• Higher compensation at the rate of 4 times market value of rural and 2 times for urban land
• Comprehensive rehabilitation and resettlement package for development of more than 50 acres (urban) and 100 acres in rural areas
• Retrospective implementation -- new law to be applicable in all pending cases of land acquisition under old law
• Land unused for 10 years to be returned to the landowner or state govt
• State govt can increase the compensation but not lower it
• 20 per cent of the developed land would be reserved and offered to the farmers