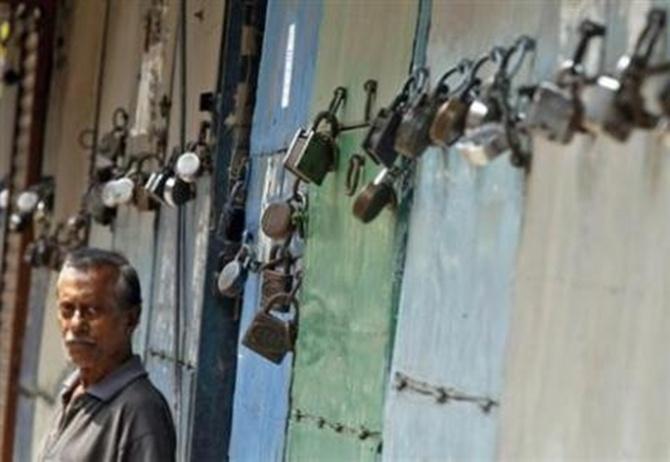 Migration-causing vacuum in entrepreneurship continues to gnaw at the vitals of the state's economy
Industrial reverses that West Bengal suffered in the 1960s due to a lethal combination of recession and militant trade unionism led to migration of entrepreneurial talent to other states, particularly in the west where opportunities beckoned.
Like Basant Kumar Birla nudging his only son, Aditya Vikram Birla, to shift to what was then Bombay.
Scions of more moderate business houses with long established roots in Bengal, first as trading partners of British managing agencies and then graduating into industry, too, started discovering greener pastures elsewhere.
Migration-causing vacuum in entrepreneurship continues to gnaw at the vitals of the state's economy.
The few big-ticket employers left in Kolkata will not stop complaining about difficulties to get talents accept a posting in the state. Particularly worrying is school-leaving children seeking admissions in colleges in other states, never to return to Bengal.
One who stayed back some decades ago was Rama Prasad Goenka, as his desire to shift base from Kolkata did not get the approval of his grandfather, Sir Badridas Goenka, first Indian chairman of Imperial Bank, which subsequently became State Bank.
But RPG realised early that if he were to be counted among leading industrialists, he must not restrict himself to Bengal but make the country his playing field.

Good for him that his early fondness for commodities, particularly jute, proved short-lived. Jute remains in morass surviving on government provided crutches.
The Rs 35,000-crore (Rs 350-billion) conglomerate RPG built, however, would finally feature commodities such as rubber, tea and spices, thanks to his acquiring Harrison Malayalam in one last hurrah.
For whatever reasons, RPG's younger son, Sanjiv Goenka, who has electricity company CESC as his flagship enterprise, remains deeply committed to West Bengal and its capital city.
A compulsion could be industry and trade bodies and the local government have made him the state's poster boy for business.
Goenka is, however, using the CESC platform through wholly-owned subsidiaries to build large coal-fired power capacity in some other states.
He has recently commissioned a 2x300 Mw complex in West Bengal's port town of Haldia.

The group has in operation two units of 300 Mw each at Chandrapur in Maharashtra.
It remains in pursuit of a 2x660 Mw thermal project in coal-abundant Odisha and a 2,000-Mw complex in Bihar.
Commissioning of all generation and distribution projects in the pipeline and at exploratory stages will make CESC a pan-India enterprise, with more capacity outside than within Bengal.
No wonder, then, the management thought it appropriate that instead of Calcutta Electric Supply Corporation, its acronym CESC would befit the group ambition of being present in different parts of the country.
For any power group, the major challenge is to secure uninterrupted supply of coal, preferably with low ash content from either captive mines or by way of coal linkages at right prices.
A period of uncertainty about fuel supply enveloped power companies with captive coal blocks when the Supreme Court by a September 2014 order cancelled allocations of the 204 coal mines since 1993.
Like others, CESC lost the Sarisatoli block in Bengal, which, however, it managed to get back through auction.
India will need growing volumes of electricity to support high rates of economic growth.
At the same time, burning coal to produce electricity leads to large carbon emission.
Degrees of emission are linked to quality of coal used, build quality of power units and their maintenance.
A moral issue with thermal power groups is the carbon footprint in electricity generation.
The question, then, is if CESC is doing enough by way of producing renewable energy to mitigate carbon emission.
A beginning has been made in building renewable energy capacity making use of our hydro, wind and solar resources.
CESC should do more and at greater speed to achieve an ideal balance between thermal and renewable energy.
Insurance for environment protection is safe recycling of by-product fly ash, which thankfully all CESC units claim to be doing. Greater generation of fly ash as domestic coal quality keeps on falling remains a stark reality.
Goenka has his compulsions to present Bengal and Kolkata in a positive light.
But this has not stopped CESC to continue to explore investment opportunities countrywide. Any clear-thinking businessman will make his group do that.
The fact is one Sanjiv Goenka here or a Karan Paul of Apeejay Group there will not make an industrial summer for West Bengal.
The state needs great numbers of new-generation entrepreneurs.
The image is used for representational purpose only