Bullet trains and other such ambitions are unquestionably a tempting vision to aim for, but the progress towards them must be consistent with three essential realities.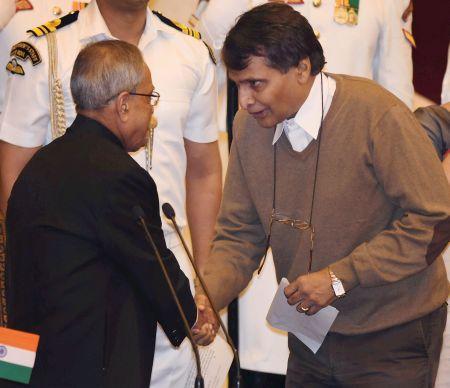 Suresh Prabhu's appointment as railway minister came as somewhat of a surprise, given the widespread expectation that he would be asked to head the new avatar of the Planning Commission.
In any event, Prime Minister Narendra Modi evidently thought he would be much more useful in dealing with the real and massive challenges that the railway system faces, rather than re-inventing a discredited process of planning.
Mr Prabhu's track record in government and outside is reassuring -- a combination of strategic thinking and vision, powers of persuasion and a focus on execution.
Given the importance of the railway system to the country's economy, a firm and competent hand is certainly needed.
More so, with the government placing a lot of emphasis on expanding the railway network and services provided, this critical infrastructure sector will require a powerful combination of strategic thinking and operational capability.

But there are aspirations and there are realities.
As Mr Prabhu gets to grips with his new responsibilities, he would do well to temper the government's promises with respect to this sector with heavy doses of reality.
Bullet trains and other such ambitions are unquestionably a tempting vision to aim for, but the progress towards them must be consistent with three essential realities: the economy's needs, the organisational capabilities of the railways and the resources available.
Visions of bullet trains thundering past platforms at 300 km an hour need to be balanced with the horrifying condition that many of those platforms are in.
Regular instances of fatalities because of stampedes, because of space constraints and, very importantly, decrepit staircases are hardly the kind of ambience in which bullet trains can operate.
Mr Prabhu must first set his sights on digging the system out of the deep hole that several of his predecessors have buried it in.

First, he must drive it towards being much more financially self-sustaining.
Subsidies should be focused on developing new capacity and capabilities, not covering operating losses. The amazing reluctance to raise fares at least in line with inflation and to rationalise the balance between freight and passenger tariffs must be swiftly overcome.
This will make a significant contribution to financial strength, which can be supplemented by creative ways of getting private sector funds into activities that can be commercially priced -- luxury and theme tourism, for example.
Second, he must put priority on putting funds into getting just the basic facilities up to a reasonable standard, both in terms of passenger amenities and, most importantly, safety.
Both of these objectives will need a serious re-think on the organisational structure of the railways. How best to empower even local stationmasters so as to pursue these goals with some autonomy and flexibility is a challenge that the system will have to address, or else risk being stranded by excessive centralisation.
Third, notwithstanding the silos that the pursuit of an integrated transport policy is hobbled by, the railways would do well to take the lead in system integration, looking for opportunities to dovetail and synergise with other components of the transport network.
Only on these firm foundations will the dreams of bullet trains and so on be realised.
Image: President Pranab Mukherjee shakes hands with the new Cabinet minister Suresh Prabhu after administering him oath of office. Photograph: PTI photo