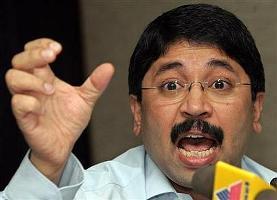 In under three decades the Maran brothers have created one of the strongest media houses in the country.

The man who led this journey is 50-year-old Kalanithi Maran, chairman and managing director of the Sun Group.

His media conglomerate dominates the southern television market, with 33 channels in four languages that reach more than 95 million households.

The Sun Group owns the largest chain of TV channels in India.

The group's other business interests include direct-to-home broadcasting, 45 FM radio stations, two daily newspapers and six magazines.

Last year, Kalanithi Maran acquired the Indian Premier League's Hyderabad cricket franchise and named it Sun Risers.

The Bombay Stock Exchange-listed Sun Television Network controls most of the estimated Rs 13,848.13- crore (Rs 138.48 billion) media business of the group, according to exchange data. Kalanithi Maran also entered the airline business in 2010 by buying SpiceJet, whose market capitalisation is estimated at Rs 685 crore (Rs 6.85 billion).

Kalanithi, whose name means treasure trove in Sanskrit, studied at Chennai's Don Bosco school and Loyola College.

He went on to the University of Scranton in the United States to study business administration.

In 1987, he returned and joined his father's magazine, Kungumum.

His first venture was Poomalai, a monthly news video capsule. The big opportunity came with cable television and Sun TV raced on to become the giant of south India's media.

Kalanithi Maran was president of his college students' union and led an agitation on the issue of Sri Lankan Tamils.

Politics runs in the blood of the eldest son of Murasoli Maran, a former Union Cabinet minister and nephew of Dravida Munnetra Kazhagam supremo M Karunanidhi, a key ally of the Congress-led United Progressive Alliance.

When Murasoli Maran died on November 23, 2003, Karunanidhi wept bitterly on losing his "conscience keeper".

In the 2004 general elections, Karunanidhi offered the DMK ticket for the Chennai Central Lok Sabha constituency to Kalanithi Maran, whose heart was by then set on business. He turned down the offer and the ticket went to his brother Dayanidhi.

"I have no inclination or interest in politics. I only observe politics," Kalanithi Maran had told Outlook magazine in 2000.

But politics did interfere.

In 2007, Dinakaran, a newspaper owned by Kalanithi Maran, published a survey that ranked his brother as the best performing minister from Tamil Nadu in New Delhi, ahead of P Chidambaram of the Congress, Anbumani Ramadoss of the Pattali Makkal Katchi, and TR Baalu and others of the DMK.

Sun TV would play Dayanidhi Maran's speeches ad nauseam. That upset a lot of people. Later that year Dinakaran published another survey rating Karunanidhi's younger son MK Stalin higher than his elder brother M K Alagiri.

Enraged Alagiri supporters vandalised the Dinakaran offices.

The Marans were on shaky ground. Dayanidhi Maran had no option but to step down as telecom minister and Karunanidhi replaced him with Andimuthu Raja.

The DMK, with Karunanidhi's blessings, launched Kalaignar TV to take on Sun TV. Sharad Kumar, a former Sun TV employee, was hired to run it.

And Arasu Cable Corporation was formed to take on the Kalanithi Maran-owned Sumangali Cable Vision.

The Marans patched up with their grand-uncle just before the 2009 general elections. Dayanidhi Maran got the DMK ticket for Chennai Central again, won the election and became the textile minister.

Then in June 2011, a month after the All Indian Anna Dravida Munnetra Kazhagam came to power in Tamil Nadu, nine cases of cheating and intimidation were filed against Sun Pictures and its then chief operating officer Hansraj Saxena, who spent almost two months in police custody.

Dayanidhi or Daya

Before he became a minister in the UPA government, Dayanidhi Maran was happy to run Sumangali, a multi-system operator for the Sun Group, and an amateur radio station.

Dayanidhi Maran has a fetish for luxury cars, wears expensive suits and frequently holidays abroad. He became Karunanidhi's mediator whenever he met Prime Minister Manmohan Singh or UPA Chairperson Sonia Gandhi.

Things took an intriguing turn on June 6, 2011, when maverick businessman C Sivasankaran came to the Central Bureau of Investigation (CBI) headquarters in Delhi and said he had been forced to sell his telecom venture, Aircel, to Maxis in 2005 by the Maran brothers.

Dayanidhi Maran refuted the allegations and told reporters in Chennai that Sivasankaran was a billionaire and "nobody can force anyone to sell his business".

Sivasankaran, he added, had put Aircel up for sale even before he became telecom minister in May 2004.

Earlier, in January 2011, the Justice Shivaraj Patil probe report on the appropriateness of procedures followed by the department of telecommunications in issuing telecom licences and spectrum during 2001-09 had found Aircel's applications for spectrum in six telecom circles were stuck when Dayanidhi Maran was minister.

It was also alleged that state-owned Bharat Sanchar Nigam Ltd did not provide interconnectivity to Aircel during that time.

In October 2005, Maxis had got into the act of buying Aircel.

The CBI, in its first information report filed in October 2011, alleged that Sivasankaran had received a call from Dayanidhi Maran instructing him to "work with Maxis on the issue".

Subsequently, it added, Sivasankaran met Kalanithi Maran in Chennai on November 11, 2005. In December, Sivasankaran announced he was selling Aircel to Maxis.

That was not the end of the matter.

It came to light that Astro All Asia Networks, a company related to Maxis, had invested Rs 629 crore (Rs 6.29 billion) in Sun Direct, the direct-to-home arm of the Sun Group.

This included a premium of Rs 549 crore (Rs 5.49 billion).

During this time, Kalanithi Maran and his wife Kaveri were issued shares at par.

In June 2007, Enam Securities estimated the enterprise value of Sun Direct at between Rs 3,456 crore and Rs 4,039 crore (Rs 40.39 billion).

The CBI was of the opinion that at that time Sun Direct's value was around Rs 400 crore (Rs 4 billion).

It was yet to start operations, and even Tata Sky, which had 50 per cent of the country's direct-to-home market, was valued at a lesser Rs 2,500 crore (Rs 25 billion).

In July 2011, Dayanidhi Maran was dropped from the Union Cabinet.

In October 2011, the Maran home at Chennai's Boat Club Road was raided by the CBI.

Sivasankaran was not the only businessman who ran afoul of the Marans. Ratan Tata, the then chairman of Tata Sons, had told the public accounts committee of Parliament probing allocation of spectrum for second generation mobile services that his group had "a chemistry problem" with Dayanidhi Maran.

Tata never spelt it out, but it was widely speculated that the Maran brothers wanted Tata to join hands for direct-to-home TV but Tata was not agreeable.
Image: Dayanidhi Maran