Mr Prabhu has a big challenge ahead in implementing trade reforms to regain the lost export momentum, says Jayanta Roy.
Illustration: Uttam Ghosh/Rediff.com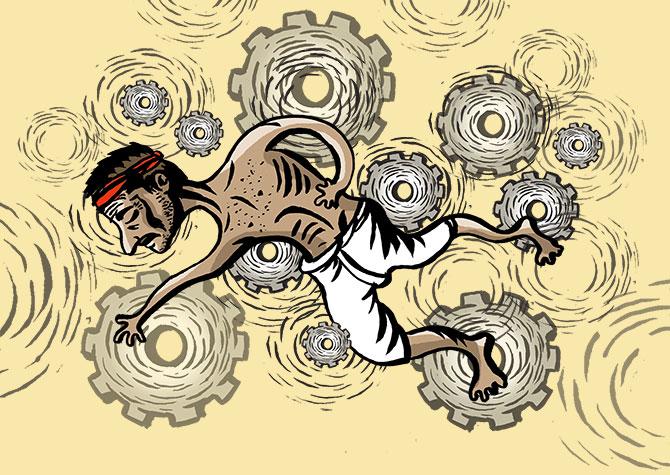 Suresh Prabhu has become the Minister of Commerce and Industry at a critical juncture when the gross domestic product growth has dipped to 5.7 per cent and most economists are belatedly acknowledging that the steady decline of exports is a principal cause of the falling growth rate.
Policymakers are also grappling with growth without jobs.
Even for jobs, export promotion through labour-intensive activities of small and medium-sized enterprises (SMEs) is a proven solution.
Hence for sustaining a high job-rich growth trade policy is crucial, and Mr Prabhu has a very important role to play.
Mr Prabhu must push for trade liberalisation and change the Indian protectionist mindset.
He should ensure that the Indian industry is not fearful of external competition, and that our economy is globally competitive.
To achieve this he has to take the lead and work closely with several ministries and the Reserve Bank of India (RBI).
He has to reorganise his ministry to move away from giving doles to exporters to implementing next generation trade reforms.
He has to make the Department of Industrial Policy & Promotion focus mainly on attracting efficiency-seeking foreign direct investment (FDI), improving the Ease of Doing Business (EODB), and creating a level-playing field for the SMEs who are most hurt by the poor business environment. His priorities should be:
Trade facilitation and logistics reforms and improving EODB
This is essential for linking our industry to regional and global value chains (GVCs), the main source of earnings from exports of goods and services.
This involves vastly improving our dismal rankings in World Bank's EODB, especially in trading across borders, and in Logistics Performance Index.
We need to reduce high cargo dwell times in ports and airports, and time-consuming administrative processing of trade documents by numerous agencies.
For this we need to have a fully automated clearance process with minimal face-to-face contacts.
The reduction of cargo dwell time should regularly be monitored by an inter-ministerial group headed by the PM.
We need to move towards a comprehensive single-window system that not only integrates customs with allied agencies and Directorate General of Foreign Trade, but with excise as well.
A comprehensive programme to reduce the cost of movement of goods behind the borders from hinterland to ports also needs to be undertaken.
Its primary goal would be to identify the regulatory bottlenecks to fast and efficient cargo movement within India and their rectification.
This would need the full participation of ministries, state governments, and the private sector, and would thus require considerable political support.
The regulatory bottlenecks holding up development of ports, coastal shipping, and air cargo should also be addressed.
Production networks under GVCs need to be cost effective, time-bound and certain.
None of which can be guaranteed in Indian conditions with poorly designed and implemented regulations combined with inadequate infrastructure.
The integration of Indian SMEs, which have great potential, into such global networks, is especially held back due to such high transaction costs.
Thus, any government that seeks to champion the cause of SMEs and the growth of employment in manufacturing through export development cannot but take the issue of transaction costs as a high policy priority.
Diversification of professional services
India needs to go beyond IT and ITeS to other professional services.
We need to focus on the barriers preventing the take-off of other services such as behind the border regulatory restrictions on accounting, legal, engineering, architecture, or health related professional services in partner countries.
With the emergence of big data as a driving force of innovation and business development, data analytics and management would emerge as a huge area of opportunity in professional services exports for India.
Trade barriers related to regulatory constraints on undertaking certain types of legal or accounting tasks offshore, and barriers related to the emerging issues in data privacy and data restrictions are now the areas of maximum concern for the future growth of off-shore professional and technical services model.
This requires urgent domestic regulatory reforms of services sector in India (business facilitation) and negotiation of such trade barriers within trade agreements.
Attracting efficiency-seeking FDI
India with 250 million-plus middle-class consumers will get market-seeking FDI, that is, investment that seeks to serve its domestic consumers irrespective of business environment.
But the crux of becoming competitive and creating the extra millions of jobs that India desperately requires lies in attracting efficiency-seeking FDI, or investment that uses India as a manufacturing base for global production and innovation.
Such FDI would integrate Indian entrepreneurs, especially the SMEs, into the global market by exposing them to the best technologies, marketing networks, and management systems.
Again, our poor business environment with severe obstacles to EODB is the main obstacle to inflow of efficiency-seeking FDI.
Other policies
Export growth will be hampered by an overvalued exchange rate.
The real effective exchange rate has appreciated by about 20 per cent in the past decade.
Mr Prabhu needs to discuss this with the RBI and finance ministry, and ensure that we soon have a competitive exchange rate.
India should take a much more proactive stance in trade negotiations.
In WTO, we should take the lead in strengthening the Trade Facilitation Agreement, and pushing for greater liberalisation of services.
Given the current global scenario, it would make sense for India to look at a deeper regionalism in trade engagement with SE Asia and replace existing shallow agreements with ones that have a wider mandate such as Regional Comprehensive Economic Partnership, and Trans-Pacific Partnership when it is revived.
Mr Prabhu has a big challenge ahead in implementing trade reforms to regain the lost export momentum. This is essential for a sustained high growth with jobs.
Jayanta Roy is a well-known trade economist who was economic advisor in the Ministry of Commerce during 1989-1993. Views are personal.