After building a subscriber base of nearly 50 million in about eight chequered years, it finally gave up as it saw itself up against a 600-pound gorilla that breezed through double that many subscribers in a fraction of that time, says N Sundaresha Subramanian.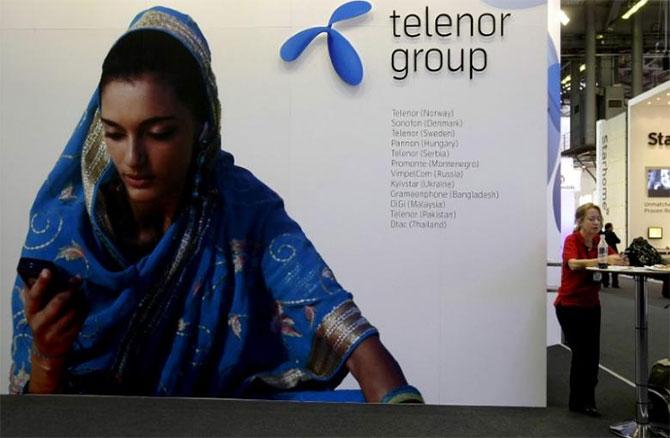 Coming from a country of five million people, it was natural that Norwegian telecom giant Telenor saw juicy, low-hanging fruit in the 1.2-billion Indian market. However, it underweighed the complexities and hurdles it might face while tapping that potential.
After building a subscriber base of nearly 50 million in about eight chequered years, despite multiple setbacks, it finally gave up as it saw itself up against a 600-pound gorilla that breezed through double that many subscribers in a fraction of that time.
In the filing with Oslo Bors on October 29, 2008, announcing the $1.07-billion investment in Unitech Wireless, the company said, "With a population of approximately 1.2 billion and a mobile penetration currently at 26 per cent, India has large untapped potential.
Unitech Wireless intends to invest about $2 billion the first three years and to reach Ebitda (operating earnings)-break-even in approximately three years from launch."
A month after the collapse of Lehman Brothers and amid a global credit squeeze, that was a bold, counter-intuitive move. Some critics had rubbished it.
"They are buying a company that does not have (operations). It is madness," analyst Martin Hoff at Arctic Securities had told Reuters that day, when Telenor stocks went for a dive.
Eight years later, on Thursday, Sigve Brekke, chief executive officer of Telenor Group, said the decision to exit India was not easy.
"After thorough consideration, it is our view that the significant investments needed to secure Telenor India's future business on a standalone basis would not have given an acceptable level of return."
Telenor shares were in the green, though marginally, at the time of writing.
Back-door entry
Caught at the time in a race of sorts with European rival Vodafone for supremacy in the South Asian region, Telenor decided to take the back-door entry offered by Unitech, a real estate player with no expertise in telecom.
Though it sounded like a win-win, murmurs lingered about the 'first come, first serve' policy through which the licences for 22 circles were given.
Telenor junked the rights issue through which it had planned to fund the venture and appointed Deutsche to explore other options.
In January 2009, it told shareholders to forget dividends for 2008 and 2009, and signed an eight billion kroner (NOK) term loan to fund the Indian venture. (1 NOK= Rs 8.01).
By March that year, it invested the first tranche of Rs 1,250 crore for a 33.5 per cent stake in Unitech Wireless.
Eight months after entry into India, Telenor started offering its services under the Uninor brand, in December 2009. Calling it "the biggest ever launch in Indian telecommunications history".
Instead of breaking even in three years, the venture got into trouble. Sometime after the general election of 2009, when the United Progressive Alliance government was returned to power, the taped conversations of Niira Radia with people in power, including then telecom minister A Raja, began circulating.
By 2010, the Comptroller and Auditor General (CAG) of India came up with a presumptive loss figure of Rs 176,000 crore (Rs 1,760 billion).
The 2G telecom scam was born. In February 2012, the Supreme Court cancelled 122 licences allotted by Raja, including 22 of Uninor's. At that point, it had 36.28 million subscribers and was the worst hit.
Second coming
In a second coming of sorts, Telenor won spectrum in six of the 22 circles in an auction in November 2012.
It floated a new vehicle called Telewings Communications Services for this purpose. While 74 per cent was held by Singapore-based Telenor South Asia, Lakshadweep Investments held 26 per cent in the venture. Lakshadweep was promoted by Sudhir Valia, a relative of Sun Pharma's Dilip Shanghvi.
Telewings won spectrum in the 1,800-MHz band in the six circles, and was the single largest contributor to the government exchequer in this auction.
"This spectrum has been secured for a 20-year term for NOK 4.4 billion (of which NOK 1.5 billion was paid on December 1, 2012, and the remaining is to be paid in 10 equal instalments during 2015-2024)," Telenor said on its website.
In an auction in February 2014, Telenor India acquired additional spectrum in four of the six circles acquired in November 2012, and a spectrum licence in a new circle, Assam, for about NOK 0.8 billion.
The spectrum acquired both in 2012 and 2014 is technology-neutral; though currently used only for 2G (second-generation tech services), it could be utilised for other ones, e.g 4G/LTE.
In 2013, it acquired several business assets from a former local operating company, Unitech Wireless, in which it still held a 67.25 per cent stake.
This was after a Supreme Court ruling on February 15, 2013, that telecom operators which failed to win new 2G spectrum in the November 2012 auction, together with any which did not participate in the auction at all, were to cease operating.
As a result, Unitech Wireless closed its operations in 15 of the 21 operating circles. In October 2014, Telenor bought out Lakshadweep after it got approval from the Foreign Investment Promotion Board for 100 per cent foreign direct investment.
The company was renamed Telenor (India) Communication. In 2016, revenue was NOK 6 billion and operating cash flow was a negative NOK 0.4 billion. This entity is to be merged with Bharti Airtel. The company said the transaction would not trigger any impairment. Much of it seems to have been already written down.
"As of the fourth quarter of 2016, the remaining value of tangible and intangible assets in Telenor India amounted to NOK 0.3 billion," Telenor said in its filing to the Oslo bourse.
The transaction is expected to close within 12 months. With effect from the first quarter of 2017, Telenor India will be treated as an asset held for sale and discontinued operations in Telenor Group's financial reporting.
Photograph: Gustau Nacarino/Reuters