Sinha started his tenure at Sebi a bit shakily making people wonder if he'd complete his three years. Eventually, he went on to stay twice that long.
N Sundaresha Subramanian looks at the key regulatory measures in each of the years.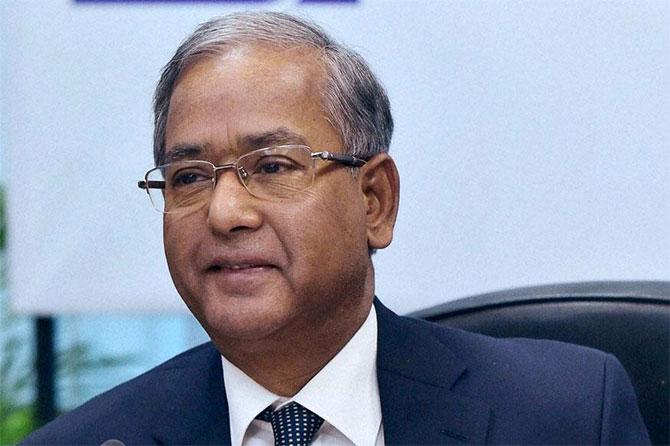 As U K Sinha prepares to hand over the impressive top floor office at Sebi Bhavan to Ajay Tyagi, it is time to look at the rearview mirror.
Sinha started his tenure at the Securities and Exchange Board of India (Sebi) a bit shakily, fending off attacks from various quarters, making people wonder if he'd complete his three years.
Eventually, he went on to stay twice that long. Let us look at the key regulatory measures in each of those years, from the Sebi annual reports:
The first year (2011-12): The regulator made Asba (Application Supported by Blocked Amount) mandatory for non-retail investors. It also expanded the facility's reach by allowing brokers to accept Asba forms from investors.
Merchant bankers were asked to disclose the track record of public issues. A new takeover code, which lifted the trigger point for open offers to 25 per cent and the size of the offer to 26 per cent, was a major reform that was said to transform the merger and acquisition world.
A forensic accounting cell was set up. So was an International Advisory Board.
The second year (2012-13): In April 2012, Sebi told the Supreme Court it had decided to amend the rules governing the shareholding of exchanges and sought three months time.
The move would break the impasse with MCX Stock Exchange. A month later, it notified the Alternative Investment Fund Regulations, which sought to bring the bustling private equity and hedge fund space under regulatory oversight.
The Investment Advisers Regulations helped monitor a community straddling the grey area between agency and advisory roles.
The third year (2013-14): As the deadline to comply with minimum public shareholding norms expired in June 2013, as m any as 107 non-compliant companies were hit by orders that froze the voting and dividend rights of errant promoters, barred directorships and transactions.
By the year-end, 37 of them had complied. After the framework of Qualified Foreign Investors failed to take off, Sebi decided to merge it with the FII (foreign institutional investor) framework, by bringing in foreign portfolio investor regulations.
The fourth year (2014-15): After getting a surprise two-year extension, Sinha got Sebi some new powers. The Securities Laws (Amendment) Act, 2014, finally notified in August, gave Sebi powers to search, seize, disgorge, attach and recover. The Act also brought any pooling of money over Rs 100 crore (Rs 1 billion) under its ambit.
Sebi also focused on shutting down regional stock exchanges, which had little trading activity and were becoming conduits for spurious activities.
By March 2015, 12 defunct exchanges had exited. Stringent corporate governance measures brought in by Sebi helped India score a high ranking ('7') on protection of minority investors in the World Bank's 'Doing Business' report.
The fifth year (2015-16): The merger into Sebi of the commodities market regulator, the Forward Markets Commission, was the major development. After integrating at the regulatory level, the regulator has taken up the task of integrating the two diverse markets, at different stages of evolution.
As the government's fight against undislcosed money became a focus, Sebi did its bit by stepping up inspections of intermediaries.
The bonus year (2016-17): Though the annual report will take time, Sebi's energies have been spent on tweaking existing regulations and looking at regulatory concerns, after major boardroom wars broke out at Tatas and Infosys. But, several long-pending and high-profile cases are awaiting closure.
Had Sinha been given the long term on day one, he might have utilised it more effectively. It appeared that successor Ajay Tyagi had that luxury, only to be robbed of it by a clarification. Let us see if he can do better in the three years he now has.
Photograph: PTI Photo