The CMD's focus on raising employee morale and cutting costs is paying off. The airline's operating losses have shrunk and earnings are looking up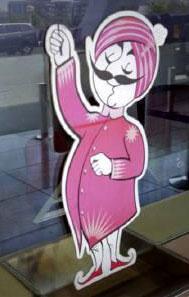 Image: Will the Maharaja fly high once again. Photograph: Vivek Prakash/Reuters
Stories about Air India's turnaround are usually sniggered at because all earlier attempts to improve the performance of the airline have failed. But judging by the series of initiatives undertaken by the airline and the results trickling in, this time the country's national carrier, under chairman and managing director Rohit Nandan, might just manage to do the unthinkable.

In the first quarter of this financial year, Air India reported a growth of 12.8 per cent in revenues and a surplus of Rs 425 crore (Rs 4.25 billion) after meeting cash costs. With route rationalisation and cost cutting measures in place, Air India is looking at reporting EBITDA (earnings before income, taxes, depreciation and amortisation) of Rs 1,150 crore (Rs 11.5 billion) in 2014-15. This would be an increase of around 50 per cent over Rs 771 crore (Rs 7.71 billion) reported in 2013-14 and significantly higher than the Rs 192 crore (Rs 1.92 billion) recorded the year before that.
Operating losses are set to reduce by a steep Rs 3,940 to Rs 1,200 crore (Rs 39.4 to Rs 12 billion) from Rs 5,140 crore (Rs 51.4 billion) registered in 2012, the year Nandan assumed office. And provided there are no major disruptions, indications are that a turnaround could take place by 2017-18.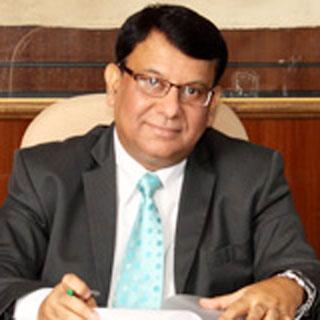 Image: Air India chairman and managing director Rohit Nandan might just manage to do the unthinkable. Photograph, courtesy: Air India
Nandan (left), who is currently on a three-month extension, attributes the sharp improvement in financial numbers during his tenure to the financial support extended by the government and a new can-do attitude of the airline's employees.
"The financial restructuring plan was a game-changer as it relieved the financial stress. The government had the option of closing down the airline but its support and confidence changed things significantly," he says.

The government granted the state-owned carrier a performance-linked bailout package of over Rs 30,000 crore (Rs 300 billion) in April 2012. The approval of the package ensured that the airline was able to pay salaries regularly to its employees and clear dues pending to the vendors. When Nandan took over in August 2012, salaries were in arrear for around five months.
The backlog has now been reduced to one month of salary and two months of allowances. By November, it will be at par, say senior executives. Nandan admits, "This has been the single most important factor in raising employee morale. It ensured that our operations do not get disrupted. We were able to take firm action against the pilots who went on strike in 2012. In the last 28 months, we have not lost a single man day."



The company's personnel department headed by N K Jain has also moved in fast and sorted most human-resource issues related to the integration of Air India with India Airlines. "Of the 226 identified areas, 221 have been achieved," says Nandan. "As far as operations, finance, inventory management, personnel policy, promotions, merged seniority, common procurement policy, passage policy, medical policy and housing policy are concerned, the two earlier entities are completely integrated. A couple of issues, including parity of pay, are pending in court," adds Nandan.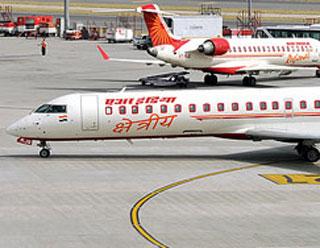 Global airline grouping Star Alliance too has acknowledged the change in Air India. At the time of the Indian carrier's induction into the grouping in July, Mark Schwab, Chief Executive, Star Alliance, commented: "We have observed a sea-change in Air India, particularly since the time Rohit Nandan has taken charge. The airline's fleet renewal programme is in progress, induction of 787s is on, infrastructure has improved, new terminals have come up in Mumbai and Delhi. The facilities on offer for travellers, the transfer process for Star Alliance passengers through New Delhi are as seamless as possible."

The results are evident. "The market has accepted us. Travellers are satisfied with us," says a senior airline executive. Indeed, today the figures show that only 5 per cent of Air India travellers come from government departments, the rest are voluntary passengers.

Such a change has come on the back of some operational manoeuvres like putting into service the fuel-efficient Boeing 787 Dreamliners to cut losses. "We have replaced Boeing 777s with 787s on routes to Europe and, of course, in the Asia-pacific region. Our international operations made a surplus of Rs 13 crore (Rs 130 million) in 2013-14 after meeting variable costs. It is a small amount but we have turned the corner," says the airline executive.

In 2013-14, the airline also brought down the number of loss-making routes to 38 per cent of its network from 60 per cent previously. It plans to reduce it to 19 per cent by the end of the current financial year. A senior airline official says, "We have completely withdrawn flights that do not meet the aviation turbine fuel costs. We know all flights cannot generate operational profits, but we are looking at meeting cash costs on 81 per cent of our network by the end of this financial year." Air India currently is registering variable losses on 19 routes, six of which are international routes. These include Mumbai-Kolkata and Delhi-Bangalore and Delhi-Sydney and Delhi-Milan.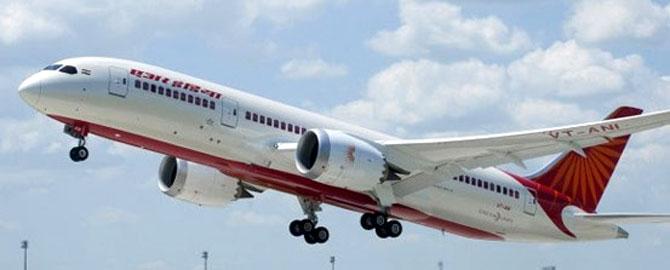 Image: Boeing 787, this is what dreams are made of. Photograph, courtesy: Air India
Nandan is monitoring route economics on a daily basis. Route economic analysis is also being undertaken at the board level every week. Measures are being assessed to make routes profitable by cutting costs, optimising resource utilisation and changing the type of aircraft deployed. The Delhi-Sydney-Melbourne flight has posted losses of Rs 150 crore (Rs 1.5 billion) since the launch of service in August last year, so Air India is considering reducing the number of flights to five days a week from seven. The airline deployed a Boeing 787 Dreamliner on the Delhi-Tokyo route after which the airline started making money on the flight.

Gearing up for competition
To scale up its place in domestic skies where it is set to face increased competition from full-service carrier Jet and the yet-to-be-launched Vistara in the coming months, Air India has decided to deploy Dreamliners to draw in corporate travellers. According to Nandan, "We are looking at utilising the 787s more optimally by deploying them on domestic routes. Yes, if you use larger aircraft on short-haul routes, the engine wears off faster. But as long as that is factored in while working out the route economics and you make money, it's fine. Our route economics analysis takes into account the expenses incurred in maintenance of engines."

According to industry estimates, business-class seats typically account for 8-10 per cent of the total domestic airline capacity, but contribute 15-20 per cent of its revenue. The average business-class fare is three to six times higher than that of an economy seat. In other words, it means the 18 business class seats in the Boeing 787 would yield the same revenue as at least 54 economy seats, making it a lucrative business proposition.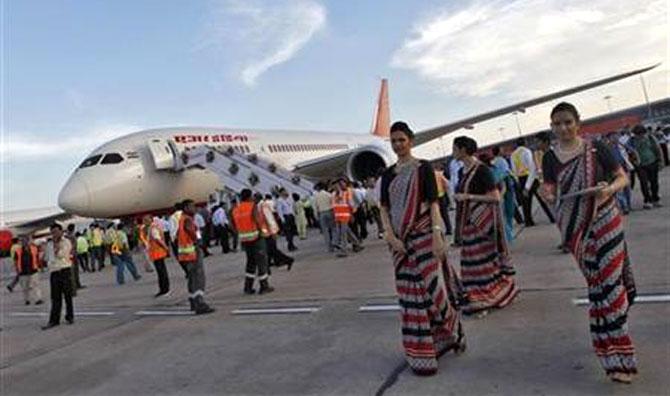 Image: Air hostesses walk next to the parked Air India's Boeing 787-800 Dreamliner. Photograph: Mansi Thapliyal/Reuters
Nandan, however, clarifies that the deployment of the Dreamliners on domestic routes is not in response to the competition. "The 787 on domestic routes will appeal to corporate customers. We will charge the same price as other airlines in the business class but offer a better product and service. This will be our USP," he says. While Vistara is going to operate A320s on domestic routes, Jet Airways flies Boeing 737s.

Meanwhile, the 19 A320s that the airline is in the process of leasing would be employed to add capacity and services in the economy class. The leased craft will replace a similar number of older machines in the fleet. However, the new aircraft, to be flown in an all-economy configuration, will have 180 seats against the 144-168 in aircraft being phased out.

Many may feel that bailing out Air India is a waste of public money and are sceptical about the airline turning itself around. However, the improvements recorded in financial as well as operational parameters in the last three years hint at a different story. The airline may not be out of the woods yet, but is more confident now than ever before of flying out of trouble.