Indrani Roy/Rediff.com meets Abhishek Singhania who left a bright career at PricewaterhouseCoopers, Mumbai, to work in a food security project at Khentia village in Bengal, as a research fellow.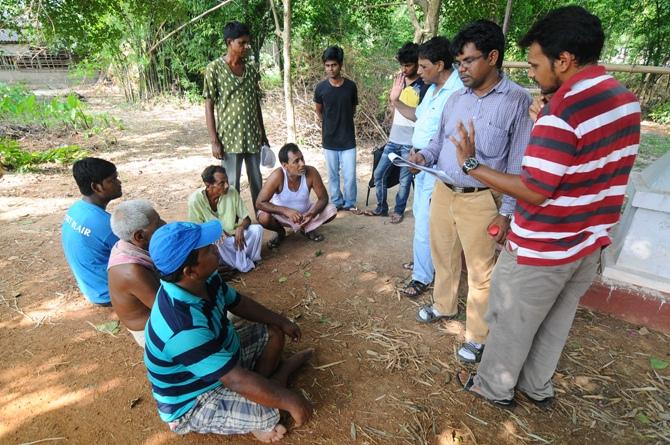 Image: Abhishek Singhania (standing extreme right clockwise). Photograph: Dipak Chakraborty/Rediff.com

Abhishek Singhania is a strange young man. Graduating in metallurgy from Indian Institute of Technology - Madras in 2012, he got himself a dream job of a consultant at PricewaterhouseCoopers, Mumbai. But unlike the youngsters of his age, the cushy job that fetched him Rs 90K per month failed to satisfy him.
Instead, he wanted to dedicate his time to a job more meaningful, an endeavour that would have a direct and positive impact on the growth of India.
"I should be working with farmers instead," Abhishek told himself.
A few months into his job at PwC, he was sent to Jeddah, Saudi Arabia, for six months on an assignment.
"There was no problem with the consultant's job as such but an inner voice kept pestering me that I was not meant for this. I needed to do something else," Abhishek told rediff.com.
Image: Abhishek Singhania. Photograph: Dipak Chakraborty/Rediff.com

"I started thinking deeply about my career and my future.
"I was not sure if I would continue with my job at PwC or join the automobile sector (I am passionate about cars) or agriculture," Abhishek said.
"It was around this time that I started preparing for Graduate Record Examinations but soon lost interest.
"For some time, I have been reading reports of farmers' suicides and they have perturbed me a lot," Abhishek said.
"I thought if technical people like us can train these farmers, it can lead to better production and lesser suicides".
Abhishek returned to India from Jeddah in June 2014.
He took a break from office and visited Temathani village near Kharagpur.
"I met the farmers there and discussed the problems that they face," Abhishek said.
"I was taken aback by their sheer lack of knowledge," he said.
"I could understand that they did not know how to treat the soil with right kind of fertilisers for higher production.
"I also realised that the farmers did not know how to save their crops from pests.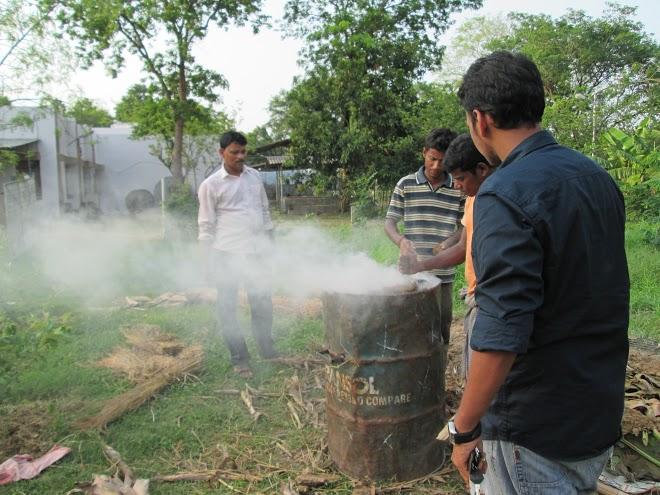 Image: Abhishek Singhania (standing extreme right clockwise) experimenting with biochar. Photograph: Kind courtesy, Abhishek Singhania

"I came to know that they were often using the wrong pesticides that caused more harm to the soil than good.
One fine morning, Abhishek came to IIT Kharagpur from Temathani.
"I knew that this IIT alone has an agriculture department and food technology schools.
"I heard from a cousin of mine, who is a student here, that Dr PBS Bhadoria and Dr Dilip Kumar Swain, were doing a food security project here.
"When I met them they said a project is expected to take off soon in a village nearby.
They, however, could not give me a timeline. "
In December, Abhishek resigned from PwC and went to Pondicherry to take a look at some organic farms and startups there.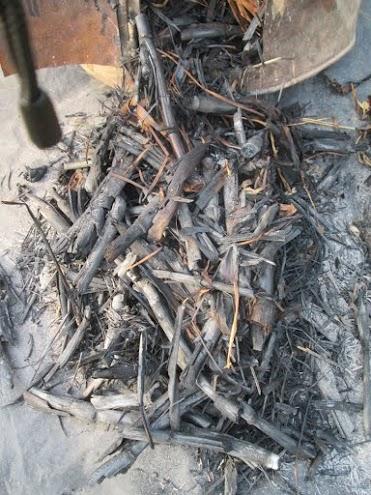 Image: The biochar is made. Photograph: Kind courtesy, Abhishek Singhania

"I was integrating within me all the necessary information about agriculture," Abhishek said.
He revisited Kharagpur IIT in February end and after a second round of discussion with Bhadoria and Swain, he decided to join, as a research fellow, the duo's Food Security Project at Khentia village located 10 km from the institute.
The fact that his stipend would now be a meagre 15K a month did not deter Abhishek even once.
"Rather, I was happy to have finally made up my mind", he told rediff.com.
Now, Abhishek spends hours with farmers of Khentia village, teaching them essential skills of farming.
Under this project, a barren 14 acres of land has been 'adopted' from 14 farmers by the IIT team.
In a collaborative approach, wherein the farmers give free labour and the IIT team the technical knowhow, the land has been treated and made ready for cultivation.
Irrigation system has been revamped and the farmers can now produce rice for their own consumption (earlier they needed to buy rice from the market).
Riding on the success of abundant production of rice, Abhishek's team has taught the Khentia farmers to produce soyabean, sweet corn, peanut and sesame.
"Target of our project is to make these farmers self-sufficent so that apart from growing their food themselves, they can enhance their income by selling the cash crops to the retail market.
The IIT team plans to give hands on training to the farmers only for a year and once the team feels that the farmers are confident and skilled enough to run the show themselves, the team will move out to other villages of Kharagpur to replicate the same project there.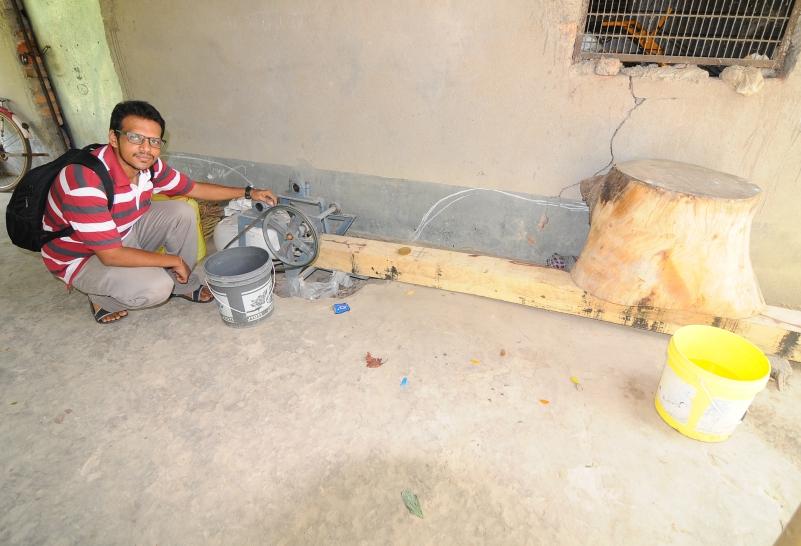 Image: Abhishek Singhania poses with a dhenki, machine used by rural folks to produce rice from paddy. Photograph: Dipak Chakraborty/Rediff.com

Abhishek leads the team of trainers from the IIT that keeps visiting the farmers regularly.
At present, he has his hands full making a sustainable farming-cum-marketing model so that once the IIT team leaves Khentia, the farmers there can do everything on their own.
"We want the farmers to form a cooperative that will work towards their interests and well being," Abhishek told rediff.com.
Abhishek is also making environment-friendly biochar and biogas for the Khentia farmers.
"Generally the farmers burn the plant residue on the field after harvesting. In the process, most of the carbon from the plants get transferred back to the atmosphere in the form of carbon dioxide, carbon monoxide, methane, etc thereby increasing global warming," Abhishek said.
"Instead, if we do pyrolysis in controlled conditions, we can retain a substantial amount of the carbon in the final product (biochar).
"Biochar increases soil fertility and has many other advantages.
"Our primary aim is to develop an ideal setup for producing biochar which should be simple so that farmers can operate it, it should be inexpensive and should have high efficiency.
"Till now we have done five experiments with 3 different set ups."
"If my experiments on these products is successful here, I'll carry them to other villages as well," he told rediff.com.
As he guided us around the Khentia village in the scorching May heat, sweats covered Abhishek's forehead.
But his smile spoke for itself how much he enjoyed this new assignment of his.
Isn't this rigorous farm work tiring?
"Na didi, it's fun. I had always dreamt about doing something meaningful in life. After a long wait, I have got an opportunity to follow my dream," said a beaming Abhishek.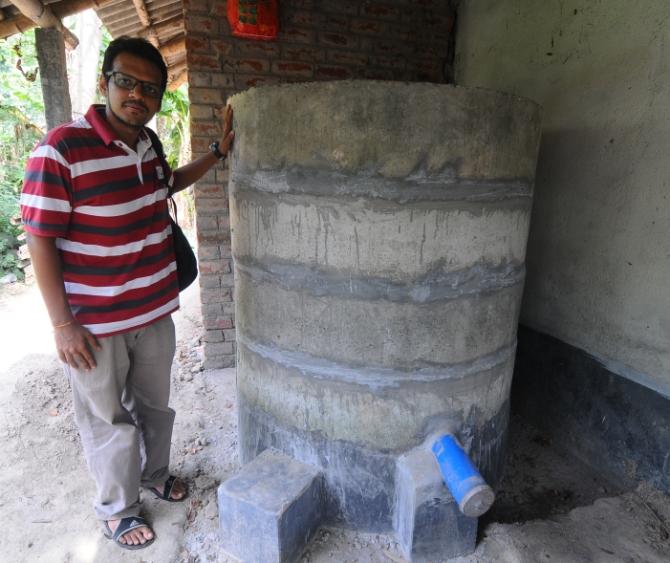 Image: Abhishek Singhania poses with a rice storage container. Photograph: Dipak Chakraborty/Rediff.com

Once his research at IIT-Kharagpur gets over, Abhishek wants to set up a firm that will lend technical assistance towards integrated farming.
After completing his research, Abhishek wants to travel to villages all over Bengal to interact with farmers and share his experience and knowledge with them.
"At present, with the current population, implementation of National Food Security Act requires 61 metric tones of foodgrains annually," said Abhishek.
"Moreover, India needs to double its agricultural productivity by 2040 to reduce the supply and demand gap."
These statistics, Abhishek said, outline the need for research in the field of food production.
"I am happy to be a small part of this gigantic research," he told rediff.com.
Asked if he missed his high profile career at PwC, the young farming enthusiast said, "Not in the least. I am being true to my soul. I have transformed my passion into my profession.
"All that I ever wanted was to have a car of my own. I drive a Hyundai i10 now. What more can I ask for?" Abhishek said.
"For the entire six months of my stay at Jeddah, I stayed at Radisson. But here at Kharagpur IIT, I am staying in a small hostel room with a common washroom.
"The huge difference between my living arrangements here and there never bother me for a minute.
"We get only one life. Why waste it chasing frivolous things?"