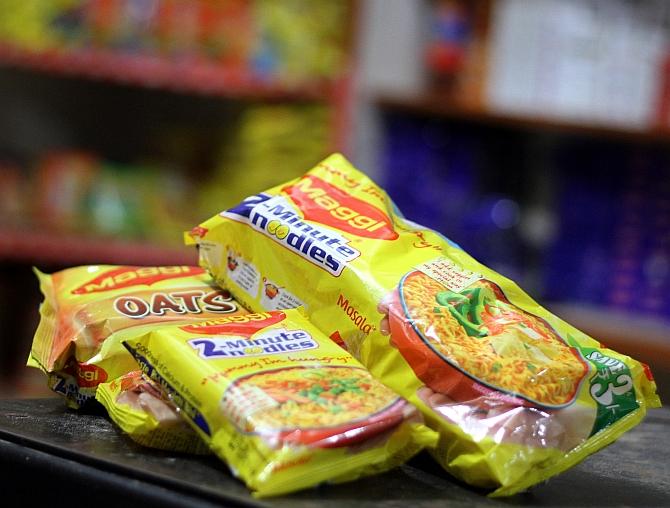 A new Maggi advertisement harps on nostalgia, loss and the joy of rediscovery as a middle-aged man tries to impress his wife with his cooking skills
Since making a comeback in the market post a ban and recall in India last year, Nestle's Maggi noodle advertisements have been understandably playing up sentiments such as nostalgia, loss and the joy of rediscovery.
A new advertisement, floated last month as part of a 'Nothing Like Maggi' campaign, adds to these themes as a middle-aged man tries to impress his wife with his cooking skills for a candle-lit dinner at home.
He is clumsy and falters in the kitchen, as he recalls the couple's first date and asks his wife about how to find the pan and switch on the stove.
But he succeeds, and emerges with a big bowl of Maggi to find that his daughter has also joined his wife, both unsure of his culinary abilities.
As the mother and daughter quickly relish the noodles, he claims, "I haven't lost the magic touch."
His daughter then corrects him, "It's not you, dad. It's Maggi."
According to Maarten Geraets, general manager (foods), Nestle India, Maggi noodles plays diverse roles in the lives of people and it has built special relationships and strong emotional bonds with consumers.
"Maggi noodles belong to the consumers and our recent and current campaigns revolve around these emotions."
He points out that the "Welcome Back Maggi" campaign, when Maggi was re-launched in November last year, "reflected the emotion and joy that consumers from all walks of life and age-groups felt on its return".
Following up on it, the current campaign, Geraets adds, "brings alive the diverse roles that Maggi plays in the consumer's life, both emotional (reliving college life/impressing the better half) as well as functional (the only thing he can cook and present confidently)."
The campaign is aptly titled 'Nothing Like Maggi', he adds.
Citing an example, he says, "One of the TVCs (television campaign) shows former college mates who go back to their hostel and relive the moments of fun and enjoyment with Maggi Noodles playing a key part in the memories.
The new TVC similarly showcases a man trying to impress his wife and how Maggi noodles play a significant role."
The ads in these campaigns are featured across different media, including traditional TV and digital.
The campaign is supported with strong ground-level initiatives and point of purchase material, Geraets says.
Interestingly, the slew of ads leading up to Maggi's comeback in the market, and following it, has so far not focused on young children.
Asked whether the target audience has changed for Maggi and does it face a dip in trust particularly among mothers, Geraets maintains that Maggi noodles is loved by all members of the family and across age-groups.
"It belongs to the family."
For the Maggi re-launch campaign, Nestle India roped in McCann World Group even as Publicis Worldwide has remained the advertising agency for the noodles. For this particular ad, the brief to McCann was simple, says Geraets -- "Bring out the role of Maggi in the consumer's life in an impactful and emotional manner".
India's instant noodles market size is estimated at over Rs 4,000 crore (Rs 40 billion).
Maggi has long enjoyed a lion's share of it.
Its market share dropped by almost half as a result of last year's controversy over allegations of excessive lead in the product, Nielsen data recently suggested.
Maggi's figures slipped to 42 per cent in January, from 77 per cent in the previous year.
However, it has regained its number one position last month, ahead of ITC Foods' Sunfeast Yippee which has a share of 33 per cent.
While Baba Ramdev's Patanjali Atta Noodles made an entry, seeing a window of opportunity late last year, brands such as Nissin's Top Ramen and Cup Noodles, Ching's Secret, Wai Wai and Knorr have gained ground.
According to the Brand Trust Report, released recently by Mumbai-based TRA (formerly Trust Research Advisory), Maggi may have marched ahead, with the brand ranking 65th on the list this year -- a welcome jump of 42 positions over 2015.
It would seem the slew of ads have helped the much loved brand turn the tide.
Brand: Maggi Noodles
Budget: Rs 10 crore (Rs 100 million)
Agency: McCann World Group