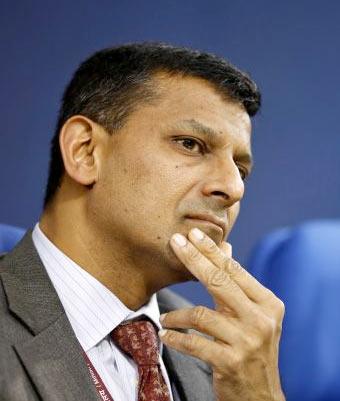 The muted CPI inflation print at five pc earlier this week, followed by a similar WPI number released Wednesday, seems to have spurred India's central bank into action. That's how economists are reading into Reserve Bank of India governor Raghuram Rajan's 25 basis point cut in repo rate, reports Prasanna D Zore/Rediff.com.
Repo rate is the rate at which the RBI lends money to the banks, which in turn lends the same to you and I. It is for this reason that the repo rate is considered a benchmark, and any drop in this rate, signals lower interest rates for those who borrow to buy homes, cars and consumer durables, which in turn boosts demand, which in turn makes businessmen confident to ramp up investments in factories. All in all, a virtuous cycle.
(100 basis points make up one percent).
Interestingly, the governor's statement that followed the cut in repo rate – first since January 2014 – hinted that further rate cuts are likely if data trends (read, falling inflation and inflationary expectations, low crude and commodity prices and a concerted effort from the government to rein in fiscal and current account deficit) are supportive.
The benchmark Sensex gave a thumbs up as it jumped 728 points to scale a two-month peak of 28,000, negating the 800 point drop January 6. The 50-share Nifty too vaulted 2.6 percent, erasing most of its 265-point loss on the same day.
In fact, the RBI not only surprised the market with the timing of the repo rate cut today – almost a fortnight before the announcement of monetary policy on February 3 – but also with the speed with which it reacted to the sobering of the two indices that measure price rise for the consumers and wholesalers.
Pranjul Bhandhari, Chief India Economist, HSBC Global Research, in an emailed note says: 'The central bank's statement showed that the rate cut was prompted by lower than expected inflation, large declines in crude prices, weak demand conditions and, finally, the government's continued commitment to stick to its fiscal deficit target.'
Rajesh Cheruvu, Chief Investment Officer, RBS Private Banking, told Rediff.com, "Inflation prints are coming lesser than the expectations of market participants. And these expectations have come down after a long time."
"Crude and commodity prices outlook at this point in time seems to be stable. There are no significant upsides to the prices of crude from current levels," Cheruvu says, about the reason why governor Rajan surprised the market with a rate cut.
Since June 2014, international crude price has collapsed from more than $114 per barrel to about $46 barrel now. And given the global glut, aided by shale oil production in the US, refusal of OPEC countries led by Saudi Arabia to cut output, oil prices are unlikely to shock the global economy this year, reckon many analysts.
"So, a combination of these three factors (actual inflation recording figures that gives the RBI comfort, future expectations of subdued inflation and cooling crude prices) must have given the room necessary to the RBI to cut interest rates," Cheruvu observes.
"We believe the move (rate cut) is mainly driven by stronger disinflationary forces globally and locally, leading to fall in domestic consumer price inflation more than RBI's expectations," says Namdev Chougule, Vice President, Head -- Fixed Income, JPMorgan Asset Management, in an emailed note.
Chougule foresees a further 50 basis point cut in the repo rate in calendar year 2015 provided "the Government of India continues on its fiscal consolidation path."
But despite the huge disinvestment proceeds lined up before the financial year ends March 31 from sale of shares in government owned companies and benign crude prices, that helps the government cut the subsidy bill significantly and thereby pare the fiscal deficit (the difference between government's revenues and expenditure), economists don't expect the government to rein in this figure to the targeted 4.1 pc of the GDP for this fiscal year.
Sujan Hajra, Chief Economist at Anand Rathi Financial Services, expects the FY15 fiscal deficit to be above the budgeted 4.1 pc of GDP. He, however, expects the FY16 deficit target to be maintained at 3.6 pc of the GDP. "This will give confidence to the RBI to do further rate cut," he says.
Despite all the optimism there is still some doubt if banks will go ahead and cut their lending rates after this 25 basis point repo rate cut. Most government banks, laden as they are with significant non-performing assets (rating agency ICRA expects these to worsen from 3.9 pc of their gross advances in financial year 2013-14 to 4.2 pc in fiscal year 2014-15) and a feeble pick up in demand may not actually pass on this rate cut to consumers.
"Although this is positive news for markets, there still remain some questions around this minute cut on its transmission mechanism to the end borrowers. Also, the economic recovery has been shallow with no significant effects felt on the streets, suggesting banks may still be cautious," says Debopam Chaudhuri, VP, Research & Chief Economist, ZyFin Research.
Chaudhuri, however, is optimistic that "the business cycle can benefit significantly if the RBI pursues this stance with further sizeable cuts and an expansionary monetary policy in the months to come."
And here's what can be a cause for cheer to all those who are expecting a further rate cut in the course of the year.
"In addition to these data trends, the central bank noted that its own household inflation expectations survey shows a sharp fall in inflation expectations to single digits, which is happening for the first time since September 2009. The RBI now believes that on current policy settings, inflation is likely to remain below 6% by January 2016," observes the note by HSBC Global Research's Bhandari.
Till date, the RBI had doggedly repulsed pressure from India's political and corporates class to clam up on interest rates, citing that the central bank was not too comfortable with the expectations that households have about inflation.
It is perhaps because of this reason that Hajra of Anand Rathi believes that we can see another 75 basis point cut in repo rate, as against just 50 basis points expected by most other economists.
Hajra see the RBI cutting the repo rate in two tranches: 25 basis point cut in March-April 2015 and another 0.5 pc cut in the second half of this calendar year.
Image: RBI governor Raghuram Rajan (File photo)
Photograph: Adnan Abidi/Reuters