Yes. Whilst public expenditure is kicking in, the key reason is the decline in private investment, says Vinayak Chatterjee.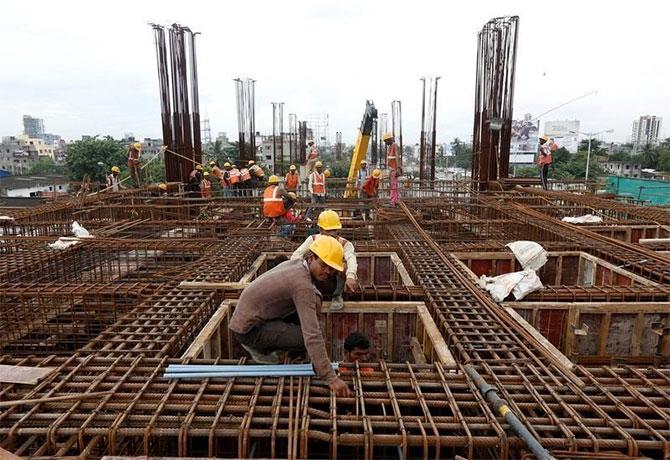 It is useful to start with a refresher.
In the first half a century after Independence, India invested around 3.0 per cent of its gross domestic product (GDP) in infrastructure, which resulted in the tattered state of the sector till quite late in the 1990s.
To summarise:
The conservative annual requirement now is Rs 15 lakh crore.
53 per cent or Rs 8 lakh crore is possible to be met from public investments.
47 per cent or Rs 7 lakh crore is required from private sources.
Realisation dawned from around 1997, that to keep pace with growth realities and aspirations, investments in infrastructure needed to be substantially stepped up - and that too with a large dose of private capital, popularly called PPP (public private partnerships).
In fact, emergent markets with high economic growth have typically invested at seven-10 per cent of GDP in infrastructure in their boom years.
So, from the 10th Plan period, the Gross Capital Formation in Infrastructure (GCFI) started its upward climb from 4.8 per cent in 2002, to a high of 8.4 per cent in 2011. Private investment also picked up from 22 per cent in the 10th Plan period to 37 per cent in the 11th Plan period (figure 2).
This uptick gave the confidence to planners to envisage a Rs 56 lakh-crore investment in the 12th Plan period (2012-17) with a PPP component of 48 per cent culminating in an expected nine per cent GCFI in 2017, the terminal year of the 12th Plan.
Now, that we are in 2017, how have we done?
The answer is unavailable; as along with the demise of the Planning Commission, no comparable set of numbers have emanated from NITI Aayog, or from the Department of Economic Affairs (Ministry of Finance), or Ministry of Statistics and Programme Implementation.
The best that we have is from the Asian Development Bank's report titled "Meeting Asia's Infrastructure Needs" that lays out that "India invested 5.5% of GDP in 2015 in infrastructure".
That is indeed quite far from the intended eight per cent for 2015, and as the graphic shows, the infra deficit is increasing, and should be setting off alarm bells in the policy corridors.

Consider the following. The infra investment in the 12th Plan period was expected to be Rs 56.32 lakh crore. Assuming a modest 33 per cent increase (had there been a 13th Plan) would give us an infra investment requirement for the 2017-2022 period at Rs 75 lakh crore. That means an infra investment of Rs 15 lakh crore every year in this period.
How does this Rs 15 lakh crore then stack up between public and private sources?
Back-of-the-envelope calculations reveal the following so far as public investments are concerned. The total infra sector investment in the 2017-18 Union Budget is Rs 3.96 lakh crore.
Let us assume that this is matched 100 per cent by "off-budgetary sources" available to states, ministries, public sector undertakings and departments. That then positions the public funding capacity at about Rs 8 lakh crore.
Now Rs 8 lakh crore on a requirement of Rs 15 lakh crore is 53 per cent of the game. The balance Rs 7 lakh crore or 47 per cent (almost similar to the 12th Plan projection of 48 per cent from PPP) has necessarily to come from private sources of capital, both domestic and foreign.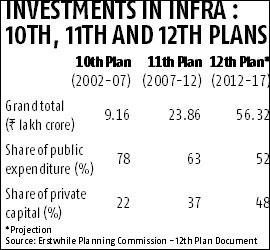 On public expenditure, the government has clearly got its act together. As soon as it assumed power in the summer of the 2014, the National Democratic Alliance government realised that PPP was in coma, and that the only way forward in the short to medium term was public expenditure.
It was quick off the mark to unleash a variety of measures to step up public investments. These included a substantial increase in budgetary outlays in high-impact sectors, the push for "off-budget" funding, building institutional capacity through establishment of new infra PSUs, and intensive implementation follow-up by the Prime Minister's Office.
On private investments, the Rs 7 lakh crore is far from reach. The upsurge in foreign direct investment is virtually restricted to "brownfield" operating assets as distinct from new "greenfield" investments.
On new private investments, between PPP in roads, transmission, rail, renewables, ports, airports, pipelines, and urban infra, we will be lucky to cross the Rs 1 lakh crore per annum mark.
So, herein lies the challenge - India needs to quickly revive PPP if it is not to get caught in the downward spiral of under-investing in infra.
And the steps required to revive PPP are well documented - resolve the twin-balance sheet problem, modify the Prevention of Corruption Act, speed up dispute resolution, release locked amounts in arbitration, create capacity to structure a new generation of PPP projects, fast-track the National Investment and Infrastructure Fund, stimulate the municipal bonds market to get smart cities going, and set up level playing fields for private investors by having truly independent regulators.
It is amply clear that the void left by disappearing private investments cannot be made up by public investments. Thus, creating a positive enabling environment to galvanise PPPs strongly suggest itself as a priority area for government.
The latest Economic Survey candidly postulates "a political dynamic that would banish the ambivalence towards embracing the private sector".
Otherwise, the infra deficit would widen again in the early period of the 21st century.

Vinayak Chatterjee is chairman, Feedback Infra. vinayak.chatterjee@feedbackinfra.com; Twitter: @Infra_VinayakCh