More than Indian exporters, it is Indian business families based in Sri Lanka and Hong Kong which have exploited the Bangladesh advantage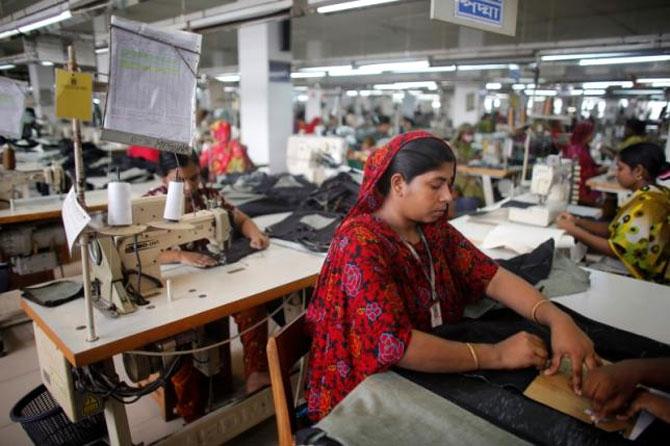 It has been 12 years since Gurgaon-based and BSE-listed Pearl Global Industries set up a garment manufacturing unit in Bangladesh. The company, which has 4,000 machines across four factories in the neighbouring country, is planning to double its capacity in the next three years.
Chennai-based Ambattur Clothing Co has two units in Bangladesh which employ 8,000 people. It supplies clothes to brands such as Zara, Gap and Taylor. While the units in Bangladesh account for 60 per cent of the company's business, Chennai accounts for only 15 per cent.
Orient Craft, a Delhi-based garment exporter which employs 32,000 people, has so far stayed away from Bangladesh. Now, even Orient Craft is thinking of setting up a unit in Bangladesh.
As India's garment exports stagnate at $17 billion a year, Bangladesh's apparel exports are growing at double digits and are likely to touch $27 billion this year, say Indian exporters. India's garment exports were $15.49 billion between April and February 2015-16, up only 1.5 per cent over the corresponding period last year.
Between July 2015 and February 2016, Bangladesh clocked $18.12 billion in apparel exports, growing by 9.52 per cent over the corresponding period last year. For the past four months, its exports have been between $2.2 billion and $2.6 billion per month.
Bangladesh overtook India in 2008 and its share of world trade began to climb from 2010 (4.19 per cent vs India's 3.16 per cent). Interestingly, India's share of the world trade in garments increased from 3 per cent in 2000 to 3.78 per cent in 2010.
In 2014, India's share was 3.67 per cent while Bangladesh's share was 5.09 per cent, according to WTO data on clothing exports as of October 2015.
"We were among cheapest source of manufacturing. For about eight years, we were sitting pretty, thinking who will dislodge us," says a senior executive with a large Indian garments exporter.
"The government is not willing to do much (like bilateral trade deals with EU and others to drive competitiveness). If we can't beat them, join them," says Sudhir Dhingra, founder & chairman, Orient Craft.
Isn't Orient Craft already late for Bangladesh? "In India, we can grow from Rs 1,800 crore to Rs 2,000 crore. But if my aspirations are to grow faster, I have to look at low-cost production bases, which enjoy duty advantage," he says. The search for cheaper production bases is driven by retailers who are constantly looking for ways to cut costs.
"Exporters are shifting to Bangladesh as buyers want it. Bangladesh offers ease of doing business, importing-exporting is faster. R&D on new styles is faster as you can import fabrics in three days. In India, it would take 10 days. The more samples and styles you produce, the better the chances you stand to get an order," says Vijay Mathur, additional secretary general, Apparel Export Promotion Council.
Ambattur has units in countries like Bahrain and Jordan, apart from Bangladesh. Pearl Global has units in Indonesia, Bangladesh and one coming up in Myanmar.
"Every country offers a unique advantage. Indonesia is good at garments made with silk and fine fabrics while Taiwan, being closer to China, takes lesser time to execute orders," says Deepak Seth, group chairman, Pearl Global.
But not many Indian exporters have been able to set up bases in Bangladesh or elsewhere because a majority of them are small-time players. Only three-four Indian garment exporters do business in excess of $150 million.
Indian exporters have been losing their competitive edge; they no longer cater to the mass-market, and have capacity which is utilised for only four-five months in a year. Net margins of four-five per cent leave them with very little to invest in fresh capacity abroad.
No wonder, more than Indian exporters, it is Indian business families based in Sri Lanka and Hong Kong which have exploited the Bangladesh advantage. These include Hong Kong-based groups like Must Garments, Epic Garments and Sri Lanka-based groups like Brandix, MAS Holdings and Hydramani Groups.
Why Bangladesh exports do well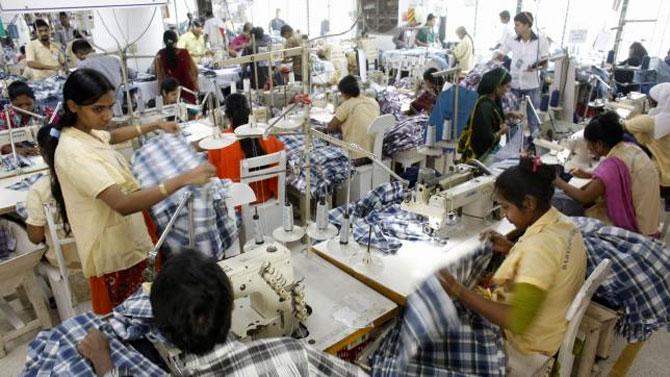 Of course, its biggest advantage is duty-free exports to markets like the European Union, Japan, Australia and Canada under a preferential tariff system called Generalised System of Preferences (GSP), which provides an exemption from the more general rules of the WTO. Garment exports from India to Europe attract an import duty of 11-12 per cent.
Apparel-manufacturing is a labour intensive industry. And labour cost in Bangladesh is 25 per cent lower than India. A skilled worker in India, with two-hours of overtime, costs $200-$225 a month, while a similar worker in Bangladesh is available for $140-150 a month.
Labour is not just cheap, but also highly skilled - garment exports account for 82 per cent of Bangladesh's total exports. "It's single-largest industry in Bangladesh, and enjoys high priority. If there are any issues like strikes, they are quickly resolved," says Deepak Seth, chairman, Pearl Global.
The fact that many of Bangladesh's top politicians and bureaucrats own these businesses has also helped the industry immensely.
Earlier, power cost was 50 per cent lower than India due to abundance of gas, but that difference has come down. "There's still some difference as boilers, generators and vehicles run on gas. Oil has come down to $40/barrel, but in India government is still increasing fuel prices," says an Indian exporter.
"It's all about focus. In India, when you have consecutive holidays, like this week, the Customs is closed. In Bangladesh, it is open 24x7 throughout the year. Even if you have strikes, vehicles ferrying garments enjoy exemptions," says Dhingra.
Also, provident fund or medical cover for workers is not statutory in Bangladesh. Working conditions are also poorer than India. A recent study by US brands found that only 24 of the 700 factories inspected met international safety standards.
India's loss of opportunity is huge
Thanks to the duty disadvantage and higher costs, India became uncompetitive. It has vacated the mass-market for garments (shirts, trousers) and now largely plays in the fashion segment for value-added garments, like embroidery or in garments which need a lot of handwork, or premium garments that cost upwards of $15.
Growth in garment industry can add a lot of jobs but exporters feel the government is oblivious to the opportunity.
One way to drive competitiveness is to go for bilateral agreements with key countries, seeking duty-free exports. "Trade agreements are very important. One has been hearing about a free trade agreement (FTA) with the EU for ten years, but some industries want protection," says Seth of Pearl Global.
"The Indo-EU FTA got side-tracked, thanks to lobbying by the automobile and wine industry, who forced the government to not sign the agreement," rues another exporter.
"A bilateral agreement with European Union, which links foreign investment from EU to duty-free exports of garments from India, can grow exports to Europe 3-4 times to $24 billion-$26 billion in three years, from $9 billion today," says Dhingra.
Consider the potential: Maruti Udyog, with sales of Rs 48,605 crore, employs only 12,900 people while Orient Craft with Rs 1,800 crore sales employs 32,000 people. With exports of $16 billion, the garment industry employs about 37 million people. A majority of these are uneducated people, mostly women, who are trained for 90-days and can earn Rs 12,000-Rs 15,000 a month.

"The Chinese saw it 60 years back: Either you create jobs or give them doles. They chose to subsidise labour-intensive jobs," says Dhingra. At $117 billion, Chinese garment exports are nearly seven times that of India.