A modest industrial recovery is under way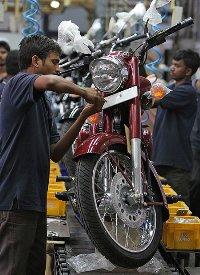 After last month's shock, the Index of Industrial Production numbers for November suggested that things were not so bad in industry after all.
In October, the general index had declined by 4.2 per cent, while its manufacturing component went down by an even more alarming 7.6 per cent.
Of course, many observers saw this as an aberration, rather than the beginning of a sharp downturn.
This view has been vindicated by the latest release, which shows the overall index growing by 3.8 per cent year-on-year, almost making up for the previous month's fall. Manufacturing, however, grew by only three per cent, nowhere near compensating for November's decline.
Electricity, comprising about 10 per cent of the index, was the star performer, growing by 10 per cent year-on-year.
For the first eight months of the current year, then, industrial production grew by 2.2 per cent, significantly faster than the 0.1 per cent growth during April-November 2013. Manufacturing grew by 1.1 per cent, better but not by much than the -0.4 per cent in the April-November period of 2013.
Looking at the relative performance across industries, garments at close to 20 per cent and motor vehicles at about 18 per cent were the fastest growing sectors.
Sectors that typically reflect the business cycle, like metals and cement, also showed relatively steady growth of between six and seven per cent, as they have been doing for some months now.
The big negative impacts, like last month, came from a 60 per cent decline in radio, TV and communication equipment, again presumably reflecting the closure of the Nokia plant in Tamil Nadu -- this, however, may not be the only reason as Nokia production cutbacks had begun taking place some months prior to October and November – and a 26 per cent decline in office, accounting and computing machinery.
From the use-based perspective, while capital goods provided a reasonably reassuring picture, growing by about seven per cent in November and five per cent in the April-November period, consumer durables have consistently been bringing up the rear. Production declined by almost 15 per cent in November, taking the decline for the eight-month period to almost 16 per cent.
The main message from these numbers is that there appears to be a modest industrial recovery under way, notwithstanding the occasional gut-wrenching month.
While a two per cent growth rate is clearly not something to shout from the rooftops about, the maintenance of a relatively consistent rate over the past few months reinforces confidence that the upturn is sustaining.
The real problem is in the unevenness across sectors.
Even discounting the communication equipment pattern, several sectors continue to show either very low or negative growth rates.
On the positive side, the uptick in motor vehicles and, to an extent, machinery and their spillover into basic and fabricated metal products indicates a firm foundation to the recovery.
The consumer durables story, as negative as it currently is, could be seen as reflecting postponement of purchases, which will be positively impacted by moderating consumer inflation.
This, in turn, is being driven by falling fuel prices and stabilising food prices, both contributing to discretionary spending power for consumers.
However, the headroom is likely to be limited.
The real constraint on accelerating growth remains infrastructure and it is not going to be dealt with in a hurry.