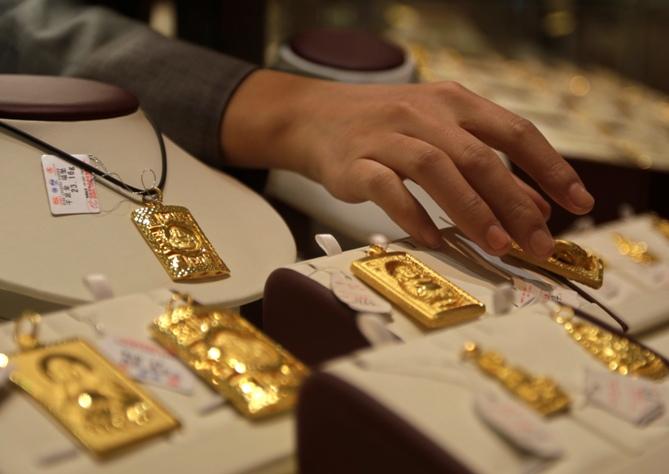 A sales assistant puts back a gold Buddha-shaped pendant after showing to a customer at Caibai Ornaments store in Beijing.

Photograph:

Petar Kujundzic/Reuters
In 1963, when then finance minister Morarji Desai banned gold futures, as part of the Gold Control Act, members of the Bombay Bullion Association didn't know what hit them.

In the crisis that followed, the association had to sell its front building at Zaveri Bazaar to pay for its members' losses.

The Gold Control Act was in place between 1963 and 1990.

It was implemented following the Indo-China war, owing to a felt need to control foreign exchange outflows.

The Act allowed individuals and families to only hold up to two and four kg of gold, respectively and only in the form of jewellery.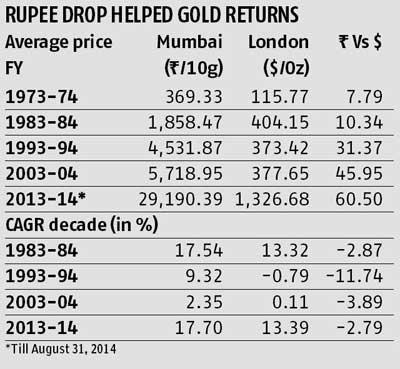 One required a licence to open a jewellery shop or make jewellery.

Bullion analyst Sanjiv Arole says: "It is estimated Mumbai had about 150 jewellery shops during the days of the Gold Control Act; most of those were in and around Zaveri Bazar, in the south of the city.

"Now, there is a shop in every corner."

In the initial years of the Act, only 14-carat gold jewellery was allowed to be sold.

The way gold is held has also seen a change. Physical gold was held in the form of biscuits and TT bars (tala).

A TT bar had a gross weight of 10 tolas, equivalent to 3.75 oz, or 116.64 g. Now, it is held in kg, while prices are quoted in 10 g.

Things have changed dramatically.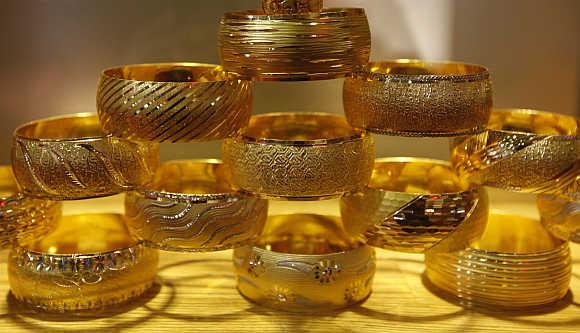 Gold bangles are on display at the international Istanbul jewellery fair in Turkey. Photograph: Murad Sezer/Reuters
Currently, there are no major impositions -- one is allowed to purchase unlimited quantities of jewellery, as well as bars and coins.

Banks, too, sell gold coins, though they don't buy these.

In the absence of restrictions, the premia -- the margins paid for delivery -- have fallen.

During the days of the Gold Control Act, the commodity was quoted at 40-80 per cent premium to the London price, as official imports weren't allowed, despite substantial demand.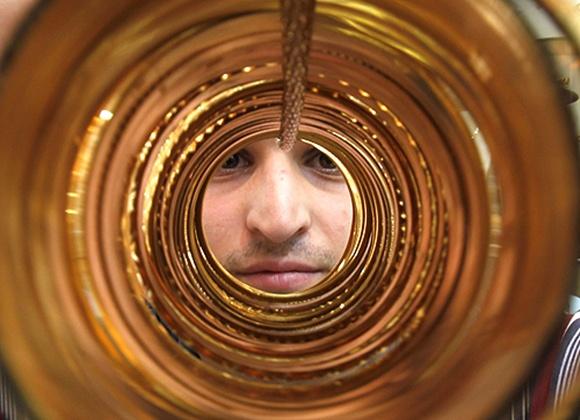 A goldsmith poses with gold bangles. Photograph:

Ali Jarekji/Reuters
Following the recent 80-20 rule (20 per cent of the imported gold was to be exported, with value addition), premia have again started inching up.

Currently, these are at eight-nine per cent.

An ex-jeweller and former director of the Bombay Bullion Association said the bullion market was much better now. "Hallmarking facilities are available and some part of the trade is in the organised sector.

"Designing has become modern and you can buy jewellery using your bank debit card.

"But in those days, jewellers had to secure a licence.

"For gold controls, the customs department was the enforcement, frequently visiting jewellery shops."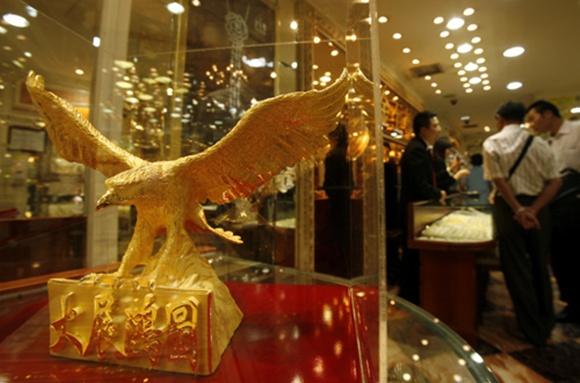 A jewellery store displaying a hawk-shaped golden figurine. Photograph: Bobby Yip/Reuters

Today, one can buy gold in demat form, or in securitised form by investing in exchange-traded funds.

In terms of returns, gold has always performed well.

Through the past 40 years, it has seldom given negative returns, as the rupee has fallen against the dollar, aiding returns.

During some years, returns have soared.

Gold prices, at Rs 370/10g in 1974, are now at Rs 27,000/10g.


A worker scoops gold shots at Japanese jewellery brand, Ginza Tanaka's original equipment manufacturer (OEM) factory in the Chiba prefecture, east of Tokyo. Photograph: Yuriko Nakao/Reuters
A couple of years ago, prices had touched Rs 32,000.

In 1974, the global price stood at $36.8/oz; now, it stands at $1,230/oz.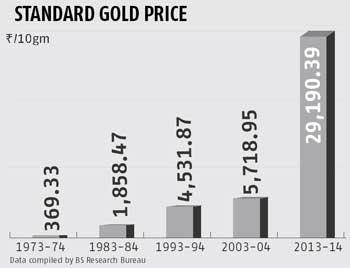 It is, therefore, hardly a surprise that the draw towards gold has continued.

Research by Madhusudan Daga, an analyst of India's bullion market, shows currently, gold holdings stand at a staggering 20,000 tonnes, against 4,000 tonnes in 1974.

Consecutive controls have led to an increase in smuggling of gold.

Dhansukh Shah, an advocate and an expert on the days of the Gold Control Act, says, "While there are no official estimates of smuggling in the 1970s, rough estimates suggest it stood at 50-100 tonnes."

In 2013, World Gold Council estimated 200 tonnes was smuggled.