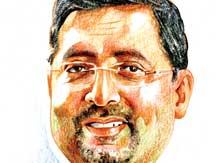 It could be his designation or the organisation he represents.

Equally, it could be his name: Vivek 'Gambhir'.

At any rate, I was half expecting to meet an intensely serious, hard-charging boardroom operator.

So I am pleasantly surprised when I locate this very casual, beaming guy in Shah Rukh Khan-esque all-black across the hall.

As I reach his table, Gambhir, managing director of Godrej Consumer Products Ltd, the Godrej group flagship that houses its fast-moving consumer goods business, extends a warm handshake.

We are at the bustling Le Petit Café at The Lalit hotel in Delhi, meeting over an impromptu coffee.

As we settle in our chairs, I ask him what makes him so happy on this hot August Monday. Oh, he laughs, he has just spent the weekend with his family, you see.

Gambhir -- an MBA from the Harvard Business School and a BS (Computer Science) and BA (Economics) from Lafayette College -- says he grew up in Kolkata, but is in the capital every weekend because his family lives here.

On weekdays you will find him at the Mumbai headquarters of the 117-year-old group. That must be hectic. . . I start saying, but he shakes his head vehemently.

It's apparent he doesn't mind.

But I am feeling crotchety, having just come from a particularly long editorial meeting.

So I tell him, look at the dark side.

The FMCG industry seems to be in some sort of a stupor over the past few years.

Should you still be feeling happy after a long weekend with the family?

He laughs and says despite the odds Godrej has done pretty well. What the group hasn't done in the prevailing atmosphere of gloom and doom is stop investing in new product development.

"We are doing a lot more experiments and prototyping; we are employing design-driven thinking to come up with bigger and faster innovations."

Gambhir has a point. Over the past 18 months or so GCPL has gone scouting for niche categories, where there isn't much competition, and has come up with interesting new offerings.

For instance, it has launched a paper-based mosquito repellent, cream hair colour in sachets, and more recently, the most powerful liquid vapouriser in the household insecticide category.

He speaks enthusiastically about the cross-functional teams (across marketing, design, research and development or R&D, manufacturing, supply chain) the Godrej group has deployed to come up with such innovations.

He tells me about the new R&D centre that is being built by the company and the new design centre set up with young graduates from the National Institute of Design to lead the innovation efforts.

Of course, the group's efforts in this direction are paying off.

Recently, Forbes magazine ranked GCPL 31 on a list of 100 most 'innovative growth companies' in the world and that's the top rank among nine Indian companies on the list.

He says the thrust of GCPL's innovation effort is "democratisation of product categories.

"The idea is to offer benefits and products that were considered unaffordable by the masses and convince them to up-trade to these products.

Today, 33 per cent of our portfolio is premium, which means it is priced more than 20 per cent of the average price in the category.

"The figure was 25 per cent some years back.

"In three years, we want to take this figure to 45 per cent," he says.

So what has been the biggest driver of growth and the company's biggest achievement in recent years?

The biggest shift that has happened at the company, he says, is that the international business has become a major contributor to its overall business.

From making up about 15 per cent of the total revenues four years back, it is now about 49 per cent.

"Our products are available in more than 60 countries and two-thirds of our team is based outside India," he offers helpfully.

Gambhir is among the key architects of GCPL's international strategy -- referred to as the three-by-three road map internally -- that hinges on building a presence in three emerging geographies (Asia, Africa and Latin America) across three categories (personal wash, hair care and home care).

"We follow a model very different from other multinational companies," he explains.

"We see ourselves as a multi-local rather than a multi-national company. We have acquired strong local brands and we work with the teams in these countries encouraging operational autonomy at the local level."

Our conversation is interrupted by the arrival of a waiter with some lovely aromatic coffee and cookies.

I take this opportunity to change tack.

Gambhir joined the group in 2009 as chief strategy officer and in four years (July 2013) he was elevated to the post of managing director.

What does it take to be trusted by The Family? "You should ask The Family, really," again the laugh.

Gambhir says he's learned that it is essential to be committed to one's career path, "which means broadening your skill sets through continuous learning and being willing to embrace change. Flexibility plays a key role in a leader's marketability."

He says thanks to Adi Godrej's management style, people really stick around in the Godrej Group -- "you can say the Godrej group is an anomaly in an age marked by turmoil and downsizing" -- and so one normally doesn't come across news headlines like 'big churn at Godrej group' and so on.

So what is Adi Godrej's management style, I probe.

Are his children treated like royalty? Gambhir scoffs at the suggestion.

"First of all, Mr Godrej is hands-on in the sense he knows exactly what is happening at the group and what is needed when. But he also knows when to let go."

Second, his children -- Tanya Dubash, executive director and president (marketing) of the Godrej Group, Nisa Godrej, executive director of GCPL, and Pirojsha Godrej, managing director & CEO, Godrej Properties -- have all risen up the ranks and were by no means foisted on the professional managers.

"Plus, look at their professional qualifications -- all this goes a long way in building credibility," he adds.

He pauses briefly and then takes forward his assessment of The Family, choosing each word carefully.

"This is a remarkably different family.

"The problem with many other business families is that the family surrounds itself with gatekeepers who thrive by controlling access to the family patriarch.

Over time these people become power brokers in themselves.

"That is when the whole relationship equation becomes politicised, something you won't see happening in this group," Gambhir puts it succinctly.

And what about the other family? Do they forgive his week-long absences?

"Oh, I make up by cramming in a lot on these weekends together.

"My wife and I like travelling a lot and we go on these long, off-the-beaten-track holidays with the children -- a 12, a 10 and a two-year old -- quite often," he says defensively.

"We just came back from Ecuador -- it has amazing climate and the most amazing landscape. My wife is a nature photographer, so we need to choose our locations carefully."

I can imagine.
Image: Sketch of Vivek Gambhir; Courtesy Business Standard