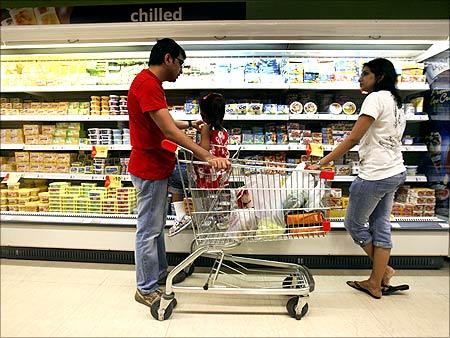 FSSAI has to move to a system of approving ingredients, instead of products

Every time Swati buys noodles, pasta, biscuits or other snacks from her neighbourhood store, she looks for that one line of assurance on the packet -- 'approved by Food Safety & Standards Authority of India'.
The food regulator's nod seems to have assumed more importance because of the pan-India recall of Nestle's Maggi noodles in June.
The regulator termed the noodles 'hazardous for human consumption', because of the presence of monosodium glutamate and excessive lead in it.
While the regulator's nod to any food item gives confidence to many, others say the FSSAI doesn't have to vet a product before every launch, adding such a practice reminded one of the 'inspector raj'.
After all, they argue, international regulators such as the US Food and Drugs Authority aren't engaged in food product approvals, so why should the FSSAI?
On August 26, citing a Supreme Court order, the FSSAI surprisingly announced it was moving away from approvals.
So, does that mean the likes of Swati won't be able to look for the assurance they seek on food packets anymore? And, equally important, can food companies launch any product in the market without having to approach the regulator?
For a few days, it seemed so. Industry representatives said before 2013 (when FSSAI approvals began), no food company had to seek the regulator's nod.
As such, they said, there was nothing extraordinary about the FSSAI saying it wouldn't be possible for it to approve products any more.
Their view has gained strength in the wake of the Bombay High Court giving Nestlé India six weeks to get its Maggi noodles samples tested again, giving the company a fresh lease of life.
But within days, the FSSAI sprang back. On August 31, it put up a public notice for 'engagement of legal assistance for framing regulations for FSSAI'.
That leads one to wonder about the legal standing of India's food safety regulator. Why is it treated differently from other regulators such as the Telecom Regulatory Authority of India or the Central Electricity Regulatory Commission?
Why did the court clip FSSAI's wings soon after it wielded its powers to grind Nestlé India's Maggi business to a halt? Is the food regulator sufficiently armed to guide and monitor the sector?
And finally, is the sector better off without such a regulator, in the absence of efficient testing labs, enough skilled manpower and a sound legal framework?
Set up in 2011, the FSSAI was tasked with enforcement of the Food Safety and Standards Act, 2006.
Under the Act, it was empowered to regulate and monitor the manufacture and sale of food; specify standards for food products and enforce those; specify limits for use of food additives, heavy metals, etc; specify food-labelling standards; specify conditions and guidelines relating to food recall; and collect and inspect food products.
While the responsibility of issuing various advisories or guidelines lay with the FSSAI, experts said this couldn't be done arbitrarily.
"Before issuing such advisories, the regulator has to publish them for public comment and get them approved by Parliament so that the guidelines have statutory backing," said Ashish Prashad, partner, Economic Law Practice.
Gowree Gokhale, partner, Nishith Desai Associates, says 'procedural lapses' cost the FSSAI dearly in terms of litigation.
Largely, FSSAI's powers are on par with those of the USFDA and the UK Food Standards Agency, barring the concept of 'product approval'.
Though prior FDA approval is required for novel or proprietary additives in the US, for final food products using permitted ingredients, no 'product approvals' are required.
Experts say lack of a list of 'approved ingredients' has led to confusion in the sector.
According to Gokhale, the standard procedure is to have two lists -- of 'approved ingredients', indicating permissible limits and labelling guidelines, and 'banned items'.
This would help cover all segments of the food sector, including restaurants and roadside vendors, she says. But in India, the 'product approval' regime enforced by the FSSAI till recently pertained to final food products, not food additives.
As such, the FSSAI required every proprietary food product, irrespective of whether or not it used only permitted additives, to be submitted for approval.
It is upon the FSSAI to move to an ingredient-based approval regime, as opposed to one dealing with final products, says Zakir Merchant, partner, Khaitan & Co.
"In my view, Section 22 (of the FSS Act) is not an absolute ban or prohibition; it is up to the central government to notify products that are to operate as a restriction," he adds.
Section 22 of the FSS Act prohibits manufacturing, distributing, selling or importing various food items, including novel, genetically modified and proprietary food items, as listed by the central government.
Sector-wise regulators aren't new in India.
While Trai or CERC wield wide powers over their respective sectors, experts say it is incorrect to compare them with the FSSAI, adding statutes governing other sectors had been framed with different objectives.
If the FSSAI exercises its powers in a fair and transparent manner, as laid down in the FSS Act, it can avoid mishaps, says an expert.
While enacting regulations are one option before the FSSAI, it must also get more standards passed in Parliament to cover a large number of food products.
The current regulations cover standards for only 377 food products.
Should the FSSAI formulate more for various proprietary foods, the need for such products to be approved will be done away with.
The image is used for representational purpose only. Photograph: Reuters