But the road map of telecom will be decided by one thing: Whether Jio sticks to its ambitious plan and whether incumbents have enough financial muscle or ability to raise money every year to ensure that Jio does not reach its target, says Surajeet Das Gupta.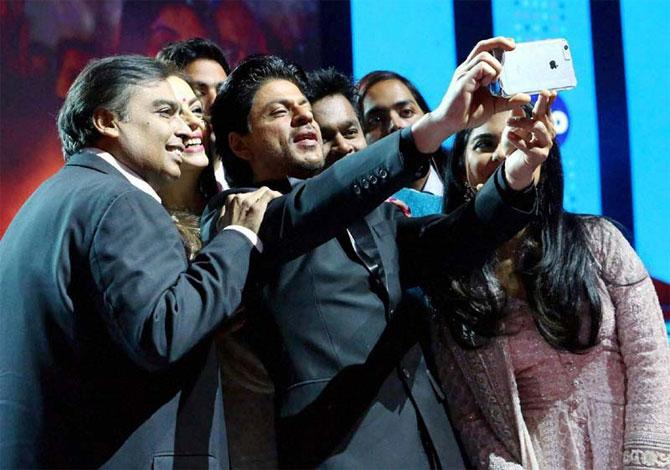 Will the private mobile telecom landscape in India be dominated by two players in a few years?
Or, as it looks currently, will it be a three-cornered contest with Reliance Jio locking horns with Airtel and the new Idea-Vodafone combine (state-owned BSNL will be a bit player)?
Or will there be two big boys fighting neck and neck and a third, smaller operator in terms of market share?
Many analysts and telecom watchers, especially after the dismal results of Airtel (the first loss in 15 years in its Indian operations) and Idea (the sixth quarterly consecutive loss) last week and with indications that financial pain will continue for the next 12-18 months, say there is a possibility of Airtel and Idea-Vodafone looking at some kind of combination, which could lead to a merger though there is nothing on the horizon now.
And this speculation comes when Jio in the same period has announced its second consecutive quarterly profits and the best margins in the industry.
Coping with the Jio challenge
The advantages of a merger are obvious - a more than 62 per cent subscriber base and a higher revenue share, which can be allowed if competition rules are changed (they have been for Idea-Vodafone); a greater ability to raise money; and synergies in the network 4G network, which would reduce operational costs and give Jio a run for its money.
But the road map of telecom will be decided by one thing: Whether Jio sticks to its ambitious plan and whether incumbents have enough financial muscle or ability to raise money every year to ensure that Jio does not reach its target.
Jio wants to grab 50 per cent revenue share in the mobile market within three-four years of its launch (it has been on for 18 months).
And it believes it can do so because it controls about 80 per cent of the country's data capacity on its network, in which it has invested Rs 350,000 crore.
Critics say the target is overambitious and most of the subscribers it grabbed belonged to smaller players that have closed shop and not from the incumbents.
The pace will slow as incumbent customers are getting matching offers and are unlikely to shift.
"There are another 100 million customers with smaller players like Aircel and RCom even now, and some of them will come to their fold. But with pricing being matched, why should customers of incumbents shift? There is no incentive," said a senior executive of a leading telco.
Yet with the company adding 8-9 million customers every month, if the trend continues, it could be pretty close to Airtel's current subscriber base within 12 months.
So more capital is the key to the future, especially as Jio is putting in Rs 6,000-7,000 crore every quarter in increasing intra-city fibre or expanding towers.
It has the cash from huge profits generated from oil and gas and can reduce its debt by going for an IPO and deleverage.
Scaling up
To match this modern 4G network enabled with VOLTE, competitors with a legacy network (2G, 3G) will require a lot of capital to catch up.
They cannot close down their 2G and 3G networks until they can persuade customers to upgrade to a new 4G option, in which they are investing.
Over 50-60 crore 2G customers still use only voice.
Currently, for instance, Vodafone shifted to VOLTE in January while Idea has announced it will do so by May this year.
By shifting to VOLTE telcos can free up their 2G spectrum, which is currently used to offer only voice to customers.
Idea, has only less than 20 per cent of its subscribers on mobile broadband.
More challenging is the fact that only over 50 per cent of its towers can handle 3G and 4G services.
Also, with only 20 per cent of the towers used by incumbents with fibre back haul (its microwave), they will also need to increase their fibre investments, without which 5G or even advanced 4G would not be possible.
In contrast, nearly 80 per cent of Jio's towers are linked to fibre. All this gives it a cost advantage in churning out minutes of data or voice and incumbents have to catch up.
The investment required
While estimates vary, most analysts say that the incumbent operators have to put in Rs 70,000-100,000 crore in the next two years to fight the battle as well as heal the bruises from a further fall in tariffs expected.
With a debt to EBITDA (earnings before interest, taxation, depreciation, and amortisation) of just over three, Bharti has wiggle room to borrow more as well as monetise its stake in Bharti Infratel after the merger with Indus Towers (it is investing Rs 26,000 crore this year).
It can also raise equity from its partners like Singtel, if required.
But analysts say Idea's net debt to EBITDA has shot up from 4.89 in 2016-17 to a staggering 8.65 in 2017-18 and it will have to now look for ways of raising equity or monetising assets.
The choice the proposed merged entity , say some experts, is to bring in a third equity partner with money and belief in the telecom market.
Or the Aditya Birla group, which has recently raised about Rs 6,500 crore, will have to put in more money on the table. The question is whether it will.
The company invested Rs 7,000 crore this year, which, many analysts say, is not enough to catch up with Jio (Bharti put in more than double the amount though its subscriber base is 50 per cent more).
And it is not clear as to how much Vodafone would want to participate if more equity is to be raised in the merged company.
Idea is also monetising its tower assets to raise money.
But will all that be enough to fight the battle? The answer to that will determine how many players will rule the mobile telecom business.
Photograph: PTI Photo