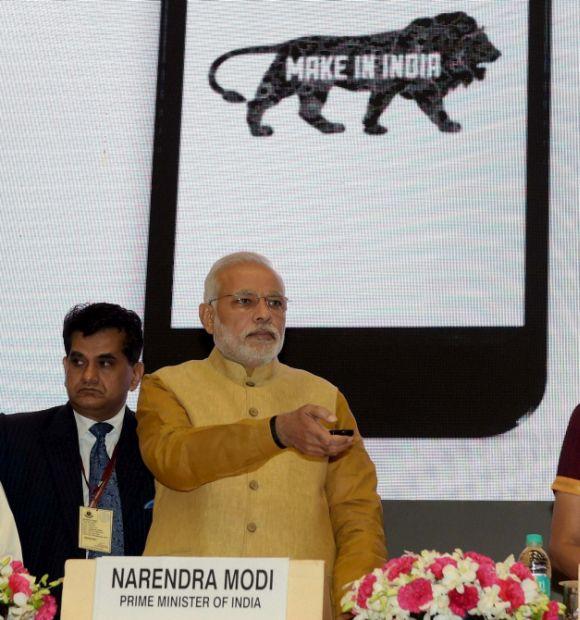 Campaign could be undone if manufacturers do not make investments in installing cost-efficient technologies, notes Jyoti Mukul
The government's Make in India plan could easily be undone if investments are not made by manufacturers in improving their competitiveness by installing cost-efficient technologies on the production floor.
While some sectors, including pharmaceuticals, petrochemicals and food and beverages, are gradually moving in this direction, the adoption of automated systems is slower than what industry experts would like it to be.
At present, less than one per cent of manufacturing gross domestic product comes from automation in India compared with five per cent in developed countries.
"To succeed as a global manufacturing hub, India has also to become a leader in innovation," says Priteesh Mahajan, president (process automation), ABB India.
However, given the role technology plays in keeping costs under check, there is a growing desire among manufacturers to invest in high-tech solutions to drive productivity, says Ashish Bhat, country division lead (digital factory), Siemens India.
Several companies such as Siemens, ABB and Bosch foresee big growth coming from this area in India.
Siemens, for example, is looking to use its digital enterprise solutions to bring automation in product design, planning and connecting discrete manufacturing units for greater efficiency.
The company says its digital solutions cut engineering costs by 30 per cent, improve production rate by 50 per cent and reduce the time to market by half.
"We also see a boom (in the adoption of technology) in in the dairy sector and in water and waste water treatment plants," says Bhat.
Among other things, The Internet of Things, Services and People, which enables objects to communicate with one another through the internet without human-human or human-computer interaction, will be central in the automation drive.
"The government's plan for high-quality manufacturing, encapsulated in the slogan 'zero defect, zero effect' will require more IoTSP technologies.
"They are already increasingly in use in certain traditional sectors such as transportation and healthcare," says Mahajan.
In addition, automation could also have a major implication for energy-intensive sectors like steel.
Energy conservation in steel-making is crucial to ensure the competitiveness of the industry and to minimise environmental impacts, such as greenhouse gas emissions.
At present, the steel industry represents 25 per cent of the global industrial energy use and accounts for 15 per cent of all industrial carbon dioxide emissions.
In India, the demand for high-efficiency motors is growing at a compound annual rate of 25 per cent.
Experts estimate in a few years this could cut the manufacturing sector's energy consumption by up to 60 per cent, or about 2,000 GWh annually.
This, however, is only the first step on the automation ladder.
The industry will need to look deeper into process controls and design to take efficiency to the next level.
Globally, with the deployment of Internet of Things, Services and people, ABB research shows, efficiencies could increase up to 30 per cent across sectors.
Bhat, however, says India needs to upgrade the skills of its current workforce to ensure smooth transition to an automated production system.
"The skill gap, if not addressed quickly, is bound to have a strong bearing on the productivity and competitiveness of the sector itself," he says.
Image: Prime Minister Narendra Modi at the launch of the Make in India Mission at Vigyan Bhavan in New Delhi, March 2015. Photograph: Manvender Vashist/PTI