His plan revolves around new products, a renewed thrust on exports and some serious cost savings
Nikhil Nanda (below left), the managing director of Escorts, loves to talk about the Empathy Programme he recently initiated in his company, which requires everybody to spend a week in a village. "You can be consumer-centric only if you know the customer and live his life," says the 40-year-old. Its effect on the employees, Nanda claims, has been transformational.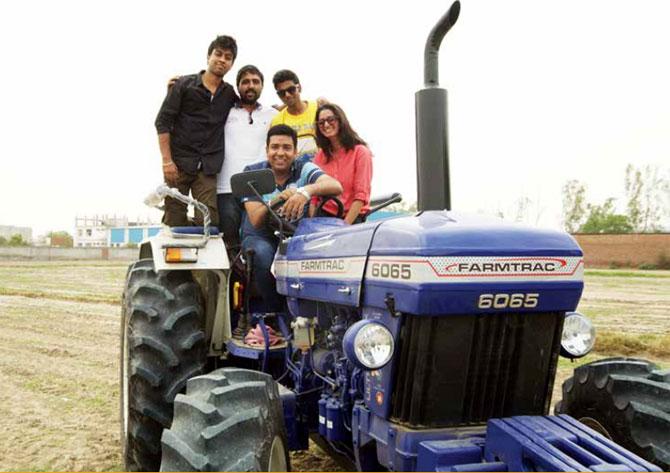 Image: Escorts' social media campaign, #IWantToRideATractor, became a huge hit with young, urban Indians. As part of the campaign, winners of the Twitter contest were taken to an actual farm (Sikri Village, Faridabad), where they got the opportunity to drive a tractor and participate in a tractor race.
Photograph, courtesy: Escorts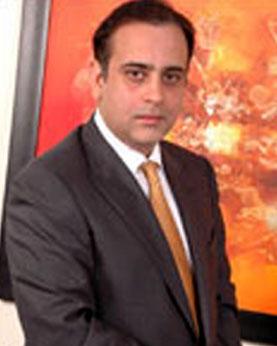 Transformation - or, by extension, rejuvenation - is what the Faridabad-headquartered maker of tractors, construction equipment, railway parts and automobile components has needed for a long time. Once India's blue-chip engineering company, it has over the years exited businesses like motorcycles, telecom and healthcare, lost market share in its frontline business of tractors, struggled with a mountain of debt (thanks to the telecom foray) and has faced investor apathy.
In the last four years or so that he has been running Escorts, Nanda claims he has recovered some ground: market share in tractors has increased from less than 10 per cent to over 11 per cent, cash generated internally has been used to retire a large portion of the debt, profit margins have improved and new products have been launched. For him, the biggest endorsement came first in August 2013 when Rakesh Jhunjhunwala bought 4.98 per cent of the company from the open market and then in April 2014 when the ace investor scaled up his stake to 5.47 per cent.

Still, Escorts is valued at just a tad above Rs 1,600 crore (Rs 16 billion), which is less than half of its total assets of Rs 3,492 crore (Rs 34.92 billion) (as on March 31, 2014). This makes Escorts an attractive acquisition target, but the battle-scarred Nanda family (it had thwarted a raid by NRI businessman Swraj Paul in the 1980s) has fortified its hold on the company by raising its stake to over 41 per cent in recent years.
Escorts' current share price of around Rs 130 is almost the same as five years ago, way short of its peak of Rs 237 in November 2010, but more than double of its low of Rs 49.70 in March 2013.
Farm trends
Analysts say the stress in the farm sector and the slowdown in construction have held back the Escorts stock. In the last several quarters, two of its four lines of business - construction equipment and automobile components - have been in the red. In an earnings conference call on November 7, senior company executives told analysts that the construction equipment vertical will be EBITDA-positive in the quarter ending March 2015. Some complain that with four verticals, they don't know in which business category to slot the company. Nanda says the market sees Escorts as a tractor company, and he could look at segregating the businesses sometime in the future.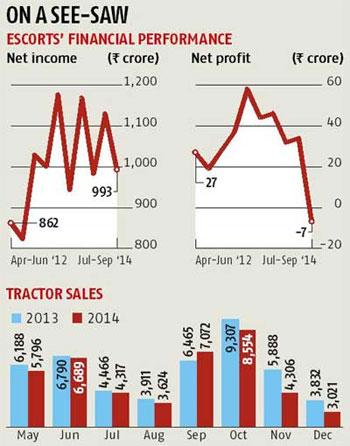 Have Nanda's efforts paid off? A look at the company's last ten quarterly results shows that its net income has been range-bound, though net profit peaked in April-June 2013 and has fallen steadily after that. (See On a see-saw.) The loss in July-September 2014, the last quarter for which Escorts has declared results, is due to "exceptional items" of Rs 31.27 crore (Rs 313 million).

Nanda wants to raise the company's EBITDA (earnings before income, taxation, depreciation and amortisation) margin from 8.5-9 per cent now to 14 per cent in five years' time. His plan revolves around new product development, a renewed thrust on exports, and some serious cost cutting.

According to Nanda, Escorts has invested over Rs 400 crore (Rs 4 billion) on new tractor technology in the last five years. Its new "Diesel Saver" engine, he says, saves 1.5 litres of the fuel every hour when used for farming and 2 litres when used for haulage. Banks, he claims, tell customers that the savings can help them skip at least one monthly loan installment.
The anti-lift technology, developed in-house by Escorts, keeps the nose of the tractor from lifting steeply when pulling a heavy load. The problem was fixed by shifting the center of gravity and hitch point forward, increasing the wheel base and installing a heavier front axle.

For very small tractors, which are used in orchards and vineyards, Escorts has tied up with Ferrari Tractors. It has also come out with a four-wheel-drive tractor and a sleek line called "Executive Series".
Escorts sells under three brands which are clearly positioned in the market: Steeltrac for below 20 horsepower (the company outsources these tractors to a manufacturer in Gujarat), Powertrac (25 HP to 50 HP) and Farmtrac (45 HP and above). The product range, Nanda indicates, could expand further through strategic partnerships and acquisitions in the future.

Nanda wants to sell The Heritage Series of the Farmtrac line in Europe. Though it might be at the top end of the Indian market, it is targeted at the bottom of the pyramid in Europe. "We are positioning ourselves as a small and simple (no-frills) tractor meant to be used as an auxiliary," says Nanda.
The company has tied up with almost 125 multi-brand dealers in Europe and hopes to expand to other geographies next. The company, Nanda says, is working with Porsche Consulting of Germany and Carraro Agritalia of Italy for more "world series" tractors. In 2014, Escorts exported close to 1,000 tractors; Nanda wants to raise the number to 2,500 this year.

Pricing power
But volumes alone will not expand the profit margin, analysts say. They expect the export price tags to be light as Escorts is a new entrant and will have to play the price game to gain a foothold in the market. Also, the softness in the market has robbed tractor makers of pricing power, though the fall in commodity prices could help. (Escorts raised prices by around 1 per cent in August last year.) Nanda says he has appointed McKinsey to suggest savings in the tractors business and The Boston Consulting Group to do the same for the automobile components and construction equipment businesses. In order to save costs, about 350 employees have been given voluntary retirement and internal audit has been outsourced to Grant Thornton.

All of this, Nanda hopes, will restore Escorts to its old glory.