Parekh has made clean business not only a cornerstone of how the HDFC group is run, but also embodies that spirit in his dealings with others in the world of business and politics.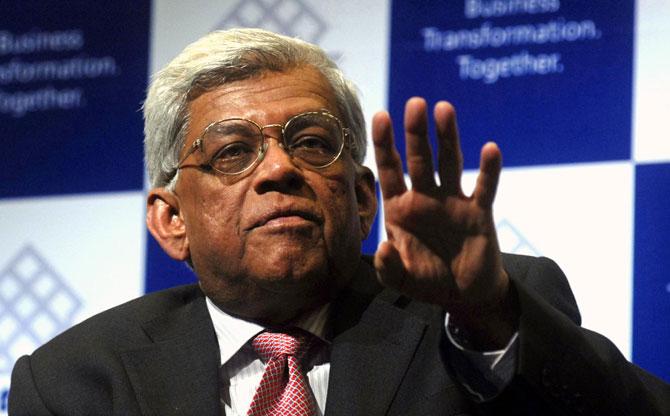 Writing about well-known personalities is never easy, especially if they happen to be of the ilk of Deepak Parekh, non-executive chairman of HDFC Limited.
Writing on Parekh posed a similar challenge, as there's little about him that is not known.
Not only is his career in the world of finance well-documented, but his contribution as a business leader at large has also been written about ad nauseam.
Be it the turnaround of Unit Trust of India or the saving of Satyam, he has played a crucial role in many crises that have hit corporate India.
But if there's one thing that best explains his outsized stature in the world of business, it would have to be his penchant for doing things right, which is why Parekh is the go-to man for policy makers and the government.
He ensures that neither he nor the people he meets ever forgets the importance of clean business.
And values or culture are not developed overnight.
It's a painstaking process and Parekh ensures that neither he nor the people he is associated with, ever forget the importance of correctness.
Which is why he has the habit of gifting miniature yellow signboards to colleagues and business associates.
The little yellow signboard has compliance written on it, with a sketch of a slippery slope below it.
Parekh has made clean business not only a cornerstone of how the HDFC group is run, but also embodies that spirit in his dealings with others in the world of business and politics.
It's perhaps for this that young professionals often turn to him for advice when they have a doubt.
Every week, he devotes time for young guns, who often pick his brains on a variety of subjects.
His ability to rise above narrow interests and passion for doing the right thing has drawn even the government and policy makers to his doorstep.
Over the years, he has emerged as the crisis manager for the government, even on subjects that have nothing to do with finance.
Be it giving his views on universal licensing in the telecom sector to salvaging scam-tainted Satyam, Parekh has been at the fore of many crises.
Unlike many other business leaders who have chosen to wear their proximity to certain political parties or formations on their sleeve, Parekh has retained his independent stance and never gotten coloured by any political party or formation in New Delhi.
This has also given him the courage to stand up and criticise the government, when he felt that the interests of the country or business were getting hurt.
During the rule of a previous National Democratic Alliance government, Parekh not only led the rescue plan for UTI but also played a critical role that influenced the government's policy on a unified licensing regime for the telecom sector.
Many tongues have wagged when he has been involved in matters not pertaining to finance, but much of this is history now.
Others in corporate India joke that he has a permanent seat on every government committee, whether it be on making Indian cities free of slums or on the deteriorating health of state-run telecommunication service providers.
Not to mention the panels that have deliberated on key reforms in the financial services sector.
He has been a part of the R N Malhotra committee on insurance reforms, the M Narasimham committee on banking reforms and the task force set up by the prime minister's office on the infrastructure sector.
In 2012, he was appointed the chairman of the high-level committee financing infrastructure, following then-prime minister Manmohan Singh's approval.
To give the country's infrastructure sector a boost, Parekh became the founding chairman of IDFC, which finances infrastructure projects in India.
He stepped down as chairman after 15 years in 2013. IDFC today offers a full suite of financial services and is on its way to become a bank that will compete with HDFC Bank, promoted by HDFC Limited, which Parekh continues to head.
Parekh has never believed in cookie-cutter rules, which is why he has never hesitated from stepping into uncharted territory.
Few would have given up a plum job at Chase Manhattan to join a new mortgage company in India started by his uncle, H T Parekh, in 1978.
Parekh took a 50 per cent salary cut to join his uncle's company, which sought to help the average Indian buy his own home.
Born on October 18, 1944, Parekh graduated from Sydenham College in 1965 and started his career with Ernst & Young Consultancy Services in New York.
He joined HDFC in 1978 as deputy general manager and went on to become the chairman in 1993.
Today, HDFC's total assets are Rs 278,904 crore (Rs 2,789.04 billion) and the company continues to clock double-digit growth.
Parekh is known as a statesman and the voice of corporate India. He has achieved a lot in the world of finance, too.
In 2001, which saw the first wave of private banks, he engineered the merger of Times Bank with HDFC Bank to provide a differentiated banking experience to the average Indian.
People who know him claim he is an entrepreneur and business visionary rolled into one. Even at 70, he can cram 48 hours in a single day.
His next challenge will be to oversee a seamless merger of HDFC and HDFC Bank, which will create another behemoth.
But Parekh's life is not all about work.
Even if he packs in 48 hours of work into a day, he can party hard, claim some of his friends.
Despite a hectic schedule, he spends time with young people whenever they need assistance.
He never misses Wimbledon matches or the cricket world cup finals.
Image: Deepak Parekh; Photograph: Reuters