Ranju Sarkar reports on how Utkal Tubers is selling potato seeds in new areas and seizing the opportunity to create a Rs 100-crore firm.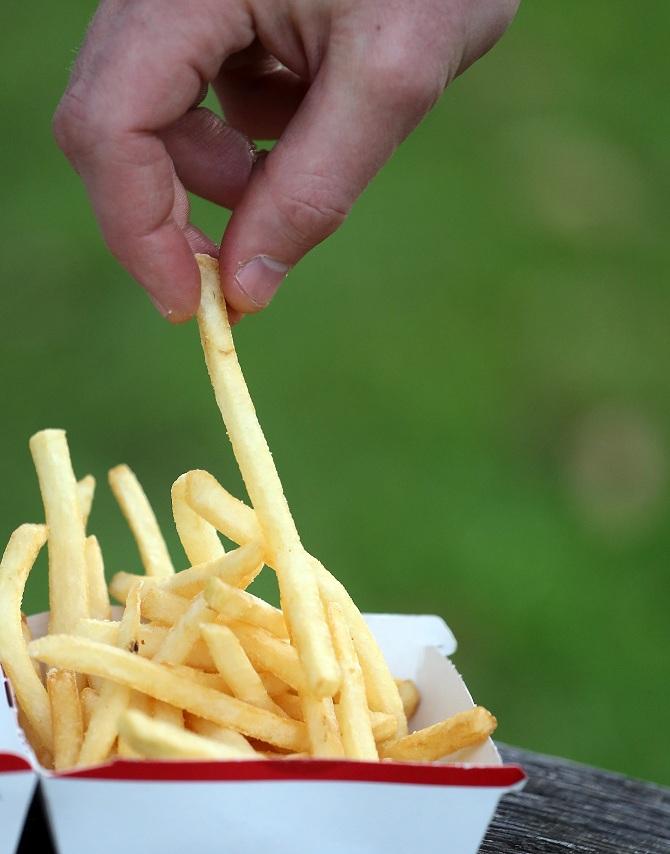 Photograph: Matt Cardy/Getty Images
Like many Indian farmers, Bibhu Majhi of Koraput district of Odisha, sows potato between his rabi and kharif crops. He has been trying to increase the yield from his four-acre plot, without much luck.
Unlike farmers in Punjab and Haryana, he is unable to access potato seeds in time and has to pay 30-40 per cent more for these.
Within a year or two, though, Majhi will be able to access high-quality, disease-resistant potato seeds at the same prices that farmers pay in Punjab. And, seeds grown in local agro-climatic conditions.
Enabling this is Utkal Tubers, a Bengaluru-based start-up promoted by two private equity (PE) companies, Zephyr Peacock and CapAleph Advisors.
In May, they pumped $4.6 million (₹30 crore) into this company.
"There's demand for high-quality potato seeds in eastern India, the northeast and Gujarat. There's an opportunity to create a ₹100-crore firm in two-three years," says Pankaj Raina, vice-president of Zephyr, which incubated the firm before CapAleph acquired a controlling stake in the previous funding round.
Potato promise
Rising income is changing the dietary habits of Indians. They're consuming more of finer carbohydrate, protein and fat.
The 2011 National Sample Survey shows the richest segment of the population spent nine times more on food than the poorest one.
On cereals, the difference is 2.2 times; on vegetables, four times. On meats and eggs, the difference is 14.5 times; on milk and milk products, 23.8 times.
This trend is likely to accentuate.
Potato, a key vegetable for Indians, is the fastest growing carbohydrate in India. It is not only through the kitchen that potato used enter our diet. Sales of potato-based snacks, both traditional and modern, are growing very fast.
Between 1990 and 2016, per capita consumption of potato increased from 12 kg to 24 kg and is projected to increase to 35 kg by 2026. This is increasing the demand for it.
Agro-climatic conditions favour Punjab, Haryana and the Gangetic plains up to West Bengal for its cultivation. They enjoy year-round irrigation and favourable winters, when the crop grows.
However, the yield in India at 23 tonnes a hectare is half the Netherlands' one at 44 tonnes. This could be due to longer periods of low temperature and the longer day length in Europe, ideal for potato growth.
The difference in yield is also linked to potato seeds. Farmers in Europe and the US use new-generation seeds for every planting. In India, farmers use a part of the previous year's crop; however, potato seed quality progressively deteriorates, affecting the yield.
The second issue is non-availability of new varieties of potato seeds, which can address specific end-use needs such as commercial use in snacks (chips, fries, mashed potato). The availability of potato seed and seed various needs to improve in India to meet the rising demand, likely to grow 12-15 per cent a year for the next decade.
---
What experts say
There is a need to improve potato yields in India by using better quality seed.Traditionally, this is being generated by farmers themselves, saving it from the previous crop.
There has been very little private investment in potato research.
While farm-saved seeds decreases cost for the farmer, it also results in gradual decline in seed quality from generation to generation. As a consequence, yields have remained low.
Utkal is in an interesting area and can play the role of a pioneer in enhancing the quality of a seed material and the yields of potato in the country.
The key challenge will be differentiating their product from farm-saved seeds.
The quality of genetics is to be improved. Utkal will try to do so through a collaboration with a European potato company. This will help them to bring differentiated products to the market.
Managing intellectual property will be a challenge in this context. They have to work on developing some creative methods to protect their IP.
The other challenge will be producing high quality seeds. This will require developing a large production base of farmers and villages, for which I believe Utkal is preparing itself.
-- Ram Kaundiny, a former chief executive officer, Advanta
---
Opportunity
Potato seed production is largely centred around Punjab, Haryana and parts of western Uttar Pradesh. This is inadequate for the growing demand and imposes high cost on the seeds, in logistics and storage cost for states away from these producing hubs.
The price of seed in places like Odisha and the northeast can be 25-40 per cent higher than in Punjab and Haryana.
"Utkal Tubers seeks to address the demand-supply gap for potato seed in India and the need for improving seed quality for both table potato and processing varieties," says George Thomas, founder and managing partner at CapAleph, raising a ₹100-crore PE fund.
As more growing areas come under potato, he feels there is a need to address new agro-climatic challenges for cultivation, in terms of soil and climatic condition, pestilence profile, availability of water and income profile of farmers.
Utkal wants to address the growing demand for potato seeds in areas that have traditionally been deficient in these, like Odisha. Its seed production facility will address the availability of true early generation and higher potency seed. And, the need for addressing specific varietal needs for these non-traditional markets.
Utkal set up operations in 2016.
It set up its first tissue culture facility in Karnataka and started multiplication of existing Indian varieties. It started experimental contract farms in North India to produce early generation seed and gain experience in the farming cycle, and the production and storage chain for potato.
Its five-member team for tissue culture multiplication oversaw planting of 200 acres in season 2016-17, producing 1,000 tonnes of seeds.
Road ahead
By the time it enters the new planting season this October, Utkal will have early generation (generation zero) seed from its tissue culture facility and will increase the area under farming to around 1,000 acres.
In 2017-18, it will set up potato plant multiplication facilities in Odisha and Gujarat; it is exploring similar facilities in one more location in the north.
Utkal hopes this production base and its emphasis on providing high quality, first generation potato seeds to under-served markets like Odisha, other eastern and northeastern states will give it leadership in these niche geographies.
It is targeting 5,000 acres under potato seed production by 2020, which should generate revenue of ₹50 crore. It plans annual turnover of ₹100 crore by 2023.
During 2017, it will also augment its team by inducting a chief executive and other senior professionals.
It also plans to sign a deal with a European potato seed major to introduce new varieties in India. Through this deal, it plans to address the gaps in demand for specific potato seed needs in select regions, in terms of end-use, agro-climatic conditions in new growing areas and address issues in cultivation in India like heat stress from reducing winter duration.