The bankruptcy code will deter defaulters, but NPAs will not cease unless banks are sensitised on credit appraisal and experts are hired by banks to inspect what is happening with their loans, point out Veena Mani & N Sundaresha Subramanian.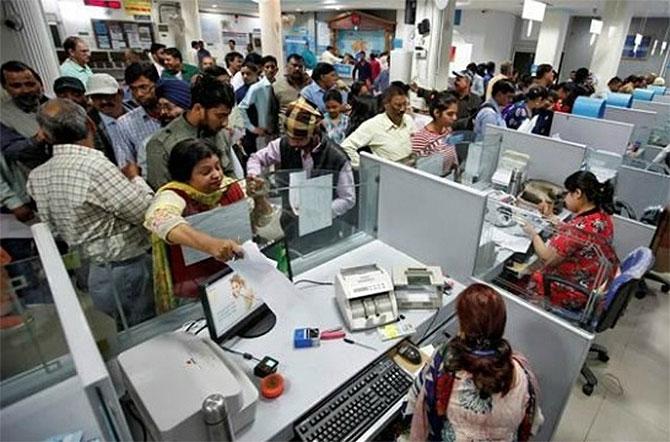 Neeraj Singhal, promoter and vice-chairman of Bhushan Steel, was arrested by the Central Bureau of Investigation (CBI) in August 2014.
Singhal's arrest came days after the agency had arrested S K Jain, the then chairman and managing director of Syndicate Bank on bribery charges.
Soon after, the Bhushan Steel account was referred to a joint lenders' forum.
It was part of the Reserve Bank of India's (RBI) asset quality review in 2015 before being declared a non-performing asset (NPA) by the end of 2015-16.
Three years later, Bhushan Steel is one of the 12 companies recommended for insolvency proceedings by Reserve Bank of India.
Another complicated case is that of Era Infra Engineering, against which as many as 18 winding-up pleas are pending in courts.
The shares of this company were suspended by the bourses over a year ago, implying its troubles are much older.
Essar Steel first defaulted on debt repayment in 1999. It went into a corporate debt restructuring in 2002 and came out of it in 2006.
Its shares were delisted in 2007, but it still emerged with a loan book of Rs 37,000 crore (Rs 370 billion).
In 2014, Essar Steel's Canadian acquisition Algoma filed for bankruptcy, two years later Essar Steel Minnesota filed for Chapter 11.
Young defaults versus critically ill
An insolvency expert whose firm is advising the resolution process of one of the large accounts, said, "Each case has to be taken on its merits. While some accounts may be difficult, others might be eminently suitable."
There is a view in the industry that the law is more suited for "young defaults", when companies are in a better state of health.
When insolvency is taken up as the last option, it may not be effective.
Pavan Vijay, managing director of Corporate Professionals, said some companies entering insolvency were like patients that need ventilator support.
Some of these companies are not a "going concern" and liquidation is inevitable.
Laden with such challenging and chronic cases, banks, especially the public sector ones, have been slow to wake up to the new insolvency regime.
The bankruptcy code was passed by Parliament a year ago, the Insolvency and Bankruptcy Board of India (IBBI) was constituted in October and registration of professionals began by late November.
But the public sector banks (PSBs) swung into action only a few months later.
According to regulations, resolution professionals are required to make a public announcement in the beginning of the insolvency resolution process once this has been admitted by the National Company Law Tribunal (NCLT).
The process has to be completed within 180 days of this announcement, failing which liquidation will be initiated.
Missing banks
As on July 10, 112 such announcements have been made. Of these, banks account for just 17 announcements, or 15 per cent.
State Bank of India (SBI) and Punjab National Bank (PNB) have been applicants in three cases each, while Bank of India (BoI), IDBI Bank and ICICI Bank account for two cases each.
Edelweiss Asset Reconstruction has initiated three cases. A majority of the cases admitted by the NCLT have been initiated by the companies themselves or operational creditors like suppliers and customers.
Private lender ICICI Bank was first off the blocks and received the tribunal's clearance for Innoventive Industries as early as January.
At this point, there were 977 registered insolvency professionals. The NCLT was also not as crowded as it is now. But the PSBs did not do much in the first four months.
By the time BoI's application in the matter of Hindustan Dorr Oliver was cleared it was May 5.
SBI and PNB came into the picture a couple of weeks later.
PNB's first case was in early May in Chandigarh and SBI's account was opened with two cases in Telangana towards the end of that month.
State-owned banks were cooling their heels in the first few months, said insolvency professionals.
Only after receiving a clear signal of this being the preferred route to dealing with stressed assets did banks begin to scamper for talent, knowledge and other resources.
With the government and the RBI on their heels, the late start and bureaucratic processes have added to the challenges for banks.
SBI chairperson Arundhati Bhattacharya's comments that the ecosystem had not evolved must be seen against this backdrop, said insolvency professionals.
Bhattacharya pointed out that certain mandatory components, such as information utilities, were not yet in place and that there were not enough insolvency professionals.
She also pointed to the lack of capacity in the NCLT.
Teething troubles
Insolvency professionals feel banks are the weak links in the ecosystem.
They pointed out that there were about 500 registered professionals and, despite its workload, the NCLT had not delayed hearing insolvency cases.
Further, the government has started the process of appointing 15 new members to the NCLT.
Mamta Binani, an insolvency professional based in Kolkata and former president of the Institute of Company Secretaries of India, said, "There are 500 trained professionals available in India to tackle these cases. There is no dearth of insolvency professionals."
The IBBI has been stringent in empanelling insolvency professionals.
It refused to empanel an applicant working with a multinational auditing and consultancy firm.
The IBBI's order states an insolvency professional must not engage in "any employment with the entity where he is appointed (as a resolution professional, liquidator, bankruptcy trustee, etc.).
To justify this, he has submitted that the objective of the code of conduct is to maintain independence and to avoid conflict of interest."
One insolvency professional recalled a meeting of the committee of creditors where the bankers discussed only the debt and not its restructuring.
Another professional said bankers were poorly informed about cases and most of them lacked powers to make decisions.
Binani said bankers were not yet ready to accept the code. "In the case of Palogix Infrastructure, which filed for insolvency, two banks have not filed claims," she added.
Insolvency professionals feel the code will deter defaulters, but NPAs will not cease unless banks are sensitised on credit appraisal and experts are hired by banks to inspect what is happening with their loans.
"Both sides of the arguments are true. While certain parts of the framework, such as the information utilities, are not yet in place, the basic structure is ready," said an expert.
On July 16, the deadline for Innoventive Industries, the first case initiated, ends.
But the case is in courts on technicalities. There are reports about difficulties in getting multiple lenders to agree on terms.
Though there have been challenges in courts, these are part of evolution of any law, say regulators.
In a recent interview, M S Sahoo, chairman of the IBBI, said, "Nothing develops in a vacuum. Only when something is available will there be a market for it."
Photograph: Reuters