RPG managed to grow his business rapidly in both the pre-reform and post- reform periods, mainly through acquisitions, notes Kunal Bose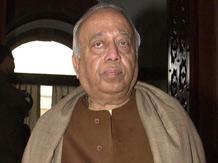 Born and raised in Kolkata, Rama Prasad Goenka spent a lot of his time in the past 10-odd years reading books on religions.
He was a devout Hindu, as his active participation in the annual yagna at his Alipore house and regular visits to the temple that he himself built would bear out.

Yet, RP, as his friends would address him, was, with his questioning mind, also still intent on understanding the meaning of religion and faith.

He would regret that he did not take up this pursuit much earlier.

His was such an inquiring mind that if you referred a new book to him, he would immediately lift the phone to tell his secretary to get it.

RP would agree that his four years in Presidency College, the influence of great teachers such as historian Sushobhan Sarkar ("I would go into a trance, listening to his lectures"), and regular visits to bookshops like Dasgupta and Dhar & Sons in College Street, made a bibliophile of him.

"I am lucky I fell in love with books at a young stage of my life.

"My two sons, Harsh and Sanju, took charge of the business some years ago. The Rajya Sabha term, which I immensely enjoyed, was over.

"Trust me, if there is no emptiness in me, it is because books have kept me company," he told me.

RP became less and less mobile in the last few years because of his failing health.

But he remained in touch with the large network of friends in politics, cutting across parties.

"My hero is Jawaharlal Nehru.

"I was swept off my feet by his charisma, his eloquence, his striding the world stage as the leader of the non-alignment movement and his writings.

"I am fortunate to have received Mrs Indira Gandhi's affection.

"Thanks to Sonia Gandhi, I became a trustee of the Tirupati temple.

"I am an out-and-out Congressman," he told me on another occasion.

RP mastered the art of takeover like no other businessman in this country. In fact, he was the trendsetter.

If he had many successes in this endeavour, he had some frustrating experiences, too.

In one or two cases, he was restrained by the powers-that-be. He could take this in his stride.

One case which continued to bother him was a Bombay textile group going back on a deal after it was signed.

RP managed to grow his business rapidly in both the pre-reform and post- reform periods, mainly through acquisitions.

This will explain the presence of so many varieties of activity in the portfolios of his two sons.

Younger son Sanjiv wanted CESC, monopoly supplier of power in Kolkata, at any cost.

This became possible as the stern Marxist chief minister, Jyoti Basu, surrendered to the RP charm.

RP had one regret.

He was very keen to either acquire a petroleum refinery or build one.

Opportunities for this did come his way twice but none materialised.

"If I have studied one industry thoroughly, it is petroleum. Go and check the piles of papers and books still lying in this house.

Yes, I have sadness that I could not build and run a refinery.

"But I believe in fate," RP would say.

Gut feel, more than anything else, would lead him to target a company and then complete the deal, in most cases in a friendly way.

On his own admission, RP was the inspiration for Lakshmi Mittal to walk the takeover route in building a steel empire.
Image: Rama Prasad Goenka | Photograph, courtesy: Business Standard