The bank was worth over Rs 80,000 crore as recently as September 2017.
The lender had grown at breakneck speed, helped perhaps by Rana Kapoor's reputation as a banker, willing to aggressively write checks.
Sachin P Mampatta reports.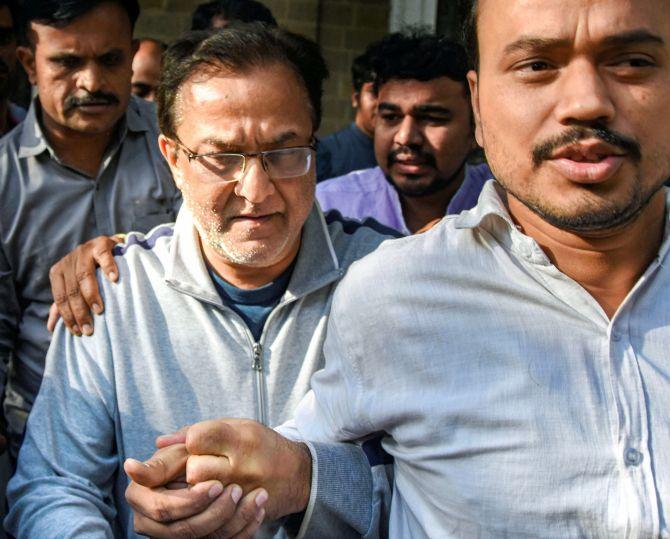 When Rana Kapoor, bespectacled and casually attired, arrived for enforcement directorate questioning at the agency's Ballard Estate office in south Mumbai, he seemed a far cry from the hard-driving executive that made YES Bank one of India's largest banking players since it began operations in 2003.
Kapoor had worked with Rabo India Finance at the time, and was slated to only be a co-promoter director; not head the bank.
The bank had appointed Korn Ferry, an executive search firm, to find its first chief.
Discussions within the promoter group finally resulted in the decision that Rana Kapoor should become managing director and chief executive officer.
Ashok Kapur, the other co-founder, was to be chairman.
Kapoor put in his papers at Rabo, which began its own search for a new chief executive.
His beginnings at Bank of America and other foreign bank stints, including one at ANZ Grindlays's Investment Bank, and his US education had raised questions as to why he would let go of a comfortable post at a foreign bank for something new.
He answered in two words: 'Entrepreneurial joy'.
This joy had him working at his office as torrential rain swept Mumbai in July 2005.
He cleared his desk of pending papers ahead of a board meeting.
Ultimately, the board meeting itself was postponed as two key board members could not join amid the chaos in the city, which happened around the time the company was listed.
The listing itself could scarcely have gone better.
The first trade for the stock was for fifty shares at a price of Rs 65.
This was a 44 per cent gain over the issue price.
Subsequent gains saw it enter the National Stock Exchange's Nifty 50 index, a benchmark comprised some of India's largest and well-known companies, and then in the 30-stock BSE Sensex.
The bank was worth over Rs 80,000 crore as recently as September 2017.
The lender had grown at breakneck speed in the intervening years, helped perhaps by Rana Kapoor's reputation as a banker, willing to aggressively write checks.
He reportedly had successfully got his money back from some promoters even when other banks struggled, but it did not always work.
Ultimately, it proved too much with the Reserve Bank reportedly growing unhappy with the bank's practices.
Its market capitalisation plummeted to Rs 4,132 crore on the BSE after news of the government's decision to supersede the bank's board and impose a moratorium.
Depositors began lining up to withdraw cash.
They had been told that they can't take out more than Rs 50,000 until the bank's issues are resolved.
Analysts have pointed out that the bank had lent out too much money to industrialists who didn't seem to be in a position to give it back.
And it didn't have enough capital to cover these advances either.
The ED arrested Kapoor, alleging that the Kapoor family had taken kickbacks from companies that the bank lent money to.
The recent quarters had been a desperate attempt to get additional funding by the new CEO, Ravneet Gill, who came from Deutsche Bank after Kapoor was sacked by the RBI.
Names of multiple investors had done the rounds, but nothing materialised.
Kapoor's aggressive lending practices didn't help in building confidence in the bank.
Advances had grown in double-digits for the longest time.
It only began to show signs of slowing down in 2019.
The last quarter for which the data is available shows that advances shrunk 6.1 per cent year-on-year as the bank grew increasingly tight-fisted.
Quarterly net profit had been falling since a year before, with losses in every quarter from September 2018.
The gross non-performing assets ratio, or bad loans as a percentage of total loans given out, rose from 1.6 per cent then to 7.4 per cent in September 2019.
Depositors, interestingly, may have acted presciently -- total deposits of the bank shrank for the first time in September 2019.
The bank has delayed announcing its December 2019 quarter numbers, which doesn't portend well.
Kapoor's shares were sold after lender-invoked pledges got triggered. He was reduced to holding only 900 shares worth Rs 60,000, according to a November 2019 news report.
He had, in a September 2018 social media post, said he would never sell his shares, comparing them to diamonds he would pass on to future generations.
Ultimately, he was out of the bank as both the head and significant shareholder.
There were other issues, too, in YES Bank's journey.
This included a dispute with the late co-founder Ashok Kapur's wife Madhu Kapur over board representation, which turned bitter.
The Bombay high court had ultimately ruled in her favour.
There were rumours of a truce between the two promoter families, but the stock price didn't show any traction.
This was even as the RBI was also reportedly unhappy with the way that divergences were handled at the bank, and declined to let Rana Kapoor continue as its head.
Early advertisements for the institution showed a banker saying 'yes' to an entrepreneur looking for funds.
Business Standard had asked Rana Kapoor before operations began, why his venture was called YES Bank.
'It is positive and has a reliable and trustworthy feel to it,' he had said.
Investors and the depositors lining up outside outlets may now feel otherwise.