Making water available is always a serious challenge in the summer for all public authorities.
This year, the challenge is higher when hand-washing at every opportunity has become a necessity.
So keeping potable water lines running without a glitch has become most necessary.
Subhomoy Bhattacharjee reports.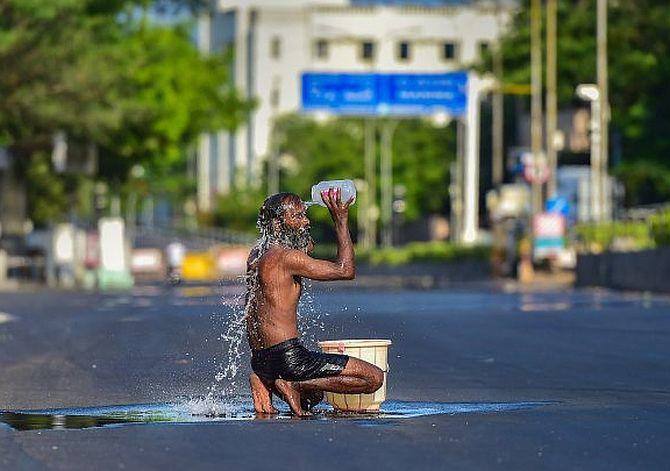 One of the reasons the power grid did not break down on Sunday, April 5, despite the almost 32 Gw fluctuation in less than an hour is a tribute to the painstaking work the engineers and supervisors have done developing it over the years.
Quite the opposite has happened in city administrations.
This summer could be a stress test they might find difficult to pass.
For municipal and panchayat administrators in India, April is the month when bad news begins to pour in.
The local bodies begin to receive complaints of water taps running dry, of leaking water pipes, of sewage contaminating the water mains, of blocked drains and other similar stress.
All these stresses are developing this year too, but the departments concerned are unable to focus on them.
Most of these departments, up to their ministers, are justifiably involved in the fight against the COVID-19 pandemic.
They will return to their regular duties later this year, but with substantial delay in the provision of last-mile services in both urban and rural areas, principally the former.
As the lockdown is extended in large parts of the country, this will be the first time for Indian municipal governance that this vital stress test will be missed.
This has implications because few of them have spent time to keep their systems running even for one summer without constant supervision.
Making water available is always a serious challenge in the summer for all public authorities.
This year, the challenge is higher when hand-washing at every opportunity has become a necessity.
So keeping potable water lines running without a glitch has become most necessary.
Yet, the Delhi Jal Board, for example, has had to issue orders for 3,639 of its officials to work from home from March 22 when the lockdown was announced.
The same is true of the BrihanMumbai Municipal Corporation and others.
This will leave a large swathe of the urban population vulnerable to the challenges of summer without even the admittedly rudimentary support these municipalities provide.
The lockdown has implications for new municipal projects too.
In the cities covered under the Atal Mission for Rejuvenation and Urban Transformation (Amrut) of the total state annual action plan of Rs 77,640 crore, 92 per cent is allocated for water supply and sewerage projects.
For 2020-2021, this translates into providing 1.7 million new household water tap connections.
All of these targets are under severe stress this year.
Yet without the completion of these targets, the risks of disease control are magnified.
There was a campaign, now almost forgotten, that was begun with massive fanfare last year to provide a steady source of water supply in rural areas.
It was to be steered by the Centre.
Just after returning to power again in May 2019, Prime Minister Narendra Damodardas Modi had launched the Jal Shakti Abhiyan, described as a time-bound, mission-mode water conservation campaign in 256 water-stressed districts.
To make it work close to 2,000 officers were signed on, the largest-ever mobilisation for a single government project.
"It is clearly the largest ever, bigger than the Open Defecation Free campaign and an earlier one against left wing extremism," said R Gopalan, former secretary, economic affairs in the finance ministry.
The reason for the vast numbers now is that a water rejuvenation campaign requires technical inputs from the engineering departments of the states and the central government, he added.
Led by 255 officers of the rank of additional secretary or joint secretary as Prabhari Officers, they formed about 550 teams to track these 256 districts (India has 725 districts as on March, 2019).
Secretary, Department of Drinking Water and Sanitation, Parameswaran Iyer had said the teams of officers from the central government will visit and work with district administration in the 1,592 water-stressed blocks of these 256 districts.
The officers did go and did commendable jobs to mobilise the public to take part in water conservation.
The government began to monitor these visits in real time to ensure that the teams worked around five target interventions -- water conservation and rainwater harvesting, renovation of traditional and other water bodies/ tanks, reuse and recharge of bore wells, watershed development and intensive afforestation.
These officers were supposed to be on these visits again, soon.
But COVID-19 has deferred these plans.
This was supposed to have been the crucial year given the propensity for Indian projects to fizzle out after gala beginnings.
The project was allocated Rs 11,500 crore for 2020-2021.
In a bold move, the targets for all of them were kept zero and were to be updated only on the basis of actual outcomes.
Those were to be measured at the end of the year.
Even as the Jal Jeevan or Jal Shakti Abhigyan could languish without money, the shortages at the urban level are more endemic and will thus haunt the city bosses this year.
For years, the states have kept their municipalities and panchayats under-funded.
For instance of the 500 cities under Amrut, the necessary reforms needed to make investors put in money has languished.
Before getting their credit rating in order these cities were supposed to review their building by-laws, eGovernance, online building permission system, energy conservation measures, improvement in levy and collection of user charges.
None has reported compliance for 2020-2021.
So only a token Rs 200 crore will be raised by these cities to finance their needs.
As the COVID-19 pandemic ebbs, the cities and villages will return to their daily administrative jobs.
But having delayed development of capacity and reforms it is quite possible even one summer's absence from their jobs will mean they may have to build plenty from scratch again.