The Saudi and Iraq offer to replace Iranian crude supplies comes with a catch: Higher prices for the same quality of crude.
The new government will face a tough decision over a fuel price hike, says Aveek Sen.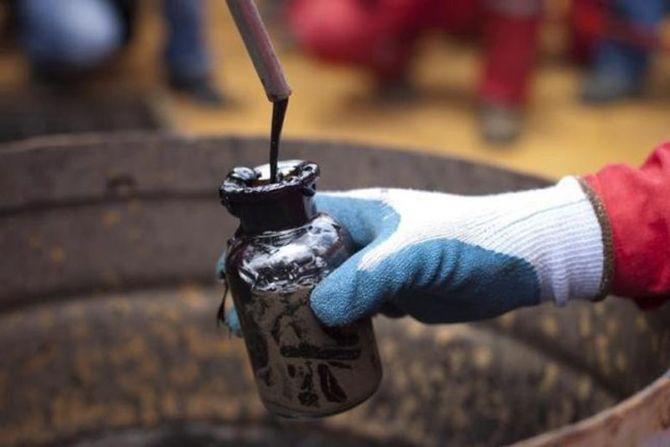 The US announced last month an end to sanctions waivers it had granted to eight nations, including India, in November 2018 for oil imports from Iran.
Iraq and Saudi Arabia, already India's top two suppliers, have pledged more crude to the country.
Iran is India's third largest supplier of crude, but it is not just about the volumes. The feed of a refiner is tuned to a particular type of crude and it cannot be changed at short notice.
Also, Iran used to offer India a longer credit line, besides shipping.
That's not all. The Saudi and Iraq offer comes with another catch. Suppliers are offering extra oil to replace Iranian oil, but they demand high prices for the same quality of sour crude.
Saudi Arabia has announced a hike in its official selling prices to Asia for June. Iraq has followed suit, with the prices of Basra Light hitting a seven-year high.
Vandana Hari of Vanda Insights, a Singapore-based provider of intelligence on global energy markets, says it sounds like the return Asian premium (by which oil to India and China is more expensive than that sold to the West), only this time it is probably the "sanctions premium".
Asia is short of Iranian oil and while there are replacement barrels available, it is not surprising to see suppliers cashing in on the opportunity.
"The rate of growth of Iraqi oil exports to India rose to 2% between March 2018 and April 2019," notes Dr Salam Jabbar, assistant professor of political economy at the University of Technology, Baghdad, "bringing the daily rate of exports to 757000 bpd, which is higher than the rate of Iranian exports or Saudi Arabia."
"There are many expectations that this amount will increase in the coming days, as the growth rate of the Indian economy depends on the amount of energy consumption, and there are indications of high economic growth rates in India for the coming years," Dr Jabbar adds.
S C Tripathi, former secretary, ministry of petroleum and natural gas, says since more crude will have to be purchased from Saudi Arabia and Iraq, there will be a net increase in import value.
Iran granted additional credit and cheaper freight and insurance so there will be a significant increase in the import value.
The Saudis have promised to increase production, but in view of the sanctions on Iran and Venezuela and troubles in Libya, Nigeria and Syria, the crude price is likely to go up.
Unlike Iranian crude, Tripathi adds, Saudi crude is heavy sour as is Iraqi crude, apart from Basra Light (while heavy and light refer to the crude's density, sweet and sour refer to low and high sulphur content).
While it can be handled by refiners (as they can refine many types of crude), the net price differential will exist.
Narendra Taneja, a Bharatiya Janata Party spokesperson and energy expert, says, with sanctioned Iran out of the supply chain, India is unable to buy its oil due to a variety of reasons like shipping, insurance and payment.
Global prices, Taneja adds, are going up and given that India imports 84% of its oil needs, it will have an impact on Indian prices.
However, he says the effect won't be felt immediately. Price changes take time in impacting the consumer at petrol comps across the country, typically around 3 to 4 weeks.
Professor Manoj Pant, director and professor of economics at the Indian Institute of Foreign Trade, is of the opinion that "we are unlikely to see any dramatic change in world oil prices."
"I expect that Iraq is capable of maintaining the Indian market for oil and its survival in the forefront of exporting oil to India, to give concessions on its exports of oil, but strategically Iranian oil is the closest to access and Indian investments in the port of Chabahar will make Iran a great opportunity to create an alternative to the China Belt and Road Initiative," says Dr Jabbar.
The global demand is slowing and summer is approaching. In India, fuel prices are likely to stay in the Rs 70 band, but may go up if the rupee depreciates further.
It seems that in July, post the elections, the new government would have a difficult task before it.
Photograph: Reuters
Aveek Sen is an independent journalist working on cybersecurity and the geopolitics of India's neighborhood, focusing on Pakistan, Afghanistan, Iran, and Bangladesh. He tweets at @aveeksen