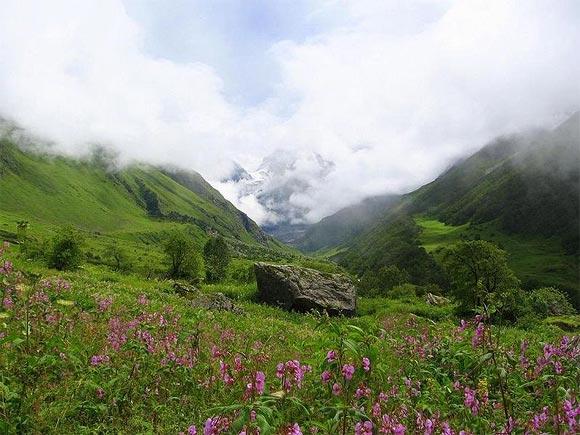 Image: Uttarakhand's Valley of Flowers. Photograph:

Araghu/Wikimedia Commons



Hotels, airlines offer discounts to attract customers during lean season; attractions include treks, nature trails, spa and wellness packages
If you are the kind who likes to avoid travelling during monsoons, it's time to re-think your holiday plans.
A monsoon holiday can be cheaper because of discounts on air tickets and hotel packages.
And with fewer tourists around, you can be sure of enjoying a leisurely holiday.
It is a good option especially for single people or couples who don't have children.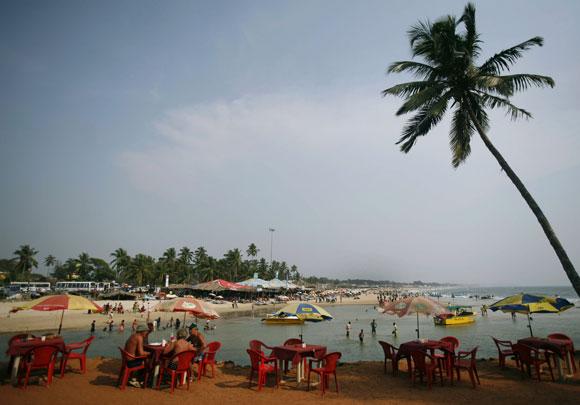 Image: Baga beach of Goa. Photograph:

Punit Paranjpe/Reuters



Where to go
"International destinations that require lesser travel time and weekend getaways that are a driving distance away in India are popular among monsoon travellers.
"Goa is the most travelled to destination during monsoon. People also visit Ladakh and Kerala for longer holidays," says Neelu Singh, director and chief executive officer, Ezeego1.com.
Karan Anand, head, relationships, Cox & Kings, says destinations like Ladakh are preferred by trekkers because of the warn and sunny weather with average temperatures and stunning views.
On the other hand, Kerala in the monsoon has been made famous as it is home to ayurveda and monsoon is the right season for such treatments.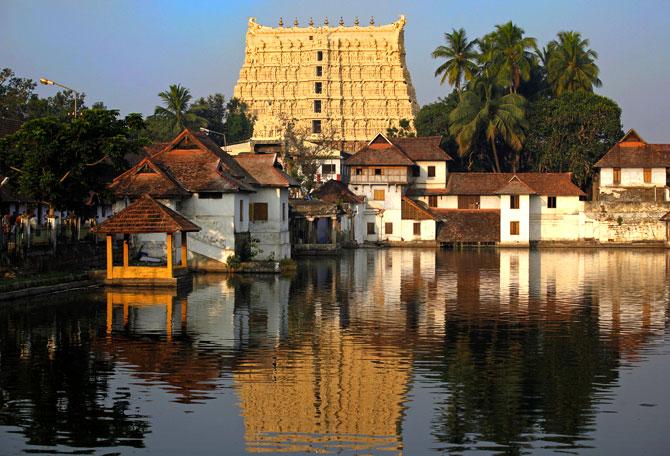 Image:

A view of Sree Padmanabhaswamy temple in Thiruvananthapuram.

Photograph:

Danish Siddiqui/Reuters



Daniel D'Souza, head of sales-tour operating, Kuoni India, also says that resorts and wellness centres lure tourists with attractive holiday packages during the monsoon season.
Other than ayurvedic treatment, Kerala's Periyar National Park remains open during the rainy season, unlike most other national parks in India.
The snake boat races draw a lot of tourists to Kerala, as they are held during the monsoon.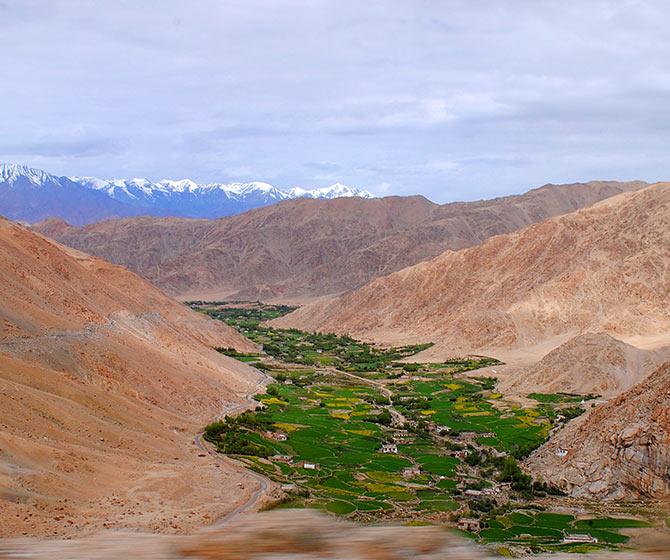 Leh is preferred because the weather is the warmest between May and September and there is no rain, unlike other places, which makes it the prefect time to travel.
The Valley of Flowers in Uttarakhand, which has around 300 different varieties of flowers, is also popular among those who like hiking and exploring nature.
Goa offers spectacular scenery and monsoon festivals to take part in.
Luxurious holidays to Goa cost a small fortune during the peak season but is much more affordable during monsoons.
Meghalaya, known as the wettest place on earth, is also popular because of the natural attractions, including the ancient living root bridges.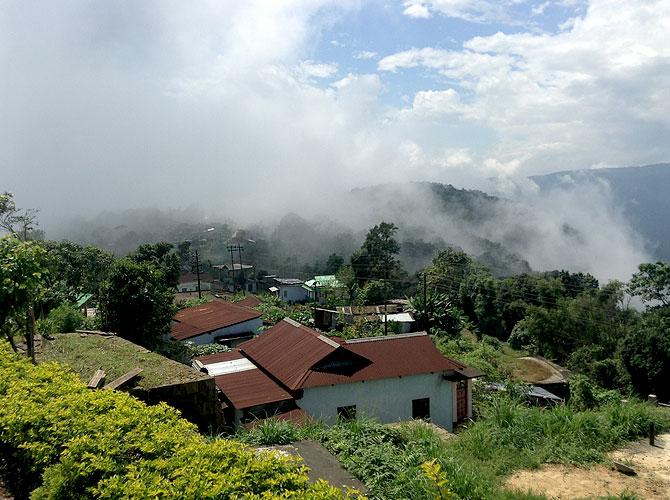 Image:

Laitkynsew village, Cherrapunjee

in Meghalaya. Photograph: Archana Masih/ Rediff.com

How much it costs
The July-September season is considered off-season primarily because monsoon travel is not easy and many people prefer not to travel.
Besides, with schools and colleges open, families with children prefer not to travel. Due to these reasons, hotels and resorts come up with promotional offers to lure travellers in the lean season.
Hotels at long-distance domestic destinations such as Kashmir, Kerala and Goa are likely to discount their rates. However, weekend destinations generally raise their rates.
"Travel becomes far more affordable during the lean season than during the summer and winter periods.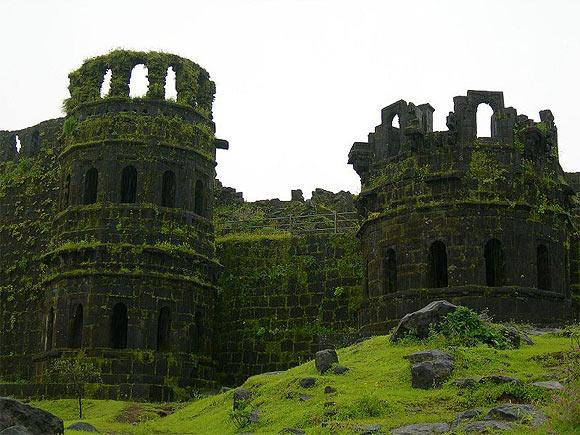 Image: Raigad Fort, 200 km from Mumbai. Photograph:

Rohit Gowaikar/Wikimedia Commons



"Depending on the destination, a difference of 20-40 per cent is seen in cost of packages in the off-season compared to the peak season," says D'Souza of Kuoni.
Airlines usually offer around 10-30 per cent discounts, especially during monsoons. "Most of the airlines have announced their monsoon sale. However, you should book at least a month in advance," says Anand of Cox & Kings.
Because of lower traffic, airfares also tend to be cheaper. To generate demand, airlines promote family offers and offer discount on business travel seats, says Singh of Ezeego1.com.
"The difference between peak and non-peak travel seasons could be 10-30 per cent. On international routes, there could be a difference of 5-15 per cent, depending on the destination," she adds.
Image: A Gray hooded warbler in Jungle Lore Lodger, Pangot,

a beautiful hill hamlet in the Kumaon region of Uttarakhand.



What you can do
While beach-based activities are largely avoided due to safety reasons, hotels organise in-house activities including special cuisine spreads for the season.
Trekking up forts, bird watching, river rafting and visiting waterfalls are some activities that travellers can indulge in during this season.
It's also the best time to have ayurvedic treatments because it is when the mind and body heal best.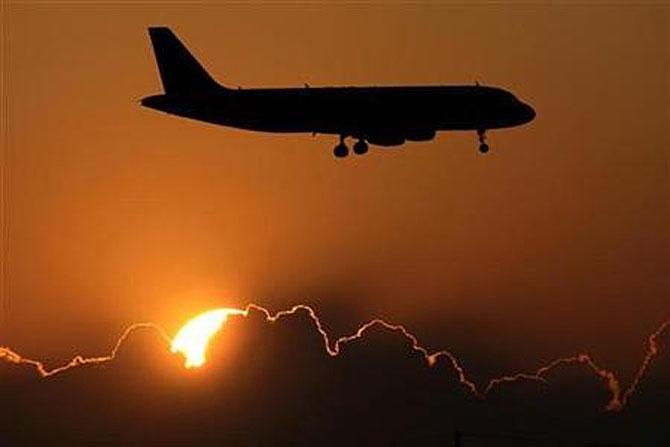 Image: Because of lower traffic, airfares tend to be cheaper. Photograph: Max Rossi/Reuters

Precautions to take
Singh warns that in case of domestic travel, tourists who are particular about a certain property at a weekend destination should book in advance. "The inventory can be limited and thus you may not get rooms, or accommodation, according to your choice," she points out.
If you are not able to travel at all, due to heavy rains or any other calamity, then you can get a waiver on cancellation. In most cases, tour operators offer the flexibility of choosing an alternative date of travel that is convenient to avoid cancellation of the holiday, says D'Souza.
Anand recommends purchasing travel insurance in case inclement weather disrupts your trip.
Also, while planning your itinerary, keep in mind that some attractions, shops, restaurants and even resorts may be closed or close early during this period.
Some other precautions include carrying gear for rains such as an umbrella, raincoats, rain-proof shoes for adventure holidays and first-aid to protect against rashes, or bug bites, especially if going camping, etc.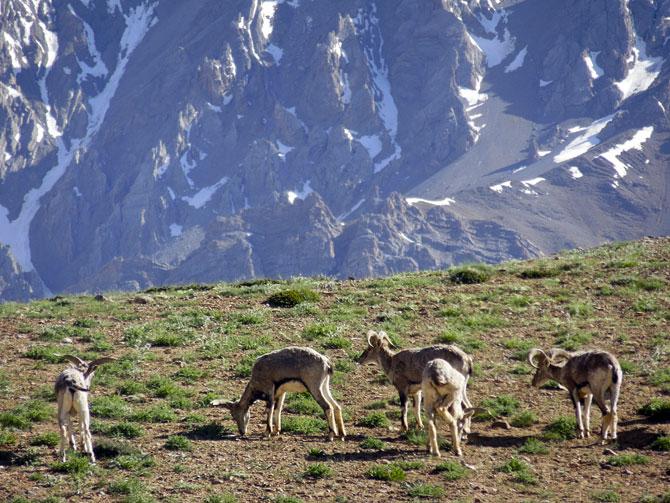 Image:

Spiti valley in Himachal Pradesh

. Photograph: Sumit Bhattacharya/Rediff Archives

Unusual sights make monsoon holidays memorable
Most of us would visit a hill station like Manali in summer to escape the heat, or during winter to enjoy the snow.
But Baroda-based Adil Marawala and his wife Bhavini went there in the monsoon and saw orchards full of apple trees.
"Monsoon is apple-picking season and we saw trees full of huge red apples. We also drove to Leh from Keylong (near Manali) because the road was open, which we could not have done in summer or winter," Marawala says.
Goa is another favourite monsoon destination for the Marawalas.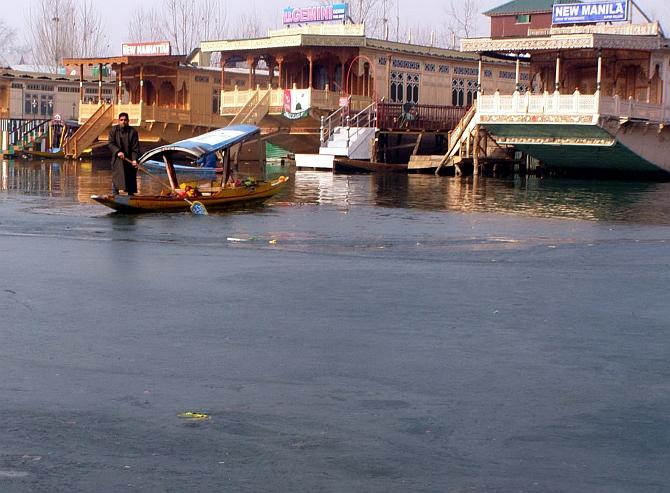 Image: Dal Lake, Kashmir. Photograph: Umar Ganie/Rediff Archives

Since they plan their trips towards the end of August and beginning of September, they manage to get a couple of rain-free days for water sports.
Besides, water sports are available at beaches other than private beaches of five star hotels, unless it is raining very heavily.
The rest of the time they enjoy the personalised attention from the staff at the hotels where they stay.
"In peak season, that is winter, hotels give preference to foreign tourists.
"But in monsoon since they have fewer guests they treat Indian tourists very well. Room rents are almost half and they offer free airport pick-up, or combo meals, such as lunch plus drinks, or evening snacks plus pot tea," Marawala says.
A three or four star hotel in Goa, which charges Rs 5,500-6,000, or more, in peak season, will reduce the rates to as low as Rs 2,500-3,000 in monsoon, he adds.
The trick is to book five to six months in advance.
The Marawalas say their trips have been affected by extreme weather only once.
This was when their train from Baroda to Mumbai was held up at Boisar, as cables had snapped due to heavy rain.
They had to take a cab to Mumbai to catch the connecting flight to Goa.