As the Modi Express chugs along, with less steam and shine, Business Standard reporters travel across the country by train to listen to what people say about the Modi govt one year on.
'Promise less, exceed expectations' should be the lesson for the Modi government, feels N Sundaresha Subramanian.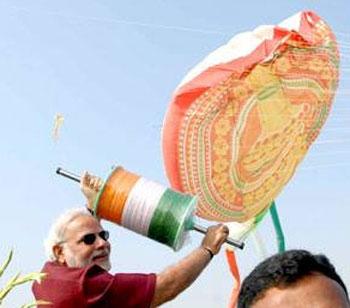 Escalators and X-ray machines for luggage at the entrance give the New Delhi Railway Station a contemporary look but the cramped, overcrowded platforms tell a different story. A few months since the launch of the Swachh Bharat Abhiyan, or 'Clean India' campaign, the dirty platforms strike a sorry picture, to say nothing of the hostile vendors trying to dupe the passengers by overcharging or stealing change, or nonchalantly selling alcohol - an illegal activity.
The 40-hour journey on the Karnataka Express, which began from one of these platforms, gave this writer an insight into the achievements of the National Democratic Alliance (NDA) government since being elected to power a year before, and the pitfalls of whipping up expectations.
Mason on Modi
The train departs from New Delhi at night. By morning, soldiers travelling on duty have occupied the aisle. People travelling on Reservation against Cancellation (RAC) tickets - that allow one to share a seat with a fellow passenger - have climbed down from the upper berths and the floors are a minefield of sleeping humans.
The train is approaching Bhopal, the capital of Madhya Pradesh - the scheduled arrival is 6:55 am. It has already covered more than 700 km through west Uttar Pradesh and north Madhya Pradesh.
Prakash is one of my first co-passengers to wake up. He is guarded about personal information but forthcoming about his opinions on Prime Minister Narendra Modi and politics.
"Yeh sarkar paisewalon ke liye theek hai. Gareeb ko lag raha hai kuch kiya nahi. Gareeb ko lagta hai sab zameen ko building bana ke dega. Kaise hoga? (This government is good for people with money. The poor think it did nothing; it will take lands and give them buildings. How will it be?)"
But he points out it's not only Modi; all governments face similar issues.
"Look at (Delhi Chief Minister Arvind) Kejriwal. He also promised so much. Has he been able to do anything?"
After the train crosses Bhopal, I doze off, waking only when it approaches Itarsi, about 100 km away.
It is nearly 10:30 am; the train is two hours late. The sun is beating down and the compartment is hot.
Santosh and his friend are masons from Allahabad in Uttar Pradesh, working for a Jaunpur contractor. They have a long journey ahead. A piece of paper they showed me had the route: they had to get off at Itarsi and go to Guntakal, in Andhra Pradesh, a distance of more than 1,000 km. From there, the masons will take a Chennai-bound train and get off at Tadipatri, another 80 km, where they will find employment in a Jaypee group plant.
"A bagasse plant," Santosh said.
A mention of Modi provokes a string of expletives from Santosh: "Kuch nahi kiya Modi sarkar. Jaise UP ka Mulayam poore desh ka Modi ban gaya hain. (The Modi government did nothing. It's as if UP's Mulayam - former Uttar Pradesh chief minister and Samajwadi Party chief Mulayam Singh - has become the Modi of the whole country.)"
The disillusioned mason feels the Congress-led government was better as it took care of the poor, giving them food and jobs.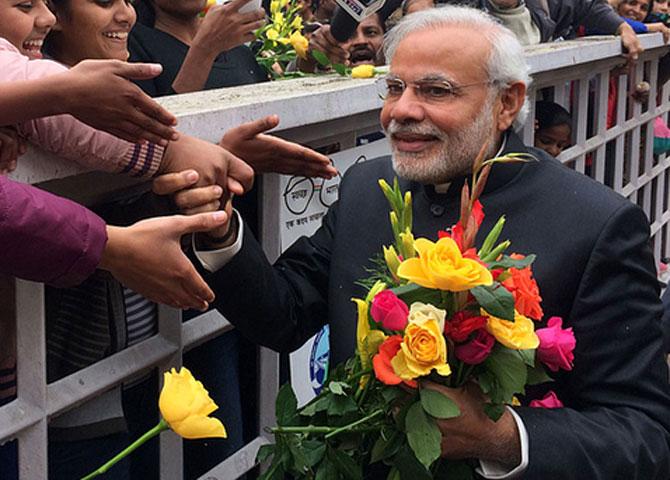 Bureaucrat talks land
As the train speeds towards Maharashtra, I polish off a spicy lunch comprising daal, subzi, roti and rice from the train's pantry. At Rs 50, it is totally worth it.
On my opposite berth sits a bald man: Shamlal, a retired tehsildar. He is on his way to Bengaluru for a national meeting of officials of revenue departments.
Having worked for the Haryana government at Kurukshetra, Shamlal knows a thing or two about the burning issue of land. He is not happy with the government land ordinance and minces no words: "Our constitutional provision is such that the President has no option but to accept the ordinance if they (the government) keep bringing it to him. They may have their way but they are wrong."
In his opinion, former Haryana chief minister Bhupinder Singh Hooda did not harm the small guys. "He is a kisan (farmer) and a zamindar (feudal land owner); he understood the issues. If at all he made money, it was from the big guys," said Shamlal.
A senior Congress leader, Hooda served as Haryana chief minister from 2005 to 2014 before losing to Bharatiya Janata Party's Manohar Lal Khattar. He has been under the scanner for land deals in Gurgaon.
Shamlal feels the current government has painted itself into a corner. "Yeh vyaapar varg ka sarkar hain; kisan virodhi, mazdoor virodhi aur karmachari virodhi (This government belongs to merchants; it is opposed to farmers, labourers and employees)," he said.
The former bureaucrat said the government was unlikely to do anything till it got a majority in Rajya Sabha. "If they get it right in Bihar (where Assembly elections are scheduled later this year), they could rush in a number of measures in the last two years. Else, they won't be able to do anything in the five years."
The pilgrim & progress
A frail old man performs a stunt to get on the train as it chugs out of Bhusawal, in Maharashtra, about 430 km northeast of Mumbai. His name is Madhav Bonde, and he is a farmer from a village 30 km from Bhusawal. Bonde is on his way to Ratnagiri on the coast to attend a festival organised by Swami Narendra Maharaj, a religious leader. He has a long journey, changing trains several times.
What do you think of the other Narendra Maharaj - the one ruling the country, I ask him.
But like a true pilgrim, he is fatalistic. "People may claim to do many things but what happens is not in their hands."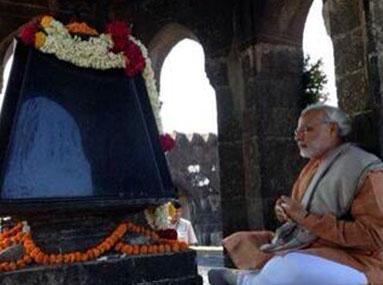 Beef-ban country
For pilgrims headed to Shirdi, birthplace of the mystic Saibaba, the next stop is Kopargaon, about 240 km northeast of Mumbai.
As they alight and others wait for the train to resume the journey, I get into a conversation with a young man dressed in white. He is travelling with elderly parents to an ashram of the Mahanubhav sect at Belapur, the next stop on the route.
"We worship Lord Krishna. We don't believe anyone else. In Uttar Pradesh, we are known as the Jai Krishna Group," he said.
Ashrams such as yours must be having good times under Modi, I said.
"The government is for everyone, there is nothing special for us," he promptly replied.
But the beef ban must have made you happy, since Krishna was a cowherd himself.
"We are against all animal slaughter - chicken, goat, fish," he said.
The young man, who did not want to be named, was sympathetic towards the compulsions of the government. "When you are in power, the weight of the entire nation is on you. You can't act too freely."
Thrifty grape sellers
The destination is near but not near enough - trains continue to run late in Modi's India. Well past the arrival time, and Bengaluru nowhere in sight, it screeches to a halt. The sun is beating down; the passengers are hungry, thirsty and frustrated.
Enter a mother-daughter duo, selling grapes, plucked fresh from a nearby vineyard, for Rs 10 a packet.
They don't bother weighing it, filling a handful in paper packets for people to eat immediately. Unlike tea vendors, they are not advertising their wares by shouting. They don't need to. They sell 100 packets, as people buy them hurriedly seeing their co-passengers enjoy the juicy fruit.
There is a lesson to be learnt from this Bacchanalian experience at the end of our journey: promise less, exceed expectations.
Perhaps that's the lesson for the Modi government, too, I think, as the Karnataka Express, full of happy passengers, drunk on unexpected grapes, arrives at its destination.