As the Modi Express chugs along, with less steam and shine, Business Standard reporters travel across the country by train to listen to what people say about the Modi govt one year on.
Modi's name sparks muted enthusiasm, scepticism among youth; people expect better development pace from the prime minister, says Akshat Kaushal.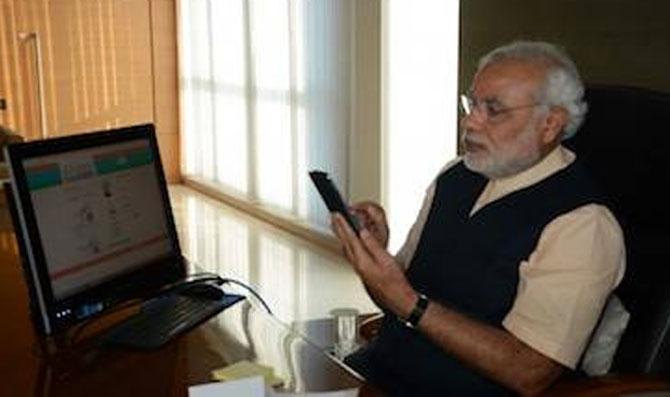 It was in 2004, when, as a 14-year-old, Shiva Somowal first heard of Kerala — a distant land, where jobs were forthcoming and better paid. But it was the talk of an endless sea that attracted him. Overnight, the Brahmaputra, which hugged his village, seemed small.
Somowal made enquiries and soon found a boy in a neighbouring village who worked in Alappuzha, about 150 km north of the Kerala capital, Thiruvananthapuram. Both struck a friendship. And then one day, Somowal left with a bag of clothes for Kerala.
They travelled for five days, first by road and then by train. When they finally reached Alappuzha, Somowal fulfilled his wish by taking a dip in the Arabian Sea.
After the swim, they felt hungry. But they had no money. A restaurant owner suggested a compromise: they could eat for free if Somowal took a cleaner's job. He agreed.
"He (the restaurant owner) said he would pay Rs 80 for a day's work; I agreed. My parents were poor and there were no jobs in Assam," recalled Somowal, travelling on the Vivek Express, which runs from Dibrugarh, in Assam, to Kanyakumari, in Tamil Nadu - a distance of 4,238 km.
Now, Somowal works at a vegetable shop in Kottayam, earning Rs 400 a day - five times more than his first salary.
"I don't understand politics," said Somowal, when asked what he thought of Prime Minister Narendra Modi's one year in office. "But people here (Assam) want only one thing: jobs. And, in the last one year, I don't think we have got any more of them. So if Modi can do anything for us, he should get us more jobs."
Then, he points to two boys, who lie over each other, sharing a single berth as only one of them has a ticket. They say they are 18, but look much younger.
"I will find them work," said Somoval with confidence. The boys looked away.
Even those who profess to understand politics and were once strong Modi supporters are now unsure of themselves.
Until February 2014, Karthik Ghose, 40, was an unabashed Modi supporter. A canteen owner at Lumding Junction in upper Assam, Ghose admired Modi's strong talk. "Modi will teach a lesson to China and bring Gujarat-like development to the rest of India," Ghose had told Business Standard then. A little more than a year later, he is crestfallen.
"What development?" he said. "I am disappointed with Modi. He is giving all the contracts to big businessmen and doing little for smaller ones like me."
Ghose said he was fighting a case against the Railways, which wants him to close his shop, as the contract for the whole station was being awarded to the IRCTC.
A lot of things seem to have changed for Modi on this long route.
First, his name now generates lesser enthusiasm. Earlier, the mere mention of Modi would prompt a conversation; now, people are less willing to talk. There are also fewer Modi advocates.
Also, his admirers and adversaries seem to be agreeing more with each other.
Growing scepticism among the youth, who had formed the core of Modi's support base, should worry him.
Both inside the train and on the platforms, young men - the male population was disproportionately large - expressed their impatience. Most said they had voted for Modi, hoping for development and jobs. But little had happened over the past year to give them cheer.
The overwhelming mood, however, was not of disappointment. People wanted Modi to pick up the pace and deliver more.
In contrast with the impatience of the youth, those who had the benefit of age and experience chose to reserve their judgement.
"The country gave the Congress 60 years. It is too early to judge Modi, he should be given more time," said A K Nair, 62, a retired serviceman at the Coimbatore station.
Two government schemes: Jan-Dhan Yojana and Swachch Bharat - have been appreciated by the people. But a lack of clarity over how the subsidy for LPG cylinders would flow into their accounts was causing some confusion.
There is, however, no wave in favour of Congress vice-president Rahul Gandhi. He was hardly mentioned in any conversation.
But there is opposition to Modi from regional leaders. In West Bengal and Odisha, the respective chief minister - Mamata Banerjee and Naveen Patnaik - have consolidated their positions, especially among the rural population of their states, though urban citizens are not happy about the lack of industrialisation.
"In villages, people appreciate Mamata Banerjee's work. There is now better food for the mid-day meal and the government is also giving an old-age pension," said Biswajit Bose, a 23-year-old computer graduate.
The unemployed youth was travelling from New Jalpaiguri in north Bengal to Salem in Tamil Nadu with his father, to get him treated.
Parvez Alam, from Adra, West Bengal, disagreed. "The Trinamool Congress government may have done some work in villages but people are leaving from the cities, as there are no jobs. I had voted for Modi but he is yet to deliver."
As the train chugged down the east coast of the subcontinent, it became obvious that Modi's presence down south was limited. In spite of little political presence in the southern states of Tamil Nadu and Kerala, Modi's work was liked.
But the state where Modi was least popular was Andhra Pradesh. People here blamed him for dividing the state, even as they praised Chief Minister N Chandrababu Naidu's government.
The state was divided in June 2014, but the Bill for dividing it was passed in Parliament in February 2014, by the United Progressive Alliance government. "He (Modi) might have done a lot for the rest of India," said Ramesh in Ongole, "but he also divided our state."
"He is a North India phenomenon. Don't expect him to win from here," said Mahesh in Thiruvananthapuram.
Photograph, courtesy: MEA/Flickr