A very private person who doesn't believe in marketing himself, CVK's humility is something both current and former employees admire.
Neha Alawadhi reports.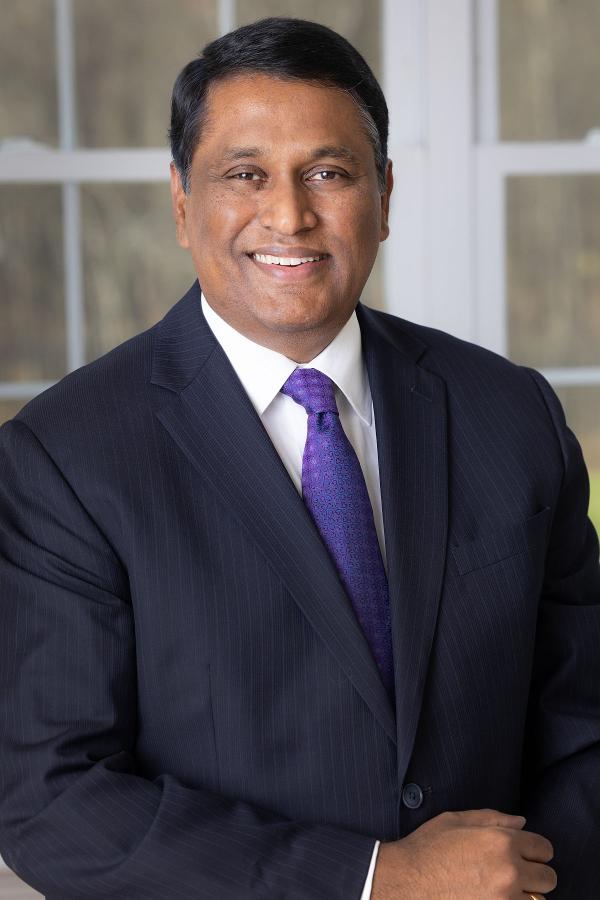 C Vijayakumar, the reticent chief executive of HCL Technologies, India's third-largest IT services firm, was recently appointed managing director, succeeding the founder, Shiv Nadar.
Back in October 2016, when CVK, as he is popularly called within and outside of HCL, was named CEO, it had been somewhat of a surprise - his elevation being the result of his predecessor, Anant Gupta, suddenly stepping down to "pursue personal interests".
CVK, 53, has since taken the firm from $6.8 billion to $10.8 billion in revenue.
And the stock price of HCL Technologies has risen a phenomenal 250 per cent during this period.
"Among other things, what sets him apart is that he is based in the US, unlike other CEOs of Indian technology services firms," said an industry executive who did not wish to be named.
"So in that sense we know him a lot less. But the way he has turned HCL around with the focus on its products and platforms is commendable," the person added.
People who have worked with him say CVK is extremely focused on executing the company's mode 1-2-3 strategy, which he devised.
Mode-1 includes core services such as applications, infrastructure, engineering, R&D and business services.
Mode 2 and 3 include digital business, and products and platforms partnerships.
The company's big bet on products and platforms and digital services has set it apart from its peers.
In 2018, HCL Tech acquired some IBM products for $1.8 billion.
The same year, it also bought hybrid database and analytics company Actian, and life sciences and consumer services provider C3i Solutions.
Over the years, there were other acquisitions, too.
At the time HCL bought the IBM products, CVK said it would not just look to acquire digital capability, but also acquire capability for the core business - a strategy not usually followed by its peers since digital was seen as the way forward.
CVK is an out and out HCLite - he joined the company in 1994 - and understands its culture and ethos well.
He has held many roles at HCL, including heading its once fastest growing infrastructure business.
While Gupta, his predecessor, was known as a man of strategy, CVK is known for his execution - under him, HCL has shifted focus on high-value deals and intellectual property-led partnerships.
Earlier, as president of HCL's Infrastructure Services Business, he led its exponential growth and market dominance - the segment now contributes nearly 40 per cent to HCL's revenues.
A very private person who doesn't believe in "marketing himself", his humility is something both current and former employees admire.
Unlike another former HCL CEO, Vineet Nayar, an extrovert known for his legendary "employee-first" initiatives, CVK is more of a "mailer person", said an employee who has worked under all three CEOs.
He would also participate in one-on-one sessions called "Coffee with CEO" with a select few employees, across job roles, to understand their issues.
"He almost always starts the meeting by asking everyone how they and their families are," said a person who works closely with CVK.
Another thing he does is ask for feedback, which "he notes down and uses for course correction", the person added.
At an HfS Research Summit in London in 2019, he credited the success of HCL under him as CEO to its "unrelenting focus on execution", and understanding that the business is "no longer about delivering a service, but about delivering an outcome".
Born in Coimbatore in Tamil Nadu, CVK said at a talk in December last year that his parents were very hard working and "truly believed" in the importance of good education.
After completing his engineering at PSG College of Technology, Coimbatore, he joined C-DOT (Centre for Development of Telematics) as an R&D engineer, where he worked on a project to automate the National Stock Exchange - he considers Sam Pitroda, who launched C-DOT, which kicked off India's telecom revolution, an inspiration.
Asked how he felt on being made CEO in 2016, CVK had said he felt a "tremendous sense of responsibility".
Recently, he said something similar to Business Standard about taking on the mantle of MD from Shiv Nadar.
"He (Nadar) has been a legend in the industry," he said, adding, "So his ability to see what is ahead is probably the best.
"He can visualise how the services business will evolve and that's why we built the product business based on his strategic steer.
"He will continue to be available to provide us with that strategic steer, but he may not spend a lot of time in shaping them. He would expect us to do it."
Photograph: Courtesy HCL Tech