'A lot of time inheritors don't get credit for doing what they do. From being the only Hindi news channel when it launched (in 2000) to more than 100 Hindi news channels now, Aaj Tak has remained number one. There are a different set of challenges.'
Kalli Purie, the 46-year-old vice-chairperson of the India Today group, in conversation with Vanita Kohli-Khandekar.
Illustration: Dominic Xavier/Rediff.com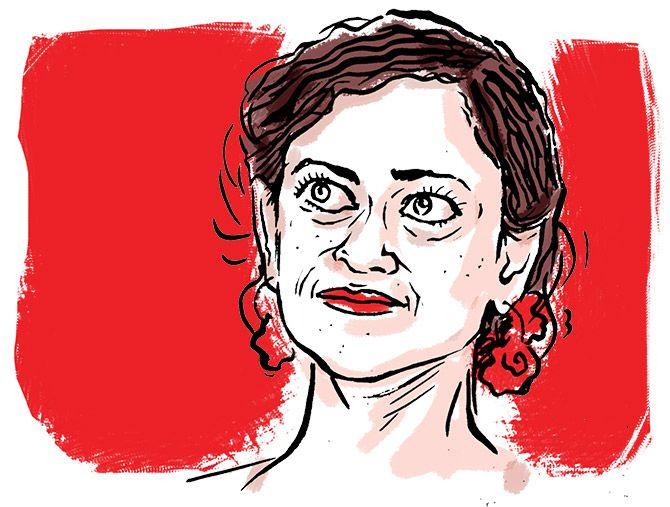 Kalli Purie is resplendent in a red shawl over her black dress.
Like many senior managers, the 46-year-old vice-chairperson of the India Today group has a table that you stand at and work.
It takes time for me to settle down on the accompanying high chairs; she remains standing even as we chat nineteen to the dozen.
It is late afternoon and the P Chidambaram arrest saga is playing out on screens across the building housing the group in Filmcity, Noida.
There is an impatience, an undercurrent of excitement around the office.
Before I can ask Purie tells me the reason.
The online version of Aaj Tak, the group's biggest revenue generator and India's largest news channel, has just hit over 20 million subscribers on YouTube, putting it ahead of BBC and Al Jazeera.
There is a little party in the main lobby downstairs. I am urged to stay back for it. There is the promise of dosas and medu-vadas. I settle for a cup of hot water.
However the digital buzz around the over Rs 1,000 crore (top line) India Today group is what interests me.
In July this year, it reached a mammoth 118 million people (unique visitors) every month across all its properties, going by comScore data.
This puts it, along with the Times group and Express, among the top five digital publishers in India.
It also makes India Today, the brand her dad and chairman Aroon Purie created in the 'seventies, one of the rare magazine publishers to have combined its print, broadcast TV and now digital arms with some degree of success.
Purie can't stop talking about it.
"Digital is changing things and that is where the ruling party made a difference.
"The (general) elections (in May) have been amazing.
"The tentpole interviews happened not on TV but with digital. We were number three on comScore during elections!" she exults.
Some years back I shared a podium with Purie and have met her at the odd industry do.
But this involved, animated avatar at work is a revelation.
But then she has always been a curious, restless mind.
Purie read politics, philosophy and economics at Oxford before working as a copywriter with Contract Advertising for about three years in the early 'nineties.
She then joined Living Media India, the firm that runs the Group's magazine business.
Among other things she travelled all over the country with India Today photographer Bandeep Singh for a feature on 50 years of Independence.
A few weeks after it appeared, in October 1997, Purie got married and went off to London.
Then she shifted around a bit, from London to Hong Kong and then back to London.
It was while working for a Hong Kong-based trade magazine that she was asked to deal with the website too.
Purie decided to do a deep dive and learn coding at the University of British Columbia in Vancouver.
By the time she shifted to London again, she was enjoying the early flirting between tech and content triggered by the dot-com boom.
A stint with one of the hottest tech publishers then, Ziff Davis (PC Week, CompuServe, ZDNet.com et al) followed.
Back home in India in 2000-01, she was put in charge of digital along with erstwhile Business Today editor, Anand P Raman.
Among other things they launched an online paper called The Newspaper Today before she took a break to have kids.
She joined the group again in 2009.
Did she have a choice? Did she want to do something other than join her dad's business?
"If you give me a choice I want to be in the news pit, deciding the perfect cover, the perfect home page, my joy is there," says she.
Being a journalist or a coder is not the same as being the business head for a clutch of brands across media.
Globally, some of the best publishers' struggle with integration with print, TV, digital or other arms.
What worked for India Today?
Physical proximity and the realisation that "there is something called over-synergy, everybody can't be everywhere.
"Some of them can't be trained for everything. This office was delayed by two years because we wanted everybody in the same building.
"But we still have journalists who have nothing to do with the PC (P Chidambaram) story. The online sensibilities are very different," she reckons.
For that there is the Tak ecosystem.
These are 20 digital first, omni-platform channels that package news for millennials.
News Tak, Sports Tak, Bharat Tak, UP Tak and other Taks offer short news pieces that are optimised for the mobile screen and can be watched on mute.
The Lallantop, a popular youth channel which uses hard, on-the-ground reporting, is also part of this ecosystem.
But would the digital take-off have been possible without the leg-up from Aaj Tak and India Today? Isn't Aaj Tak still the biggest revenue generator?
"TV is the biggest part but it is difficult to separate the two. Because you continue watching on digital.
"Online makes money but the benefit is an interdependent space. It gives you the ability to spread costs and monetise.
"Also this way you are genuinely platform agnostic, otherwise you are constantly protecting the other media," says Purie.
She points to the successful transfer of the India Today print brand onto digital and TV especially the change of the group's English news channel Headlines Today to India Today TV in 2015.
"The chairman was wary about giving the print brand for TV," says she.
That brings me to a tricky question -- what are the pros and cons of being Aroon Purie's daughter?
"That depends on what your relationship with him is. We get along really well. We have different skills but think alike.
"Very often Vivek (Malhotra, group chief marketing officer for the group), gets the same question from AP (Aroon Purie) and me separately.
"AP genuinely thinks that I am the best person to do this job because of the ability to traverse the platform, marketing and edit," says she.
A heartbeat later she adds, "A lot of time inheritors don't get credit for doing what they do.
"From being the only Hindi news channel when it launched (in 2000) to more than 100 Hindi news channels now, Aaj Tak has remained number one.
"There are a different set of challenges.
"Keeping Aaj Tak number one year-on-year week after week is tough. The Tak ecosystem then allows reporters and the team to step out of it," says she.
It is also tough because mainstream broadcast news, the group's core market, is an embattled space.
More than 400 channels, about half of them owned by real estate companies, local politicians or cable affiliates, fight for eyeballs in a roughly Rs 3,000 crore market.
In this heavily politicised, ad-dependent world ethics, standards and journalism have gone down the tube.
"I don't think news channels is an embattled space. People check their phone for content 20 times or more during the day. Who can create content 20 times a day, who can satisfy that urge?
"If your space is media then it is not an embattled space.
"There is a crazy digital revolution going on and there are no dry news days. We keep going from news event to news event," says Purie. That sounds exhausting.
But Purie is far from tired.
As we head downstairs for the celebration she continues talking, stopping on the way to show me all the trophies the group, especially the Taks, has bagged.
My last thought on the way out is, this is one indefatigable media CEO.
If nothing, her energy will keep the group going.