'As long as people are eating we will be there,' Rebel Foods CEO Jaydeep Barman tells Viveat Susan Pinto and Niraj Bhatt.
Illustration: Dominic Xavier/Rediff.com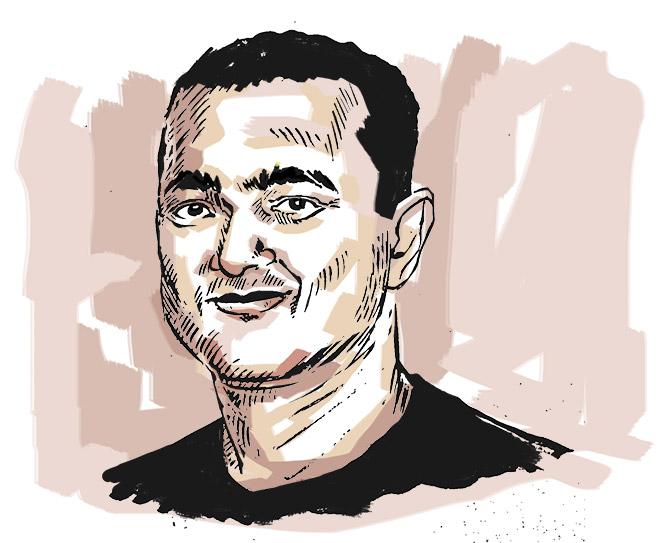 We are not surprised when Jaydeep Barman invites us to his headquarters for lunch where he wants us to taste selections from the 10 online restaurant brands the food tech company operates.
The company, which has marquee investors such as Coatue Management, Goldman Sachs and Sequoia, claims to be the 'world's largest Internet restaurant company', and is valued at over $500 million. Barman says, "We are ahead of our closest competitor by miles."
Barman is disrupting the 500-year-old restaurant industry, which he says hasn't changed at all.
He is bringing scale in the food business through process, automation, and robotics, while retaining consistency, taste and freshness.
The availability of skilled chefs is limited and yet the "magic of the dish" has to be retained.
The former McKinsey consultant breaks down the business in three parts -- bill of materials or ingredients, dispensing what ingredient to put when, and movement -- tossing, frying or sauteing, and at what temperature.
After making associate partner at McKinsey's London office in 2010, Barman took a sabbatical never to go back.
He co-founded Faasos (the company's earlier avatar) with classmate Kallol Banerjee. Barman brings the strategy consultant's toolkit in solving problems for the company.
He draws the two by two matrix -- with right/wrong decision on the one side and people agree/disagree on the other.
He says you make extraordinary returns when you are right and people disagree.
"When we started, we were wrong, but people agreed and we raised seed money. We found ourselves in the next quadrant where people didn't agree with us and we were still wrong."
His next step was introspection about the problems and that's how "I landed up on the multi-brand cloud kitchen before anyone else," he says.
Rebel Foods, unlike many other Indian startups, is not an imitation of a successful model in the US or elsewhere, he adds.
Another two by two matrix of market size and fragmentation follows. Large market size and high fragmentation is the quadrant where one can build brands.
People are habituated to the category and there are no large incumbents.
"If you think of biryani, Chinese, South Indian -- everywhere this opportunity exists. That's where we focused on," he adds.
"Let's eat before the food gets cold," Barman says. As we dig into steamed vegetable dim sums, the signature dum gosht biryani, nasi goreng, noodles, wraps and a Maharaja vegetable pizza, he talks more about his approach to the business and the problems he has solved.
The conventional restaurant business is made of real estate, retail and brand business all merged into one.
This is not true for any other consumer business where the manufacturer and the retailer are different.
With the Internet, food is becoming disaggregated -- Swiggy and Zomato are retailers or distributors.
There can be only a real estate business like Travis Kalanick's new startup CloudKitchens, which rents out space to restaurants and chefs.
"Companies like us can build brands without building distribution or real estate."
Riding on food delivery platforms, the food tech company can operate multiple 'restaurants' from a single cloud kitchen.
Its kitchen has robotics and automation and the company has rules for every dish at the three components of ingredients, dispensing and movement.
The new recipes and machines are created in its culinary innovation lab and an industrial innovation design centre.
Rebel Foods has 275 such kitchens in 30 cities and runs 2,200 virtual restaurants. Each kitchen is run by a chief delight officer who runs the kitchen with around half a dozen staff.
He is proud of the culture of ownership and innovation the seven-member senior management team has created.
"A lot of our staff has ownership, our attrition is negligible, and we are among the top rated startups on Glassdoor."
The food tech company does not have a head of human resources and believes HR is every manager's job.
Recruiting for key functions is also rigorous -- Barman discourages prospective employees to send resumes, but write a detailed essay explaining what excites them about the company and why they want to join.
"Lateral hiring of experienced professionals from competitors didn't work for us," he adds.
Barman grew up in Kolkata and went to study engineering at Jadavpur University, following it up with two management degrees -- one from IIM (Lucknow) and one from INSEAD, France.
"My parents are professors and getting degrees was encouraged," he says.
Away from home, foodies Barman and Banerjee were missing Kolkata's kathi rolls and decided to set up Faasos, a brick-and-mortar chain specialising in wraps in 2010.
Even in 2004, the duo had experimented bringing two cooks from Kolkata and set up a small Bengali food eatery in Pune before they went on to do their international MBA.
In 2014, Barman found that 70 per cent of the customers at Faasos had no clue where the store was located. They would simply place an order on phone or on the Web site.
"This was the moment of epiphany for us. Rents, on the other hand, were shooting up. We shut the high street stores, and set up kitchens further inside. We had no idea that they would be called cloud kitchens a few years later," he laughs.
Our main course is over. Rebel has built interesting back stories about its food brands.
So Behrouz Biryani spins a yarn around a mythical Persian war and a lost-and-found recipe, Mandarin Oak dwells on a nameless monk, who loved serving Chinese food to travellers, while Firangi Bake delves into Baba Firanga's journal of pasta recipes.
Barman prods us to try out the rose phirni, cheesecake and chocolate truffle, all part of the Sweet Truth desserts brand.
So what are the next steps for Rebel Foods, we ask. He plans to have 500 kitchens in 15 months in India, and is doing a pilot for a health food brand.
The food tech company has opened an Indonesian restaurant in Indonesia and makes Lebanese food in Dubai.
"At the core is our operating system and like iOS or Android, you can build apps on it. That's how we can foray into any cuisine," he says.
Going forward, he plans to make and scale more products or brands, either owned or licensed.
"We also plan to create entrepreneurs who can scale on our platform. We invested in Slay Coffee, which was a single location for five years, which Rebel has taken to 70 locations in six months."
There's also a plan to tap into the local culinary community and become a distribution platform for well-known chefs or iconic single-restaurant offerings.
"We will not own the brand, but simply give them a platform to showcase their skills and deliver the dishes they prepare," he adds.
Another immediate target is to reduce plastic. "We found that bagasse containers leak even after we put a lid. We have created a machine which solves this problem by putting a seal, and it works for multiple types of packaging," he says.
Barman's family lives in Pune and in true consulting style, he comes to Mumbai every Monday and goes home on Thursday evening.
In Mumbai, he is happy to live in the company guest house close to office, which has been set up for employees visiting from across the country.
Barman is also an avid mountaineer and goes off the grid for 15 days a year -- the last mountain he climbed is Mont Blanc, the tallest peak in the Alps.
Rebel Foods is delivering 2.5 million orders every month across all its brands, had a top line of Rs 310 crore in FY19 and is growing at 100 per cent year-on-year.
The India business is expected to be profitable next year, and the company will be ready for an IPO sometime in 2022.
Biryani is the most popular category ordered in India, and Behrouz Biryani, Barman says, is the largest.
"Today, it is biryani, 10 years down the line it could be vegan. As long as people are eating we will be there," he says.