With scrutiny that comes with a public listing, Deepinder Goyal's leadership could face its sternest test yet, report Peerzada Abrar and Neha Alawadhi.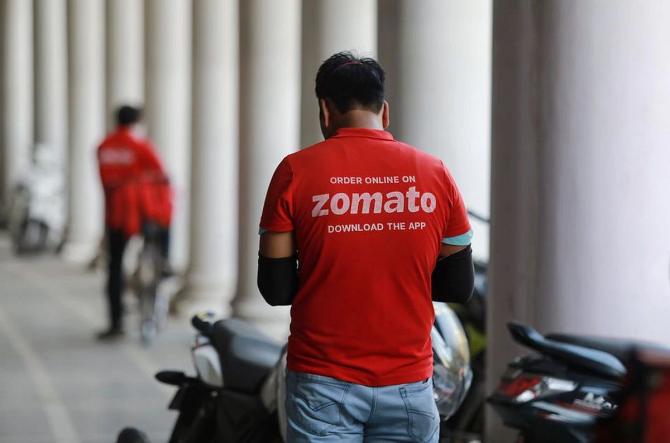 For the past many days, Deepinder Goyal, 38, co-founder and CEO of India's first food delivery company Zomato, has been leading several initiatives for COVID-19 emergency support.
Under the 'India Needs Oxygen' endeavour, Zomato is providing hospitals and patients with oxygen concentrators and related supplies for free in partnership with logistics partner Delhivery.
Zomato has rolled out a feature to prioritise deliveries related to COVID-19 emergency on its app.
Over the last few days, one of the most requested features on Zomato has been a selection of home-style food for people battling poor health.
Zomato immediately launched home-style mini-menus along with thousands of restaurants.
The Gurugram-based company also runs a COVID-19h elp network and has roped in former military officers to help support employees and their families during this pandemic.
"Deepinder Goyal keeps looking out for ways to be as humane as possible even if the money falls short," said an employee requesting anonymity.
Fund-raising, however, is what has put Goyal's company, which achieved its unicorn status in 2018, at the centre of the news.
Zomato has filed a draft red herring prospectus with the Securities and Exchange Board of India to raise Rs 8,250 crore (Rs 82.5 billion/nearly $1.1 billion) through its Initial Public Offering.
This is a big leap for a company that started in 2008 under the name Foodiebay as a partnership between Goyal, an IIT Delhi alumnus, and Pankaj Chaddah, colleagues at management consultant Bain & Co.
They had spotted an opportunity for a restaurant locater in the high demand for menus among colleagues.
One active user of their service was Internet entrepreneur Sanjeev Bikhchandani, co-founder of Info Edge, which owns job search portal naukri.com and matrimony site jeevansathi.com.
He spotted Zomato early and made an investment of $1 million as seed funding in 2010.
'The credit should go to the Zomato team and Deepinder Goyal. Our skill lies in merely identifying great teams and putting in money. We are grateful that these great teams allow us to invest. Money is a commodity. Entrepreneurship is rare,' tweeted Bikchandani, after he was appreciated for playing a role in kick-starting this decade's tech IPO cycle with Zomato's draft red herring prospectus filing.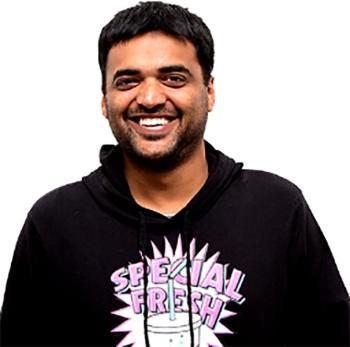 Zomato CEO Deepinder Goyal
Photograph: Deepinder Goyal/Instagram
Info Edge (India) rose 2.09 per cent to Rs 5,047.80 after the company announced that it would sell its stake worth Rs 750 crore (Rs 7.5 billion in Zomato via an offer for sale as part of the food delivery aggregator's upcoming IPO. Info Edge holds 18.68 per cent of Zomato's pre-offer equity capital.
Analysts said Zomato, which is also backed by Tiger Global and Ant Financial, may be looking at an IPO valuation of at least $6.4 billion.
In February, Zomato had raised $250 million in a primary fundraising from existing and new investors at a post-money valuation of $5.4 billion.
Goyal's entrepreneurial reputation has long been established, but it is his HR decisions that have attracted attention in recent years.
Under his leadership, Zomato has been working to strengthen its own long-standing commitment to making the company more inclusive and diverse.
These include initiatives such as an equal parental leave policy for men, women, same-sex, surrogate or adoptive parents.
In 2019, the platform added an 'LGBTQIA' friendly tag to its restaurant listings.
Last August, for instance, Goyal said its female and transgender employees could take ten days of period leave.
Goyal took a very public stand against a customer who cancelled an order because the Zomato delivery executive assigned to him was 'non-Hindu'.
'We are proud of the idea of India -- and the diversity of our esteemed customers and partners. We aren't sorry to lose any business that comes in the way of our values,' Goyal had tweeted.
Recently when a customer who -- it was later revealed, falsely -- claimed that a Zomato delivery executive had assaulted her and left her with a bloody nose, Goyal supported the executive, while also supporting the customer to explain her side.
Last month, Zomato added five independent members to its board, four of whom are women.
Zomato's board was largely driven by investors.
The new board members include badminton player and ex-Olympian Aparna Popat and Zalora Group CEO Gunjan Tilak Raj Soni.
The other members include Airveda founder Namita Gupta and former ABN Amro executive Sutapa Banerjee.
'More than gender diversity though, what we have always been gunning for is cognitive diversity across levels in our organisation,' Goyal said in a blog post.
'Evidence-based research shows that a key prerequisite for innovation comes from cognitively diverse people.'
Goyal has said the company is taking another small step towards making Zomato a more sustainable enterprise.
It would now fund local environmental projects to offset the carbon footprint of all its deliveries and packaging in India.
'We also currently deliver 20 per cent orders on bicycles, 35 per cent in crowded cities like Delhi. These deliveries have no carbon footprint and are pollution-free,' said Goyal in a blog post.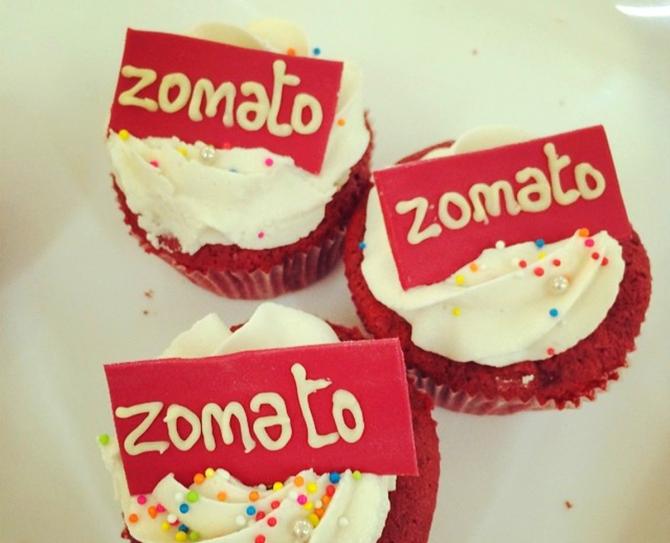 Goyal now holds a 5.5 per cent stake in the company.
In FY21, he took a steep pay cut from an annual Rs 3.5 crore (Rs 35 million) to Rs 1.6 crore (Rs 16 million) and waived his salary for 36 months starting April 1, 2021.
All of this doesn't prevent him from taking hard decisions, too.
In May last year, Zomato said it would let go of 13 per cent of its staff, affecting close to 520 employees, as a result of the extended lockdown and restaurants shutting shop due to the pandemic.
The company also had a footprint in 23 countries outside India as of December 31, 2020.
It has taken a strategic call to focus only on the Indian market going forward, according to the draft red herring prospectus, given the large market opportunity here.
Like most start-ups, profits elude Zomato. The firm restated losses of Rs 107 crore (Rs 1.07 billion), Rs 1,010 crore (Rs 10.10 billion), Rs 2,385 crore (Rs 23.85 billion) and Rs 682 crore (Rs 6.82 billion) in fiscals 2018, 2019 and 2020, and in the nine months ended December 31, 2020, respectively.
As the lockdown eased towards the end of May 2020, Zomato's food delivery business started recovering.
In the third quarter of FY21, it recorded the highest gross order value in any quarter till December 2020.
The firm has consistently gained market share over the last four years to become the category leader in the food delivery space in India in terms of GOV from October 1, 2020, to March 31, 2021.
This is good going in a market with competitors such as Swiggy, cloud kitchens such as Rebel Foods and branded services players (including quick-service restaurants such as Dominos, McDonald's and Pizza Hut) all competing for a share of the customer wallet.
But the second wave of the pandemic is going to be a bigger test for Zomato, a fact duly recorded in the draft red herring prospectus. And with scrutiny that comes with a public listing, Goyal's leadership could face its sternest test yet.
Feature Presentation: Rajesh Alva/Rediff.com