'Till two years ago, Ghosh led one of the largest low-cost airlines in the world and now he heads the fastest growing low-cost hotel chain in the world.
'Under Ghosh, IndiGo was adding one aircraft per week; now as CEO of Oyo, Ghosh presides over a hotel chain that is adding more than 20,000 rooms every month,' say Arindam Majumder and Nivedita Mookerji.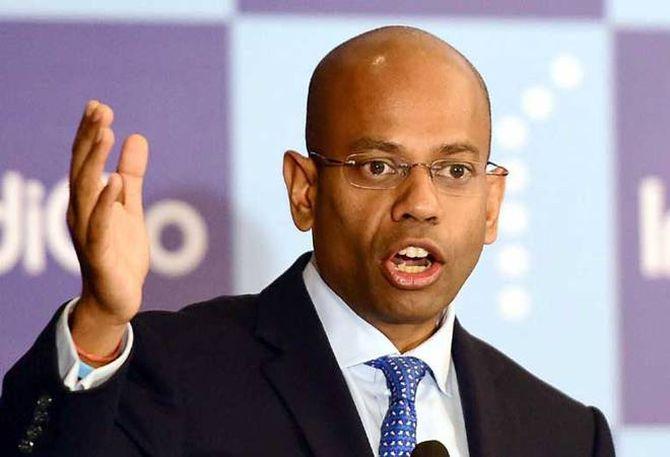 Aditya Ghosh, known for IndiGo's 'on-time arrival', reaches a few minutes late for the lunch at Comorin, which can be best described as a millennial restaurant serving fusion dishes.
Ghosh makes up for the slightly delayed start and settles down for a multi-layered meal and long conversation, keeping his handset away to focus fully on the menu and on us.
This Gurugram restaurant set up by Manish Mehrotra of Indian Accent fame at the Two Horizon Centre, which houses several multinational offices, was our guest's choice.
The reason, we assumed, was that it's a close drive from the Oyo office, his current workplace.
But during the course of the afternoon, we realise Ghosh has tried almost every item, including the dessert and beverages (he tells us he does not consume alcohol) available here, and rates everything five on five.
That makes our task simpler, and we happily let the man, who had led IndiGo for a decade and is now scripting an ambitious expansion plan at Oyo along with founder Ritesh Agarwal, place the order.
Ghosh enjoys the exercise -- he not only orders with a fair degree of familiarity and knowledge, he also serves us and himself with an air of perfection.
We shift from the loud part of the restaurant to a quieter corner to talk in peace over a mocktail of coconut water and white tea.
Taking off from his Twitter message, we ask him about his trip to Kolkata during the weekend to meet Oyo's hotel partners in the city.
"I'm sleeping less but it's exciting to be back to those days of 2004 when we were building IndiGo."
As the starters arrive, the conversation moves to how IndiGo and Oyo are similar in more ways than one.
Till two years ago, Ghosh led one of the largest low-cost airlines in the world and now he heads the fastest growing low-cost hotel chain in the world.
Under Ghosh, IndiGo was adding one aircraft per week; now as CEO of Oyo, Ghosh presides over a hotel chain that is adding more than 20,000 rooms every month.
"At a fundamental level both are trying to commoditise a product that was extremely highly priced for a consistent service or it was very fragmented.
"Both the companies are trying to make the service more affordable but convenient also," Ghosh says.
There's dahi batata puri with a dollop of curd and wasabi that melts into the mouth, along with some well-made green chilli prawns and haleem.
"I stay literally across the street which has made me a resident expert here," Ghosh points out with a smile.
We get on to his shift from IndiGo to Oyo, a subject he hasn't spoken about much.
Why does Oyo need a new leader?
More importantly, why would Ghosh get excited about Oyo?
"During the break I took after IndiGo, I emptied out my mind.
"There were just two rules -- I am not going back to an airline and I wanted to work for a company that has a big presence in India as I wanted to be close to the decision-making."
It was around that time that Agarwal, who counts IndiGo promoter Rahul Bhatia as his mentor, got in touch with Ghosh.
It had been more than three months since he had stepped down from IndiGo.
The two met at The Quorum, an upmarket members-only club in Gurugram.
The first meeting started at seven in the evening and stretched beyond 1 am.
Ghosh invited Agarwal to his home for the rest of the discussion which went on till 4 am.
"We just discussed various ways of scaling up the business.''
He's clearly enjoying the dahi batata he's having for the nth time here, while recalling his post-IndiGo days when he was able to tick some of the boxes on his bucket list -- hiking alone, complete reading a book in a week and watching a movie on Monday morning.
Used to having older people report to him at IndiGo, tables have turned for Ghosh at 43.
Agarwal, the boss at Oyo, is still in his 20s.
A joke that Agarwal often cracks is that he himself was born middle-aged while Ghosh was born a millennial and remains one.
On a more serious note, he says, "I don't think of Ritesh as a 25-year-old and I hope he doesn't think of me as a 43-year-old. There's a comfort level with him.''
Returning to the Oyo-IndiGo similarity, he says both are made-in-India international brands.
But isn't Oyo being driven by foreign investors such as SoftBank and is it any different from the days when he had a free hand at IndiGo?
"The free hand concept is overstated.
"The secret lies in mutual respect for what a person brings to the table.
"Whether it is with Rahul (Bhatia) or Rakesh (Gangwal) or with Ritesh (Agarwal), I feel I have that.''
Does he miss IndiGo?
"I miss the people at IndiGo, and I still get messages everyday from people there."
In his communication with IndiGo employees, Ghosh made it a point to add a line, "You people make me look so good and successful."
At Oyo too, he's equally accessible, Ghosh claims.
It was hard not to ask him how he viewed the ongoing promoters' war at IndiGo from the outside.
"I have to be dispassionate about it... Can't talk about it, it won't be appropriate,'' he says, withdrawing from the topic on which he surely has enough to write a book on.
It's time for the main course and Ghosh takes charge again.
Almost apologetically he orders dal tadka.
"Dal may sound ordinary but here it's something worth trying out," he says.
He isn't wrong.
Chef Gaurav Yadav has expertly created a range of fusion food by mixing casual food experience with the most authentic flavours of every dish.
Besides dal, there's Kashmiri palak kofta (they call it rista instead of kofta) with steamed rice and Champaran meat with parantha.
Back to Oyo, Ghosh claims he has stayed in those rooms (from Townhall to Collections), often across cities, exactly like he would fly IndiGo and still does.
His favourite hotel remains The Oberoi for its eye for detail even as he maintains that the growth story of Oyo is unparalleled.
While there are several brands under the Oyo umbrella -- "one-brand-fit-all formula doesn't work in hospitality" -- Ghosh quips, "it's still boringly consistent like IndiGo''.
For both aviation and hotels, if the product can be made available at the right price, the possibility for that to sell grows exponentially, he tells us.
We talk a bit about his life.
He's into fiction quite a bit, but likes to read other genres too.
He surprises us by saying that he prefers reading newspapers to consuming news online. Quite unlike a millennial that he's equated with!
Five hours of sleep is good enough for him, he says, adding that he's not a late night person at all.
"My friends joke 'he's slept in everyone's bed', as I can't stay awake beyond midnight."
Waking up at 4.30 am every day to be able to drop his two kids -- 11 and 12 years old -- are his biggest constants and he seems to like that.
One of the traits that he has sometimes been criticised for during his IndiGo stint is arrogance.
He denies he's arrogant.
"I'm a stickler for what I believe in, but I don't think I'm arrogant.
"I will admit that I have found it difficult to cope with unreasonable demands or brandishing political influence...''
We have been into the lunch for 90 minutes, and we agree there's no question of foregoing the dessert.
For the first time during the lunch, Ghosh looks at his phone and says he would reschedule his meetings to spend some more time with us.
From Alwar milk cake ice-cream to banoffee pie and dodha tart, we try out the popular desserts carefully chosen by Ghosh.
With about 15 more minutes to go, we quiz him on some burning issues -- like Air India divestment.
Will it get bidders this time? "Everything will depend on the terms of the auction.''
As we experiment with the imaginative fusion mix of Indian sweets and western pies, we want to know whether it's tougher to manoeuvre in the sky or on land.
His reply is simple: "From the low-margin business that I have come from, I'm not scared of anything... All I know is there's no such thing as a calm day.''
With that thought, we return to work and he to his rescheduled meetings.
Photograph: PTI Photo