Vijay Shekhar Sharma, worth about ₹7,300 crores, is India's richest entrepreneur under 40 according to Hurun's India Rich List for 2016.
Anil Rai Gupta, along with his brother Vinod, has been valued at $2.6 billion by Forbes.
Gaurav Dalmia manages close to Rs 5,000 crore; about half of it is his own money.
The billionaires reveal their life lessons.
Illustrations: Dominic Xavier/Rediff.com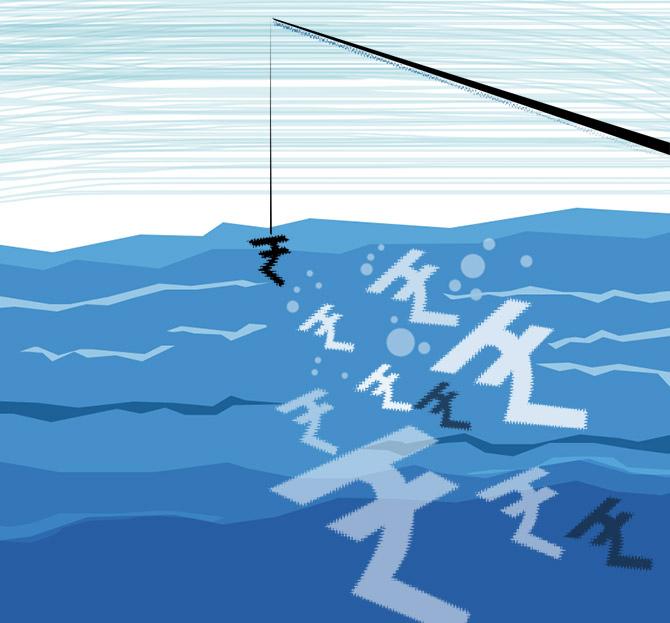 Three businessmen disclose their success mantras: One belongs to an old Marwari family, another is a second generation industrialist whose father scripted an amazing rags-to-riches story and the third was a professional till one day he succumbed to the charms of entrepreneurship.
'Most young people work for purposes rather than money'
Vijay Shekhar Sharma, founder and CEO, Paytm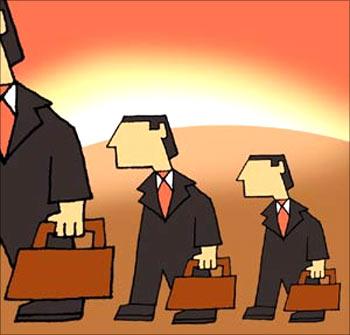 When I was about to complete my graduation from the Delhi College of Engineering, I was clear about the career path I wanted for myself.
At the time, I did not have time for an expensive MBA degree and neither did I belong to a business-savvy family. I was going to treat my job like a live training field.
It was with this thought that I went into my job with River Run Software in 1998, one of the highest-paid jobs during that placement season.
It was the heyday of the software industry and perks were aplenty.
I would often wonder why software companies focused on the softer aspects of their work culture.
It was here that I learnt the importance of ancillary functions such as human resources, administration and finance.
River Run is an extremely well-organised company and the administration department took care of the smallest details for us after we were recruited.
The human resources department focused on individuals rather than put all of us in one pool of software engineers.
For instance, I always had a flair for business and the team that recruited me worked with that interest.
When I finally chose to move on from River Run, I could not serve my notice period. But my colleagues told me not to burn bridges with the organisation this way. I gave the finance department a cheque in lieu of the time I had to serve as notice.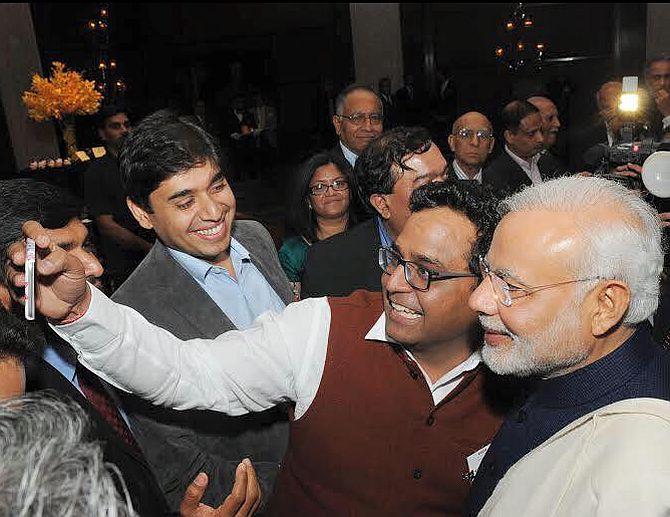 IMAGE: Vijay Shekhar Sharma clicks a selfie with Prime Minister Narendra Modi. Photograph: Kind courtesy Vijay Shekhar Sharma/Facebook
With my next stint at Living Media, I acquired knowledge about the media and developed great bonds with my colleagues.
It helped me build a healthy relationship with the media and today, as a start-up founder, there is a trust factor that is associated with my name.
These incredible friendships that one develops during a job are vastly different from those that are a result of business meetings.
At the workplace, the relationships one forms are more honest, grounded and long-term.
This is the culture I wanted for the company I had then hoped to run.
At Paytm, we lay great emphasis on bonding between team members.
Though it may be a cliché, but road trips and offsite meetings go a long way in making a productive workplace.
But the most important learning came when I quit my job in 2000.
Despite being paid a substantial salary, I realised that most young people work for purposes rather than money.
This is something that has stayed with us at Paytm and we often repeat it to our colleagues: Mission and purpose are pious.
It was frustrating to see Indian engineers being treated as cheap software bots.
I had dreamt then that there would come a day when my company would hire the very people who currently hire Indians as mere coders.
This dream came true when Paytm Labs opened in Canada -- technology that powers an Indian mobile wallet for an Indian company being developed overseas.
The other aspect was also of employer branding, where employees could go home and tell their families with pride that they were working for a certain company.
This was an American concept, but we are no strangers to this anymore in India.
---
'His ways were simple, rich in native wisdom, and they worked -- always'
Anil Rai Gupta, chairman and managing director, Havells India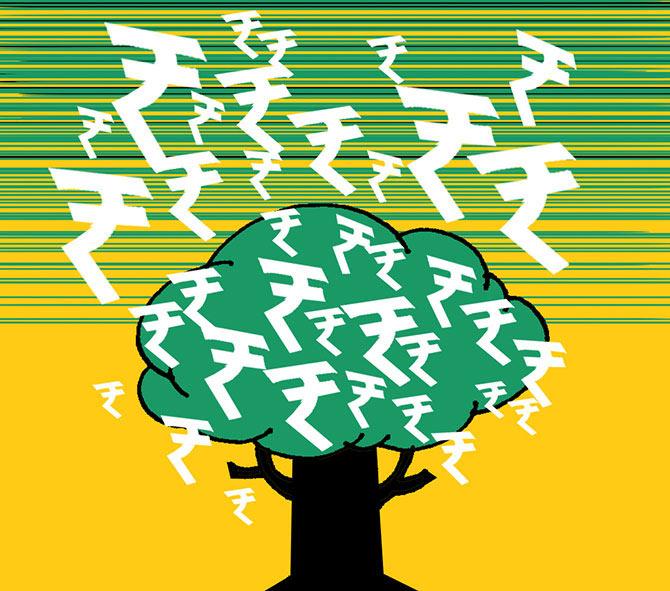 My father, Qimat Rai Gupta, didn't go to any business school.
In fact, he had to give up studies midway because the family had fallen on bad times and he had to supplement his father's meagre income.
QRG started out selling kerosene on a cycle in the villages of Punjab. Still, through sheer self-belief and hard work, he built Havells, which is now valued at $4 billion.
Much of QRG's innate wisdom owed itself to his formative years in small-town and rural Punjab, the area around Malerkotla.
The sayings he heard left an everlasting impression on his mind. He would find solutions to the most complex problem in those idioms, or QRGisms, as we would say.
In December 2008, we were faced with our worst crisis.
Sylvania, which we had brought the previous year, had run into rough weather.
Advisors said Havells would have to invest $50 million to $60 million into the company every year; if the gamble didn't pay off, the stress would have sunk Havells.
QRG summoned us to his office and said: 'Shikaar ko jab tak khud na maro, woh marta nahin hai (Unless you kill the prey yourself, it doesn't die).'
What he meant was that Sylvania was adrift because we were happy to be just financial investors; he wanted us to get fully involved in running the company.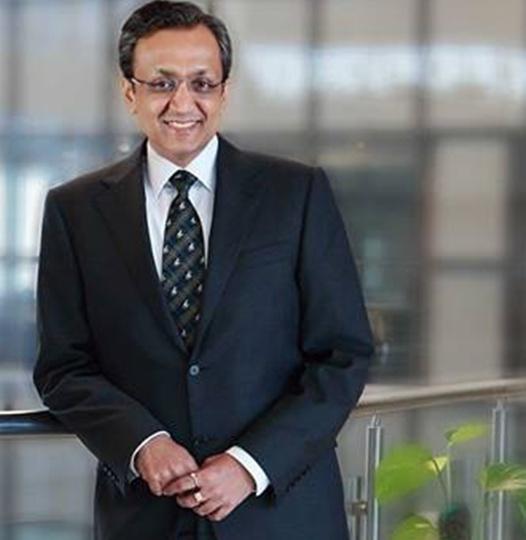 IMAGE: Anil Rai Gupta says his father Qimat Rai Gupta would find solutions to the most complex problems in the idioms of his childhood. Photograph: Kind courtesy Havells
Would our direct and informal ways work in Europe where Sylvania had the bulk of its business?
'Jo Lahore fuddu, woh sab jagah fuddu (If you can't succeed in Lahore, you will fail everywhere),' QRG said, implying, inversely, the basic principles of business were the same, whether in India or Europe.
We did his bidding and Sylvania turned around soon.
'Okhal mein sar daal diya to mooslo se kay darna? (When your head is in the mortar, why fear the pestle?),' he would often say.
Things needed to be taken to their logical conclusion in spite of the obstacles in the way.
First-generation entrepreneurs are special people, ready to stake everything on an idea.
When in a problem, 'Kothe par chadh kar bolo (Climb to the rooftop and shout)' QRG would tell us.
He would readily seek the opinion of others on important matters, especially in crises, when most try to keep things close to their chest.
Once, on a family vacation at Wildflower Hall, we saw Brijmohan Lall Munjal (founder, the Hero Group).
We had heard a lot about the way he managed his dealers and were keen to learn from him but weren't sure if he would entertain us.
Still, we approached him after QRG intoned: 'Mullah sabak nahi dega, par ghar to aane dega (The preacher may not teach you, but he will let you enter his house).'
Munjal did not disappoint us.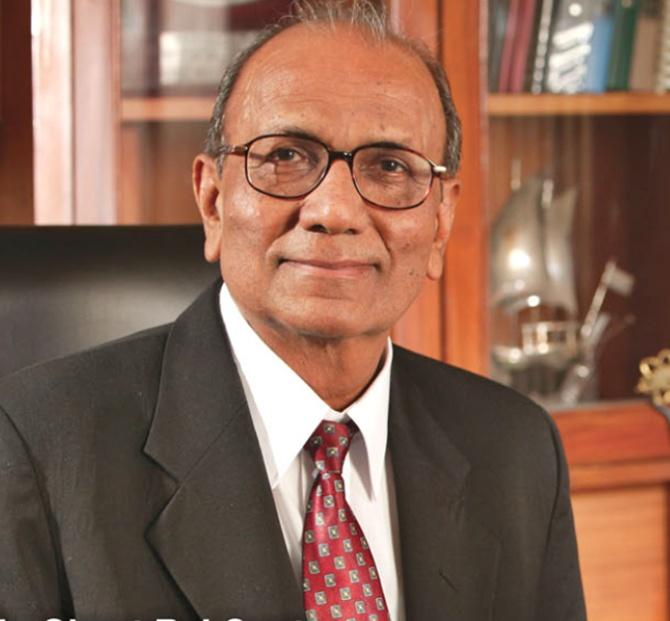 IMAGE: Much of Qimat Rai Gupta's innate wisdom owed itself to his formative years in small-town and rural Punjab. Photograph: Kind courtesy Havells
Right from the early 1990s, QRG would insist that we hire the best financial talent for Havells.
'Guru bin gat nahi, shah bin pat nahi (You can't gain knowledge without a teacher and you can't succeed without a banker).' He would say that the CFO was critical to the success of any venture.
QRG did things with a long-term perspective. Factories were built keeping in mind the demand 20 years later.
For advertising, the best agencies were hired. We always worked with the best in the business, even by paying a bit more, because, as QRG would say, 'Jahan satyanash, wahan savasatyanash (When you are doomed, there no harm in being doomed a little more).'
Cutting corners never occurred to him.
You can get ordinary people to deliver extraordinary results through motivation and empowerment.
'Agar koi chhe-foota aapke office mein aaye, use saat-foota ka banake bhejo (If a six-foot tall man walks into your office, he should go out feeling seven feet tall),' QRG would say.
'If you have to send somebody to Connaught Place, just tell him the destination, don't tell him the way -- let him figure the way out.' He was always against spoon-feeding employees.
Transparency was of the utmost importance for him. QRG would often call my mother from office on a speaker phone in the presence of half-a-dozen others.
His ways were simple, rich in native wisdom, and they worked -- always.
---
'Preference for investment over consumption is the key to wealth creation'
Gaurav Dalmia, chairman, Dalmia Group Holdings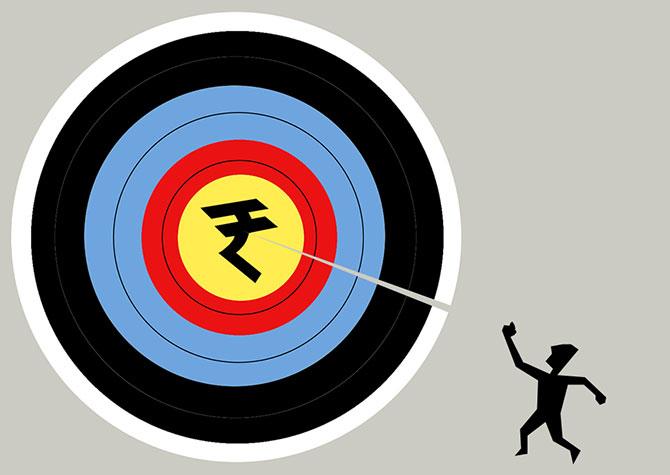 When I was asked to write on what makes Marwari billionaires tick, I was apprehensive.
I was not a Marwari in the true sense: I had been globalised and followed only a few of the core Marwari edicts. And I was not a dollar billionaire, though some of my cousins were.
Nonetheless, the Marwari formula, for whatever it's worth, was alive and kicking in me -- hence this piece.
Let me point out there is no unique Marwari potion. People from many backgrounds exhibit a winning mix.
In the late '90s, Harvard organised a symposium called Culture Matters. The conclusion: However politically incorrect it may sound, cultural values are powerful factors in promoting prosperity.
Sociologist Joel Kotkin's separate research found common characteristics among the five distinct ethnic groups that were rising to prominence globally: ethnic identity, global trust networks and a passion for technical knowledge.
Marwaris share many values with immigrants of all hues.
Yale professor Amy Chua's 'triple package' -- superiority, insecurity and impulse control -- is considered a predictor of wealth and power among immigrant groups in the US.
Marwaris have immense self-confidence about their abilities, yet they are sufficiently insecure to be humble.
Their preference for investment over consumption is the key to wealth creation.
Frugality has character-building implications. Avoiding temptations leads to focus, less dissipation of energy, and provides the grit to persevere.
The Five Factor Model is a robust framework for understanding personality. Its five domains are a reliable proxy for most traits and behaviour.
In my assessment, the Marwari community would score well: A- on openness, A+ on conscientiousness, B+ on extraversion, A on agreeableness, and B on neuroticism -- the only variable where a lower score is good.
Such a scorecard would put Marwaris in the top quartile, though these may not come out as surface characteristics in casual interaction.
Just like the Protestant-Calvinist ethic was an important force behind America's historic ascent, the Marwari mix of Hindu beliefs is influential.
Of the four forms of Hindu religiosity -- Bhakti marg, Gyana marg, Vir marg and Karma marg -- Marwaris are adherents of the latter. This has helped them embrace commerce.
It is not surprising that Marwaris are among the wealthiest in their peer groups, whether one takes a sample in India's metropolitan centres or in small towns in the northeast.
Marwaris have an extraordinary sense of community.
They live by Ratan Tata's famous words: 'If you want to go fast, go alone; if you want to go far, go together.'
They make sacrifices for their families, businesses and community.
This has profound ramifications.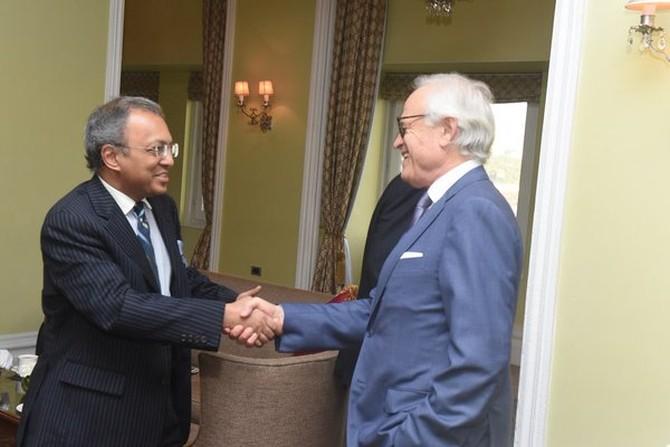 IMAGE: 'Avoiding temptations leads to focus, less dissipation of energy, and provides the grit to persevere,' says Gaurav Dalmia. Photograph: Kind courtesy Brookings India/Twitter
Last month, a leading banker was telling me that Tamil-, Gujarati-, and Marwari-owned businesses have less succession challenges and accounting surprises than the average.
Such things compound to create stronger businesses and larger wealth.
With respect to building scale, the Marwari ecosystem is a platform for growth.
This is the same tool Bangladeshi entrepreneurs have used to get 80 per cent share of the Indian restaurant business in the UK, and to break ahead from other groups such as Pakistanis in terms of education levels or monthly incomes.
Political economist Francis Fukuyama has shown that prosperous countries are those where business relations can be conducted on the basis of trust -- informally, flexibly, without much transaction cost -- and with speed.
Extrapolating this to communities, Jews stand out in Europe and the US and Palestinian-Lebanese in West Asia and Western Africa. In India, there are case studies on Gujarati community networks; Marwari networks are a close second.
One could easily substitute the word Marwari with Gujarati or Punjabi or Baniya or Tamil, and one will see similar characteristics amongst the members of The Billionaire Club.
The only differences will be how universal these qualities are in different ethnic groups and the minor cultural nuances. There is no guarantee these values will transcend multiple generations.
The Marwari hold on the super-rich league tables has weakened considerably over the past half century; the list is now populated with a dynamic cross-section of Indian society.
Irrespective of cultural diversity, among the super-achievers, a common thread will be a weak mental correlation between success and material wealth.
For most, money has reached a point of diminishing returns and, at best, they regard it as a form of keeping score.
In that sense, they will tell you that money is far more exciting than anything it buys!
---
The Billionaire Club
From actors to sportspersons to start-up CEOs, a list of the other rich
Entertainers
Source: Forbes (2016 earnings); net worth all estimates, as of October 2016
Sportspersons
Source: Forbes (2016 earnings); net worth all estimates, as of October 2016
NRI businessmen
Source: Forbes, net worth as of October 2016
Entrepreneurs under 35
Source: Hurun, net worth as of October 2016