No government can 'ignore inclusiveness in a democracy', Montek Singh Ahluwalia tells Anjuli Bhargava.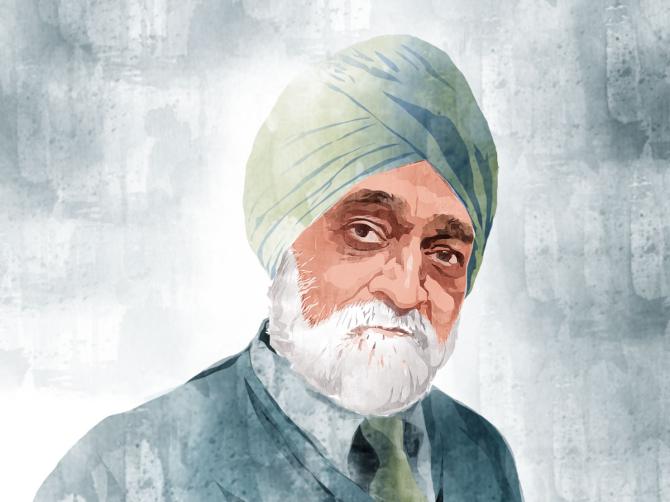 Lunch with BS is a known animal for Montek Singh Ahluwalia, former deputy chairman of the Planning Commission.
When I suggest a virtual tete-a-tete during the pandemic, he proposes in jest that I either Swiggy or Zomato him a nice meal from a fancy restaurant.
I laugh, suggest we make do with a coffee over Zoom for now and promise to take him out for lunch when I am in Delhi next.
Having interacted with him closely when he was in the Planning Commission, prior to our Zoom chat I tell him over e-mail that I miss his sharp articulation, wit and anecdotes.
He replies with: "Flattery will get you nowhere, except very nearly to the top!"
I also tell him he needs to speak his mind freely as my editors complain that "Montek never says anything".
To which, my counter invariably is: "He says a lot but doesn't necessarily answer the question."
He laughs and says his strategy with the media remains intact: "Tell the truth, nothing but the truth, but not necessarily the whole truth."
When we connect, he's in his apartment with a mug of coffee in Delhi's Panchsheel Enclave where he's moved recently, and I am in Altinho, a hill in Goa's Panjim district (now called Panaji), where I have recently moved.
He says he's planning to write a second book aimed at young adults whose minds remain "malleable" as opposed to the over-50s who refuse to change their views even when they see their fallacies.
I begin by playing the devil's advocate and ask him to defend some of the many allegations against United Progressive Alliance I and II that the current dispensation and its loyalists put forth.
I point out that many argue the political leadership during the 10-year UPA regime was so preoccupied with filling its own pockets that it conveniently forgot about those at the bottom of the pyramid.
He chooses to go back in history and argues that the fact the Vajpayee government decided to continue with the reforms unleashed by P V Narasimha Rao was an acknowledgement of the Congress government's policies to lift large sections of the population out of poverty.
But "India was not shining" when the UPA came into power, he says.
There was no doubt in his mind or in the minds of others in authority that inclusive growth needed to be the focus, he says.
So, policies were aimed at ensuring a higher rate of growth in agriculture and initiatives like the Mahatma Gandhi Employment Guarantee Act (MNREGA) were brought in that helped lift many out of poverty.
Critics of UPA may dismiss this as populism or a retreat to Leftism, but no government can "ignore inclusiveness in a democracy".
While data verifies that millions were lifted out of poverty at the time as a consequence, the Congress, he says, failed to capitalise on it.
The UPA, he adds, also managed to cut the fiscal deficit, making room for the private sector to grow, put goods and services tax firmly on the map and lent teeth to the idea of public-private partnerships -- three clear achievements to his mind.
Our discussion turns to the scams UPA found itself embroiled in -- telecom auctions, coal, and so on.
"Whenever societies allow the private sector to play a bigger role in nation building, they willy-nilly create the possibility of cronyism; the history of the United States is rife with such instances," he says.
The difference may have been their ability to learn from past mistakes.
To this extent, the UPA did set up the right regulatory bodies but many proved to be less effective than desired.
I draw his attention to another common crib one hears from a certain section: Whatever rocky boat India finds itself in, it's the Congress's fault since it was in power the longest.
He counters that while the length of Congress rule is a valid point, he prefers to break it down into decades.
The biggest lost opportunity to his mind was the 1970s.
Not only did policy turn sharply towards excessive control, the Janata Dal government completely failed to course-correct.
And which missed opportunities can he pinpoint during UPA rule? He doesn't hesitate before voicing his disappointment with UPA's failure to privatise.
"The Congress has had a very long commitment to the public sector," and while it was comfortable with allowing the private sector to move ahead, it remained unwilling to let go of public sector units.
The net effect: A weaker public sector in many areas surviving despite large losses.
What about non-performing assets? Many argue that these are a result of "telephone banking" during UPA's rule where loans offered were dictated by politicians and the public sector banks obliged.
He debunks this by saying that during booms, banks the world over tend to lend freely and to say that every loan offered was dictated by the powers-that-be is "patently wrong".
He is, however, disappointed that while UPA opened up space for the private sector and private banks did well, it failed to unshackle public sector banks despite the Narasimham Committee recommendations.
To clean up NPAs, he says, one of the biggest reforms required is permitting the Reserve Bank of India to exercise the same control over public sector banks as it enjoys over private sector banks.
I change track and ask him whether he, like many others, senses an "intellectual vacuum" and which new ideas would he credit this government with.
He argues it would be hard to support the view that the government is not pushing new ideas.
The bigger question, he says, is whether there is enough debate on the new ideas before they are implemented.
He credits the government for pushing the GST through and not killing Aadhaar, "although they have failed to bite the big bullet": Replacing the food and fertiliser subsidy with direct transfers via Aadhaar.
In his characteristic style, he's evaded my question, so I persist.
Demonetisation was one, he says, but it failed to achieve whatever objective it set out to.
Bringing back privatisation is another, although it is yet to deliver on this.
"The bureaucracy is highly skilled at preventing this from happening," he says, recalling an attempted sale during Rajiv Gandhi's time of Scooters India to Rahul Bajaj.
The bureaucracy managed to put so many conditions that Bajaj eventually said he wasn't interested.
We've been speaking for over two hours so I end by asking him whether a country with as torn a social fabric as we seem to have today can progress.
He doesn't take a moment to reply.
Countries, he says, go through difficult periods, but many come through.
"India will eventually come through," he avers, saying that this country is bigger than any individual.
Montek Singh Ahluwalia, I find, remains the quintessential Montek Singh Ahluwalia: A combination of balance, optimism and resilience.
Feature Presentation: Aslam Hunani/Rediff.com