Despite being a neighbour, Pakistan has never accounted for more than 2 per cent of India's total exports, and its share in India's total imports is less than 1 per cent.
On the other hand, bilateral trade between India and Bangladesh has increased five times.
Ishaan Gera reports.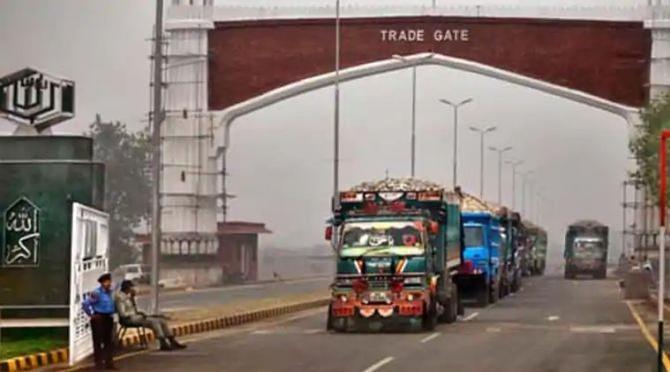 An addition of $564 million to its exports would have been a blip for India, which annually exports goods worth $331 billion.
But the significance of Pakistan signalling a revival of trade relations would have been far greater.
Amid rising sugar prices, Pakistan's Economic Coordination Committee of the Cabinet had decided to begin importing sugar and cotton from India.
However, nextday, the Pakistan Cabinet took a U-turn and decided otherwise.
There has been negligible trade between the two in 2020; data from the Union commerce ministry shows that India in 2018-19 exported $2 billion worth of goods to Pakistan, $564 million of which was accounted for by sugar and cotton.
Economic theories suggest that neighbouring countries have a higher tendency to trade with each other, and those sharing similar cultures are more likely to engage in bilateral trade.
However, the case with India and Pakistan has been different.
Trade between the two has been a hostage to political considerations, ebbing during times of political uncertainty.
Therefore, despite being a neighbour, Pakistan has never accounted for more than 2 per cent of India's total exports, and its share in India's total imports is less than 1 per cent.
While India's share in Pakistan's imports is much higher at 3 per cent, it accounts for 1-2 per cent of Pakistan's total exports.
In fact, even at the height of engagement between the two sides, India sent only 1.2 per cent of its total merchandise exports to Pakistan and received 0.9 per cent of its total imports from there.
Even before restrictions were imposed, trade between both countries had been declining.
In 2015-16, Pakistan's share in India's merchandise exports was 0.83 per cent and that in imports was 0.12 per cent.
In 2018-19, this declined to 0.63 per cent and 0.10 per cent, respectively.
In 2019-20, Pakistan's share in India's exports fell 58 per cent, even as imports from there was practically non-existent.
Compare this with Bangladesh.
While total bilateral trade (exports + imports) between India and Bangladesh has increased five times in the past decade and a half, Bangladesh's share in India's total exports has risen by 1.5 times.
There has been an even greater 5.3-time increase in Bangladesh's share in India's imports.
While both Bangladesh and Pakistan had a similar level of total trade in 2006-07, Bangladesh's total trade with India today is 31.8 times more than Pakistan's.
Meanwhile, Pakistan's economy has deteriorated during this period.
Its external debt has increased from 24 per cent of its gross domestic product (GDP) in 2015 to 43 per cent of GDP last year.
Re-routed trade
There is no doubt that a trade disruption hurts both economies.
India's major export to Pakistan are intermediate goods — they account for 68 per cent of total trade — and a halt means an impact on employment.
For Pakistan, on the other hand, a disruption translates into an absence of low-cost raw material for its textile market.
In 2018-19, its cotton imports from India, duty-free because of its most-favoured nation status, accounted for nearly half of the cotton Pakistan imported to support its $4-billion textile industry.
However, the extent to which a loss of trade has cost either country is difficult to gauge, given the many informal trade channels.
A study released by BRIEF last year showed that the two countries started trading through partners in times of political uncertainty.
So, Indian goods entered Pakistan through a circuitous route, and the same held true for Pakistani products coming to India.
Informal trade between the two countries in 2018-19 was as big or bigger than formal trade, the study estimates.
In fact, the study estimates informal trade between India and Pakistan to be near $2-2.5 billion, even though there is a cost escalation as India exports these goods to one country and then Dubai or Iran re-exports them to Pakistan.
The size of the market may be much larger.
According to a 2018-19 Icrier paper, informal trade between both countries in 2012-13 might have been to the tune of over $4 billion, with India exporting $4 billion and importing $721 million worth of goods from Pakistan.
But there are wide variations on these accounts.
A study from Pakistan's side estimated the size of the informal market to be much lower, at $1.79 billion.
Trade potential
Besides the benefits of formalisation of trade from Pakistan, studies on both sides of the border estimate that the two countries are forgoing a huge trade potential.
A World Bank study in 2007 estimated the trade potential between India and Pakistan to be anywhere in the range of $3-10 billion.
A decade later, another World Bank study increased the projection to $37 billion, almost a 10th of the countries' total trade in merchandise with the rest of the world.
An Icrier paper in 2018 estimated a similar trade potential, at $37 billion.
It highlighted that India had an export potential for telephones for cellular networks, vehicles, iron and other chemicals.
On the other hand, India could import textiles from Pakistan.
Besides trade potential, the countries could also collaborate on other projects.
Before the cessation of trade ties, India had entered into an agreement with Pakistan to sell power.
Punjab, a power-surplus state with over 7GW capacity, would have benefitted from the decision.
Towards resumption
Studies estimate that a one per cent increase in trade-to-GDP ratio could increase per-capita GDP by 0.47 per cent.
So, there are gains to be had for both economies.
While a complete normalisation of trade is still a far cry, both could work towards formalising informal channels of trade for their own benefit.
Besides, there could be some work towards relaxing the sensitive list under the South Asia Free Trade Agreement (SAFTA) and, as the BRIEF policy paper had suggested, a removal of para-tariffs.
Photograph: PTI Photo