Although the first woman to hold the position of chief economist at IMF, it would be wrong to see her appointment through the lens of gender, notes Indivijal Dhasmana.
Illustration: Dominic Xavier/Rediff.com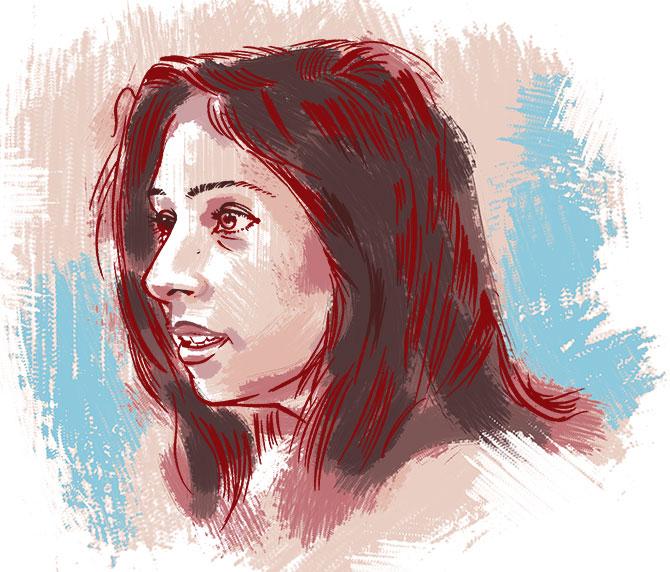 Hardline left-wingers may call her 'neo-liberal', but Gita Gopinath in her own words is a 'trained technocrat and professional economist' who is guiding Kerala Chief Minister Pinarayi Vijayan on economic policies, and will do so at the International Monetary Fund when she begins her two-year term as its chief economist in January.
A leading scholar in exchange rates, sovereign debt and capital flows, Dr Gopinath has called her appointment 'very exciting'.
Dr Raghuram Rajan, the only other India-born chief economist at IMF, had once said after he was appointed as the chief economic advisor in India's finance ministry that his job was to 'tell the government very clearly what I think economics says, and when it is at odds substantially with politics, my job is to emphasise economics.'
This is what GG, as Dr Gopinath is popularly called, has been doing, at least when it comes to advising the Kerala government.
She had asked the Kerala government to consider taking a leaf out of Chile's playbook.
Once run as a socialist regime, Chile famously embraced new economic policy experiments emanating from economists who collectively came to be known as the 'Chicago Boys' -- a reference to American economist Milton Friedman and a group of other free-market advocates.
Her advice is remarkable considering that the Communist Party of India-Marxist, which heads the Kerala government, had vociferously criticised the policies of this period, which they saw as a disaster that heralded rapid de-industrialisation, unemployment and corruption in Chile as well as other developing countries that followed the Chicago Boys's lead.
Dr Gopinath, who will succeed Maurice Obstfeld, is also apolitical when it comes to assessing two main economic policy initiatives of the Narendra Damodardas Modi government -- demonetisation and the Goods and Services Tax.
She has been a bitter critic of the note ban, but not of GST.
In her view, it was a mistake to undertake the demonetisation exercise at this stage of India's development.
She has repeatedly dismissed the oft-cited argument that cash circulation in the economy was rising and demonetisation was required to arrest that trend and stem the flow of black money.
'Japan has the highest cash per capita, way more than India. The cash in circulation, relative to the gross domestic product for India, was 10 per cent, whereas in Japan it is 60 per cent. That is not black money; that is not corruption,' she argued.
The implementation of GST, on the other hand, did not evoke a critical response from her.
'I view the GST very favourably because that is a real reform. It is a way of formalising the economy. It is a very effective way of ensuring tax compliance and makes it harder to earn black money,' she said.
All of which underlines the point that Dr Gopinath rejects all ideological labels.
A graduate from Delhi University's Lady Shri Ram College and a postgraduate in economics from the Delhi School of Economics, Dr Gopinath currently is the John Zwaanstra Professor of International Studies and Economics at Harvard University, only the second Indian, after Nobel Laureate Amartya Sen, and the fourth woman in the department's history to be granted tenure.
She is also a co-editor of the American Economic Review and co-director of the International Finance and Macroeconomics Programme at the National Bureau of Economic Research, a US non-profit organisation.
Dr Gopinath will join the IMF at a time when the world is witnessing increasing protectionism and trade wars, a trend she abhors.
According to her, a trade war would be disruptive not only for trade but also for other related economic variables, such as interest rates and inflation.
At a time when the rupee is struggling to regain its value against the dollar, Dr Gopinath has a piece of advice for the government.
'Usually, policymakers might pay attention to what they call a 'trade weighted exchange rate.' And what my research says is that you want to pay attention to the exchange rate relative to the dollar doesn't matter who you trade with or how the exchange rate moves, one way or the other.'
She also has her own take on flexible exchange rates.
She agrees that flexible exchange rates provide valuable monetary-policy independence.
But, in a dollar-dominated global trade environment, she argues, the ability of a floating currency regime to support full employment is severely limited.
Her views stand in contrast to the long-standing position of the IMF, which favours a flexible exchange rate policy.
Although the first woman to hold the position of chief economist at IMF, it would be wrong to see her appointment through the lens of gender.
While announcing her name, IMF Managing Director Christine Lagarde said she did not have in mind her gender, but only her economic abilities.
'Gita is one of the world's outstanding economists, with impeccable academic credentials, a proven track record of intellectual leadership, and extensive international experience,' Dr Lagarde said.
'All this makes her exceptionally well-placed to lead our research department at this important juncture,' Dr Lagarde added.
Gopinath will take a two-year leave of absence from Harvard to serve the IMF.
In her new role she will lead a team of researchers to bring out many publications, including the widely read World Economic Outlook, which will put her independent stance to the test.